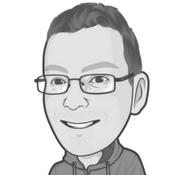 When I was younger I used to get endlessly frustrated that my parents couldn't work out how to set the video recorder. No matter how many times I showed them, there was only about a 5% chance that they would manage to actually record the programme that they wanted to watch. "I'll never be like that", I'd think to myself, before heading back to my bedroom to apply some Lynx and listen to Green Day or Offspring.
Now in my mid 30s, I am becoming just like that. I think the warning signs started a few years ago, around the time that 'Big Data' started to be a thing. "Big data will change everything" people would say to me. "Agreed", I'd say confidently. "Could be huge". But in my head I'd be thinking "I have no idea what you are talking about".
Next came Bitcoin. About five years ago a friend who worked in San Francisco told me to buy some. So I did, and it turned out to be a prudent tip – I think I spent about £100 and the value of my investment has soared, to somewhere in the region of £12,000 – £15,000. The problem I have is that I a) have no idea where I bought the Bitcoin from b) have no idea where my Bitcoin is stored and how to access it c) have no record of how to overcome these problems and d) still don't really understand what Bitcoin is. So I have in fact managed to lose £100.
Now, people keep banging on about blockchain. I'm not even going to pretend to know about this, it's baffling. Read the Wikipedia page and see if you can get passed the first paragraph. I've decided that life is too short, and I have to say that it is quite liberating. Maybe my parents were right all along.
Enjoy the news…