By Asha Patel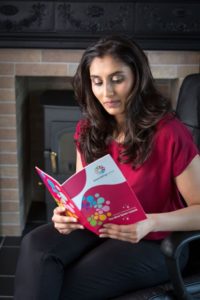 Asha Patel is currently a student on our Lloyds Bank Social Entrepreneurs start up course in the Midlands. This blog provides an insight into the first year of running a social enterprise and how the School for Social Entrepreneurs has helped along the way… 
"We offer a world where young people with emotional and mental health needs are supported to achieve their aspirations".
I am on the SSE West Midlands course and before starting I had not started to generate an income, I just had an idea in mind. After sitting on the idea for 12 months, I finally took the leap of faith and I personally invested £7,500 to set up Innovating Minds CIC in 2016. This money was invested into marketing and branding material to bring the enterprise alive. It also helped me to have materials ready to exhibit at three conferences (of course all of this was done whilst I was working full time). On Monday 29th February, I took the leap of faith and handed in my resignation. Promise I didn't plan to take the leap on a leap day- it just felt right.
Commencing 'trading' in September 2016 (contract established from a contact I made at one of the exhibitions) with my first SLA worth over £20,000. I commuted to London on a weekly basis to deliver my service to support students, teachers and parents wellbeing by creating a whole school approach to mental health. Within 10 months of trading, we have secured over £180,000 worth of funding and successfully become a specialist delivery partner for the Building Better Opportunities project in Coventry and Warwickshire, which is part funded by European Social Fund and Big Lottery Fund. We have three employees, and all of our initial contracts have been renewed and doubled so we can make a bigger impact. To date we have reached 937 individuals with our work in the UK.
In July 2017, we were sponsored to visit Bangladesh for a week with a team of three colleagues to raise awareness of mental health in educational settings. In total we reached over 2000 people, this included students, teachers and parents! We have also been asked to put a proposal together so we can establish our services in Bangladesh.
I believe the SSE programme has enabled me to develop confidence in myself and it has given me nuggets of information that I have been able to take away and implement. The peer support has been incredible, my peers have shared this learning journey with me and they have supported me when I have experienced knockbacks and celebrated the successes with me. The action learning has enabled me to take a step back and really unpick the challenges I am facing individually and as a social enterprise. I am very grateful for this amazing experience with SSE, the support from Rozzie and Charles has been amazing. I hope one day I can give back.