Cornwall
We support people to grow; develop their skills, personally and professionally, making a profound impact in their local communities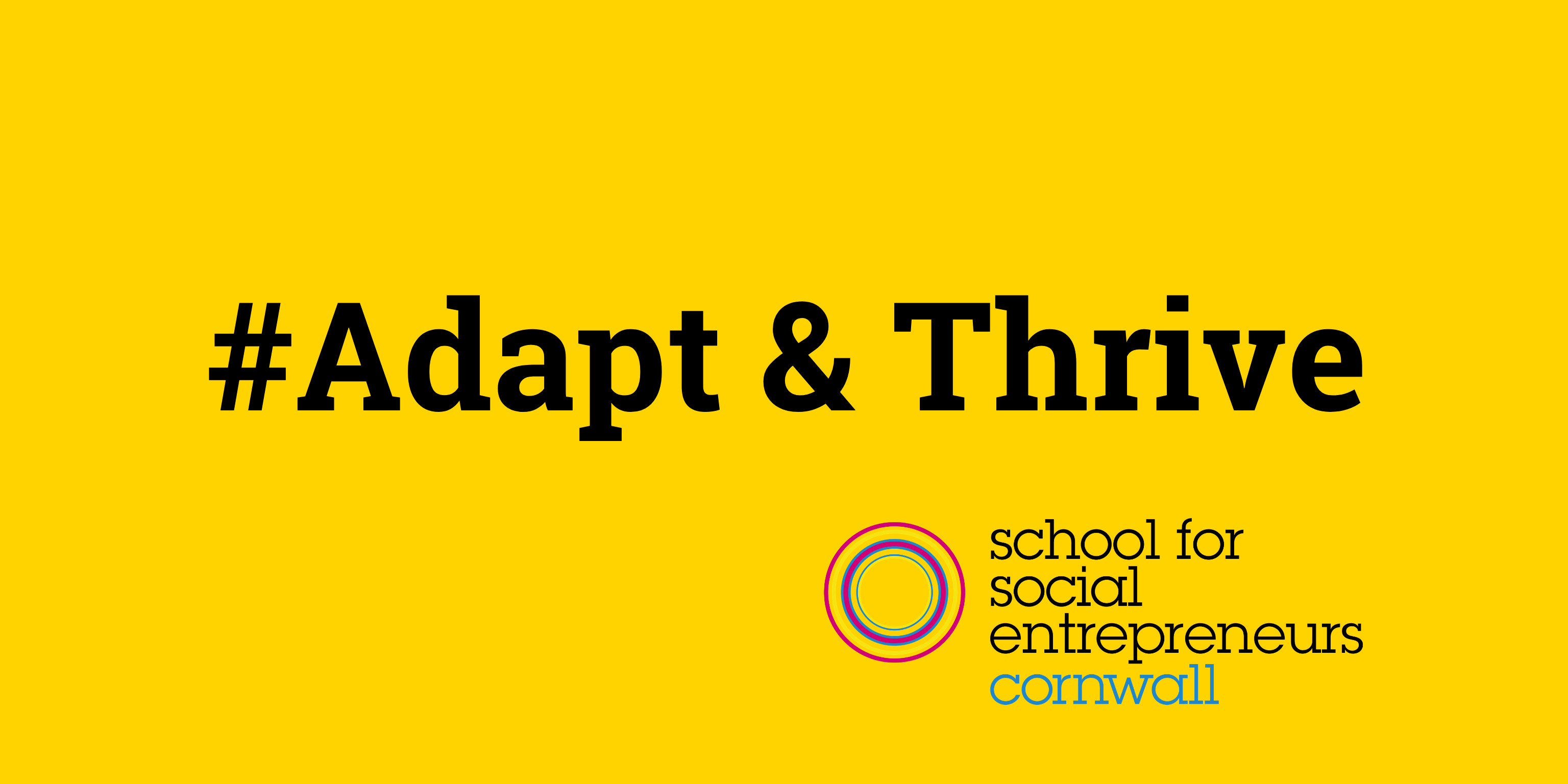 During these difficult times we are busier than ever, delivering online to entrepreneurs across Cornwall and beyond to develop the skills, strengths and networks they need to tackle society's biggest problems.
SSE in Cornwall
Established eleven years ago, the School for Social Entrepreneurs in Cornwall supports Social Entrepreneurs to realise their ambitions and create social change.  As part of a network of global schools SSE Cornwall delivers programmes to support and equip people to start, scale and strengthen their organisations, making a significant positive difference to their local communities on issues they experience and are passionate about.  Two-Thirds of social enterprises are supporting people from disadvantaged groups and 44% are employing them.
How we support social entrepreneurs
Over the years SSE in Cornwall has developed into a highly credible organisation with integrity at its heart.  With the support of a very experienced Board of Directors the company has evolved into the go to place for Social Enterprise support in Cornwall.
We design, develop and deliver programmes of support from pre-start to leadership .  Local support from Cornwall and Isles of Scilly Local Enterprise Partnership and Cornwall Council has been integral to its success.
To get in contact about how we can support you etc please fill out our enquiry form 
Programmes for 2020 – all delivery is now online
In these unprecedented times we are here for you more than ever.  We have moved all of our delivery and awareness sessions online and are arranging regular zoom catch up's with fellows, as well as delivering a regular newsletter with funding opportunities – so please do stay connected with us.
twitter @SSECornwall
instagram @sse_cornwall
And you can email us at admin@ssecornwall.org or call 01872 306130
Accelerating Women's Enterprise (AWE)
Accelerating Women's Enterprise (AWE) Cornwall is an exciting an innovative programme supporting women entrepreneurs to develop a seed of an idea into a sustainable social enterprise. Delivered by two of our own SSE Fellows, AWE will provide a unique opportunity to  embark on a 12 week programme of support, delivered in the evenings, enabling participants to link up with other likeminded women, build knowledge & expertise and hear from our 'talent pool' of  inspirational witnesses.
Our lively supportive and interactive online sessions provide dedicated time and space to explore ideas in a safe and supportive environment;  through peer 2 peer learning, 1-2-1 support and matched mentoring.
Our next programme is due to commence in early 2021. If you are interested in submitting an application, please email sarah.hertzog@ssecornwall.org
This programme is funded by INTERREG and European Union.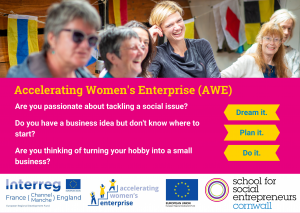 Springboard – The Ideas Greenhouse
Have an idea but don't know where to turn? Thinking of growing your passion or hobby into something more?
Our free Springboard programme will support you to gently explore your ideas from the comfort of your own home. We run friendly bite-sized sessions online and 1:1 mentoring where you can learn at your own pace in a safe and supportive space.
"Springboard helped me see what my dreams and goals were" 
Natalie – Springboard participant
Find out more about Springboard
This programme is funded by CLLD and EU Structural and Investment Funds.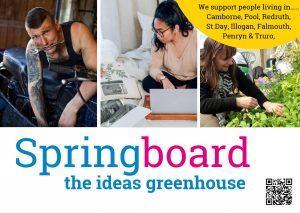 Community Business Trade Up Programme
Recruitment is completed and applications for our 2020 programmes are now closed.
Lloyds Bank  Social Entrepreneurs Start Up Programme
Recruitment is completed and applications for our 2020 programmes are now closed.
Local news
New report from Power to Change and Renaisi shows the impact of our learning programme and Match Trading grants on community businesses.

Discover south west England's growing social economy, enabled by cross-sector partnerships and European funding.

Applications open for the Community Business Trade Up Programme. It's the fifth and final year and £0.5million worth of new Trade Back grants are available
View all news