Caro Warwick-Evans, Cornish Seaweed Company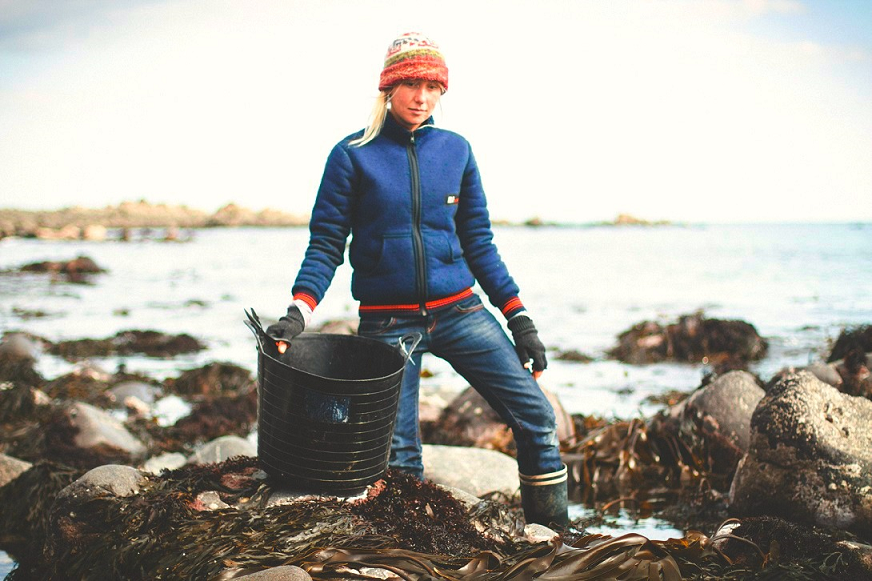 We caught up with Caro at the end of our Lloyds Bank Social Entrepreneurs Start Up Programme in 2015. Learn all about her Cornwall-based social enterprise, and how the School for Social Entrepreneurs supported her.
What does your social enterprise do?
The Cornish Seaweed Company sustainably harvest, process and package a number of different Cornish seaweeds using traditional means to be used as a superfood, vegan thickener or artisanal ingredient.
How do you create social impact?
The Cornish Seaweed Company runs workshops on local, nutritional and sustainable foods. We have worked with thousands of individuals in the last six years, and continue to grow as a business. We offer employment to 11 local young people and continue to impact the younger community visiting schools and explaining what we do. Three work experience individuals get to join us, so we talk about that too. At festivals, we also run cooking demos with our seaweed.
What motivated you to start Cornish Seaweed Company?
I started Cornish Seaweed Company in 2012 in response to the lack of work in Cornwall. I was working scrubbing the boats in Falmouth and my business partner was working as a waiter. We are both hugely interested in conservation. I qualified in renewable energy engineering and Tim is a scientist specialising in conservation. But we were both unable to find work. There was just nothing about.
After hearing a program on 'Farming Today' about the seaweed industry we went to work with a seaweed company on the west of Ireland to learn about the seaweeds, sustainable harvesting and traditional processing. We then came back to Cornwall ready to start our own business.
Few people know about seaweed in this country but we have the most wonderful variety of species which are not only a superfood but are the most nutrient rich foods on earth.
Currently the UK imports most of their seaweed for eating from Asia disregarding what we have available here on our coasts. In this time of climate change and growing awareness of where our food comes from, there is more and more emphasis being placed on foods that are grown and harvested locally and sustainably.
Why are you passionate about this cause?
Both my partner Tim and I are very aware of the environmental challenges that face our world and the negative impacts we are leaving for future generations to clean up. By focussing on local, healthy and sustainable foods and the workshops that surround them we are hoping to increase awareness about our fragile environment and the food routes that we choose to use.
We have both also been really stuck with the lack of work in the south west and the tough times that you can experience when you slip out of the daily routine of regular employment. Through our four-stage courses we aim to help bridge the gap to employment for others. Many different factors can build up which create barriers to work. That's why we aim to help individuals through these, such as overcoming anxiety, building confidence, getting back to working in a team environment or getting used to working to a schedule again.
How has the School for Social Entrepreneurs supported you?
SSE picked us up right at the beginning when we were still planning The Cornish Seaweed Company. They not only gave us the business support and training that we needed, but they were a solid, friendly and highly experienced support network. Even having finished the programme over a year ago, they have continued to help us find expert help, directed us to new and exciting opportunities, and offered guidance when the going gets tough.
The experience that SSE gave us was invaluable.
What are your plans for the future?
We have started growing seaweed on lines out in the ocean and are currently doing this on a trial basis. This will make us the first seaweed farm in the UK, following on from Ireland, France and Asia. This will allow us to provide a growing crop of sustainable, healthy, local sea vegetables. Growing seaweed in this way offers a fine solution to the food and agriculture problems we face going forwards. It uses no input in the form of water, fertilisers, pesticides and takes no ploughing. Plus, it doesn't deplete the ocean in the way intensive farming depletes the soil. Absorbing  excess CO2 from the atmosphere and expelling oxygen like plants do, means it is a huge carbon sink.
Seaweed farms create wonderful natural nutrient rich habitats for marine species when fish populations need all the help they can get. In short, seaweed farming is the future!
What would your advice be to a budding social entrepreneur?
Believe in yourself deeply and trust your instinct on business people, ideas and general flow. Remember: if anyone can do it, you can!
If you've been inspired by Caro's story take a look at our courses and see how we can help make your idea a reality.