About us
We equip people to transform their communities and improve the lives of others
We can't fix all of society's problems by ourselves.
That's why the School for Social Entrepreneurs brings together people who want to change things for the better. People tackling urgent issues like poverty, education, inequality, health, climate change and much more.
Every year, we help more than 1,000 people learn how to transform their communities and help people in need.
We support social entrepreneurs, intrapreneurs and charity leaders. We run courses that equip them with the skills and networks needed to create lasting change. We help in other ways too, like connecting them with funding and mentoring.
Our 11 schools are changing lives across the UK, Canada and India.
Want to join us?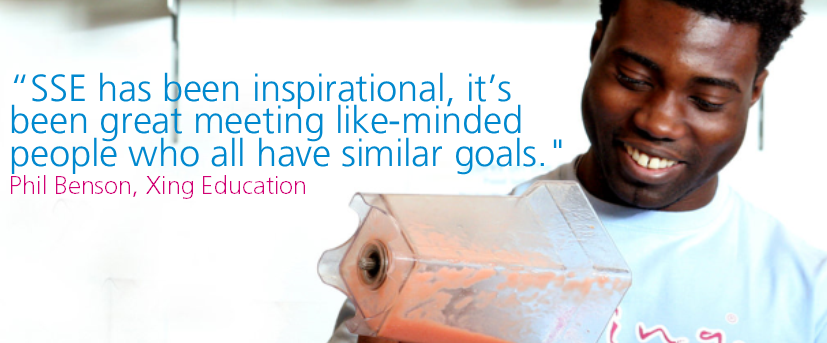 Just having a look around?
Our story
Check out this video from our 20th birthday party for a flavour of what SSE's all about…
It all started in the 1990s with an amazing man called Michael Young. Michael was a serial entrepreneur who founded and co-founded dozens of organisations, including the Open University, the Consumers' Association, and the Young Foundation (originally called the Institute of Community Studies).
Michael realised he could multiply his impact by equipping the next generation of social entrepreneurs to start up brilliant organisations to create social and environmental change. He started talking to people with curious minds and passionate hearts, who also believed that society could be fairer. One of them was Charlotte Young (no relation), a pioneer in action-based learning, who went on to become SSE's chair until 2017, and is still a trustee.
The first SSE cohort was run in 1998, from Bethnal Green in East London. Among the plucky young upstarts was Alastair Wilson, who is our current CEO – see if you can spot him in the photo below!
In 2000, the SSE team realised our unique approach could work in other locations. We were awarded a £1m Millennium Awards Scheme to start up 10 local SSE programmes across the UK.
That was the beginning of our global network. which today spans the UK, India and Canada. (We've helped social entrepreneurs in Australia and Ireland too, though we don't operate there at the moment.)
Since then, we've helped thousands of people learn how to transform communities and help people in need.
We're still innovating, impacting communities, and having fun while we're at it!
What we stand for
Our vision
A fair and equal society where the potential of all people is fully realised.
Our mission
To mobilise the experience of people from all backgrounds and support them to use entrepreneurial approaches to create lasting social and environmental change.
Our values
Integrity, inclusivity, empowerment.
The School for Social Entrepreneurs has signed up to EW's Inclusive Cultures Pledge 2018, because we are committed to improving the diversity of our organisation and building inclusive cultures.