About us
"Everybody has the capacity to be remarkable"
Who we are
School for Social Entrepreneurs (SSE) is a charity that supports people using entrepreneurial approaches to tackle complex social problems. Our vision is of a fair and equal society where the potential of all people is fully realised. SSE invests in individuals from all backgrounds who have practical ideas for change.
What we do
We run practical learning programmes and courses to support people from all backgrounds to realise their potential and bring about lasting social and environmental change. Our courses help individuals start, sustain, and scale social enterprises, charities and community projects.
We're committed to jargon-free learning delivered by experienced professionals. SSE uses an innovative learning approach, which focuses on real world issues and practices. We also provide courses aimed at established not-for-profits, covering common issues in the charity sector. Whatever stage you're at in your organisation, we'll provide expert support to advance your social enterprise.
To find out more about who we are and what we do, view our Activity Report.
How SSE creates change
SSE's Theory of Change is based on what we do and what we enable. The blue circles illustrate what we do and what we think of as within SSE's 'sphere of control'. They show the activities SSE undertakes to support individuals on a learning journey and the outcomes that are achieved for the student and their organisation. The pink circles illustrate what we enable and what we think of as within SSE's 'sphere of influence'. They show the outcomes achieved by the student and their organisation for people and communities and how, by being part of the SSE community, we achieve social change together.
Download the Theory of Change here.
Our students
We mobilise the experience of enterprising people who have identified an unmet social need and support them to use entrepreneurial approaches to create a sustainable solution to address this issue. There is no typical student at School for Social Entrepreneurs. The people that attend our courses have ranged in age from 17 to 74 and come from diverse cultural and ethnic backgrounds. At the SSE we believe that your passion for change is what matters most, not where you come from.
We support: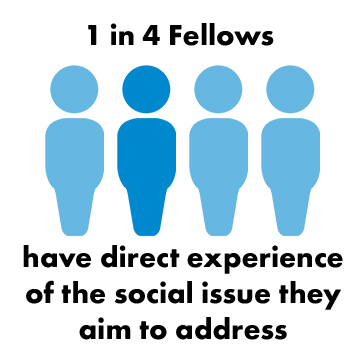 social entrepreneurs who are looking to get a new idea off the ground
social entrepreneurs who want to grow or scale their impact
leaders of established social enterprises and charities, and their staff, who want to become more enterprising or develop skills in specialist areas
The SSE is particularly keen to support innovative grassroots projects. We look for great ideas from people with first-hand experience of social issues because we believe personal experience builds a strong foundation of practical knowledge. You can read more about our inspiring students on our stories page.
Where we work
The SSE was founded in East London in 1997 and has since grown to become a global network. The SSE now operates in 12 locations across the UK and has schools in Canada and India.
Find your local school by visiting our locations page.
How we're funded
School for Social Entrepreneurs is a registered charity. We work in partnership with individual philanthropists, grant giving trusts and foundations, corporates and other businesses, governments, and the voluntary, community and social enterprise sector.
Our partnerships help us to reach people with practical ideas for change, leverage a wide range of skills and experience to benefit our students, and provide vital funding to ensure people from all backgrounds are able to access our programmes and support.
We also generate income by trading and selling places on our specialist short courses and workshops.
We work collaboratively to create social change and welcome opportunities to work with additional partners to support our inspiring and growing community. Head to our 'support us' page to find out more.
Our history
School for Social Entrepreneurs was founded in 1997 by Michael Young. The SSE was the last in the line of organisations created by the Institute of Community Studies (now the Young Foundation), a pioneering urban think tank.
The SSE was run from the Bethnal Green neighbourhood of East London and welcomed its first cohort of students in 1998.
In 1999 to 2000, after the success of the SSE's innovative national programme, we determined our approach could work in other locations. We were awarded a £1million Millennium Awards Scheme that allowed 10 local programmes to be established across the UK.
In 2000, the SSE also helped lead the consortium which created UnLtd, the Foundation for Social Entrepreneurs, in order to provide start-up grants across the UK.
Over the past two decades the SSE has helped thousands of social entrepreneurs find success. In the years to come, we hope to support and inspire more people across the world.
Find a course to help you develop your charity or social enterprise.