Support us
Back an individual, support an innovation and get involved.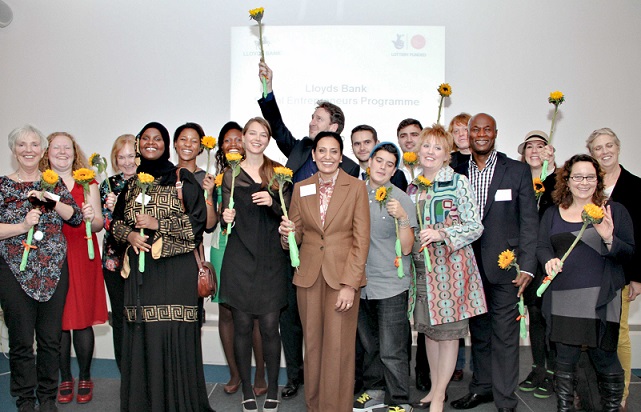 How we're funded
The School for Social Entrepreneurs is a registered charity. We work in partnership with corporates and other businesses, individual philanthropists, grant giving trusts and foundations, governments, and the voluntary, community and social enterprise sector.
Our partnerships help us to reach people with practical ideas for change, leverage a wide range of skills and experience to benefit our students, and provide vital funding to ensure people from all backgrounds are able to access our programmes and support.
We also generate income by trading and selling places on our specialist short courses and workshops.
We work collaboratively to create social change and welcome opportunities to work with additional partners to support our inspiring and growing community.
Contact our development team to find out more.
How we work with our partners
When we work with partners we invite them to:
Back an individual
Support an innovation
Get involved
At the SSE, we work with partners such as the government, corporates, trusts, and foundations. Working with partner organisations helps us to offer social entrepreneurs the support they need to turn their ideas into sustainable enterprises.
Corporate partnerships
Corporate funding ensures our courses are accessible to social entrepreneurs from all backgrounds. As well as covering programme fees, we like to include our supporters in the selection panel when we recruit students. There is also the opportunity to get involved mentoring social entrepreneurs studying at the SSE.
We often run brilliant events with our corporate partners. For example, we run Christmas fairs to showcase brilliant gifts that do good, created by the social entrepreneurs we support. People like SSE fellow Sian Wells, who founded Kitenge to support tailors in Tanzania. Read Sian's blog about showcasing her awesome African clothes in London at Christmas fairs hosted by our partners RSA, PwC and Linklaters.
Our network of franchise schools means corporates can work with us to support social entrepreneurs on a regional, national, or international level.
Our partnership with RSA Insurance Group
Our 10-year partnership with Linklaters
Grant giving
The School for Social Entrepreneurs has an external delegation agreement with the Big Lottery Fund. Our agreement enables the SSE to give out £1,000,000 a year in grants to social entrepreneurs on the Lloyds Bank Social Entrepreneurs Programme. The competitive recruitment process for our courses provides a great platform to undertake grant due diligence and assessment.
Bespoke programmes
The SSE works in partnership with a number of organisations to develop bespoke programmes. These programmes can be thematic, helping social entrepreneurs address a specific problem like youth unemployment. Programmes can also target a particular demographic such as senior charity leaders looking to make their organisations more sustainable.
Pro bono services and support
The SSE's strategic partnerships also include non-financial and pro bono support. We have previously received free venues for events, pro bono legal assistance, and business psychology services for senior staff development. We highly value the commitment of time and resources and welcome offers of support.
Media partnerships
Our partnership with The London Evening Standard led us to take part in their Frontline London campaign. During the campaign we delivered two entrepreneurship programmes for ex-gang members and young Londoners affected by gang culture. We have also developed a national partnership with Time Inc. Currently we are profiling a selection of SSE Fellows in Time Inc.'s magazine titles. Their senior staff are also mentoring our social entrepreneurs and providing media training.
Local Authorities
A number of SSE schools receive support from Local Authorities. For example SSE Midlands is supported by both Solihull Metropolitan Borough Council and Birmingham City Council. In addition to financial support, both Councils offer practical support such as space, expertise and networks.
Who we work with
Contact our development team to find out more.