Our strategy
2022-25: Igniting the social economy
We believe in a better world. Are you in?
How we'll get there: Igniting the social economy
Over the past 25 years, SSE has supported 5,000+ social entrepreneurs across four continents.
Our strategy 2022-25 builds on this experience and expertise. It also marks an important new beginning.
Igniting the social economy is now our driving force.
This strategy outlines how we'll work with individuals, enterprises, partners and governments. Together, we will have a transformative effect on local communities and the big challenges of our age.
The social economy is a movement of organisations and enterprises that prioritise people and planet. Together, they are committed to tackling the greatest social and environmental challenges of our time.

Our three priorities
To ignite the social economy by 2025, we will:
1. Ignite entrepreneurship in communities
To achieve social & economic renewal.
We believe people who live in a place know best how to improve it. We have +25 years' expertise in equipping people to create positive change within their communities. We know this approach works.
2. Accelerate social innovation
To tackle systemic challenges in society.
Humanity is facing a myriad of economic, social and environmental crises. Thanks to the diverse range of people we reach, we can discover and champion the most innovative solutions to large-scale challenges. This includes social entrepreneurs tackling challenges such as homelessness, financial insecurity and climate change.
3. Harness our network and insights
To influence policy and practice.
The social economy needs the right conditions to grow. Alongside the support we offer entrepreneurial leaders, we will collaborate with policymakers and other practitioners to enable the social economy to thrive.
Learn more
Download 'Igniting the social economy: Strategy 2022-25' to explore how we'll create impact in the next three years: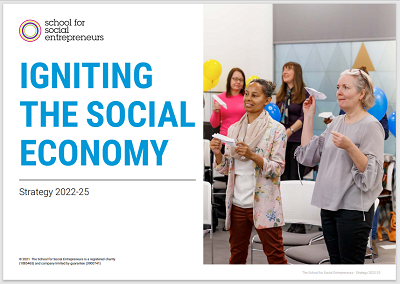 Supporting the SDGs
To frame our work in the next three years, we have planned longer-term. Our work in the next three years will help us contribute to the United Nations Sustainable Development Goals (SDGs) by 2030.