It's Friday! We made it.  The weekend is only hours away, so get yourself a cup of tea (or maybe a gin and tonic if you are reading this after 5pm), sit back and let yourself be ever so slightly distracted by this week's news.
(If you'd like to hit the tweet button after you've read it, you'd be doing me a favour as it may just help us reach 20,000 followers…we're 12 away!)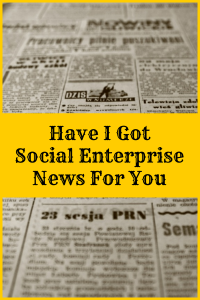 There are still places available on SSE Scotland's Understanding Your Finances course which takes place on the 4th and 5th December.   If you find want hands- on support and practical tools to help you get to grip with your accounts, this course can't be missed.
If you have been inspired by Strictly, SSE Fellow Leonardo Greco is launching IgniterHive in January with a series of dance taster sessions in London.  Spaces are limited so book soon!
The Third Sector Loan Fund is offering loans of between £250,000 and £3million to charities and social enterprises.
 All round good guys The Three Beards are offering social enterprises the opportunity to go and pitch their products and get constructive feedback from the room at their 'Don't Pitch Me Bro' event in London on Thursday 27th November. Highly recommended.
A co-operative founded to convert empty offices into social housing has just completed its first deal in Bristol. 'Abolish Empty Office Buildings, House People' will create 6 flats in a disused warehouse and office.  They are now looking for investors to buy shares in the scheme.
We've got not one, but two job vacancies at SSE London: a programme administrator, and a PA /Office administrator. Details here.  It's a great place to work! (And I promise I've not been told to say that).
Christmas has been officially opened by various advertising agencies this week, and if you are rushing around in a last minute panic trying to find gifts (only 40 days to go!!!) you could do a lot worse than a hamper from thisbecause.com. Every product comes from a socially minded organisation, including SSE Fellow Harry Specters.
Also in the hamper is Aurelio beer, made by  social enterprise Two Fingers Brewing Co.  We met co-founder Matt Sadler in our latest 'An Interview With…'
The Halifax Giving Extra Awards are now open for applications.  67 prizes of £300 and 1 national prize of £2,500 (plus a £2,500 donation to a good cause) are up for grabs to the 'inspirational people out there who work tirelessly to support their community'.
Models of Impact is an attempt to map every single social enterprise business model. There are a lot!
Next week we're at the Locality conference in Cardiff, so if you are there come over to our stand and say hello!  Have a good week.