There are not enough pubs with a jukebox any more. Nothing to do with social enterprise I know but they've recently done up a pub close to me and removed the jukebox and that was pretty much the only reason to go there. Yes, there are apps that you can use instead but it's not the same. Anyway, this week's edition has a painstakingly picked song to go with each news story. Timely as it's a bank holiday weekend and a lot of you will be heading to the pub, the jukebox's spiritual home.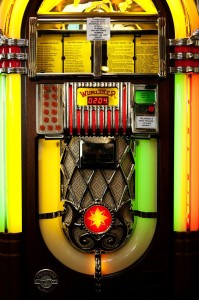 Read on for the Have I Got Social Enterprise News for You news related playlist…
"If you're having money problems I feel bad for you son, I've got 99 problems but sources of funding ain't one."  (Jay-Z, 99 Problems, adapted). 
Ok, it's not a wholly accurate lyric, but it is something that Jay-Z might muse should he attend our Sources of Funding workshop on June 10th. Stranger things have happened…
---
"Working 9-5, what a way to make a living". ( Dolly Parton, 9-5) 
Don't worry Dolly, we're a bit more flexible than that at SSE (you can do 10-6 if you'd prefer) and we've still got a couple of job openings. We'd particularly like to hear from you if you can communicate or direct.
---
"Have you met Miss Jones?" (Frank Sinatra, Have You Met Miss Jones)
The real mystery of this song is whether Frank was referring to ClearlySo's Clare Jones, who has written this rather good introduction to social enterprise legal structures. He may well have been, and I haven't.
---
"There are fewer more distressing sights than that of an Englishman in a baseball cap" (The Libertines, Time for Heroes)
Fan of bohemian living Pete Doherty may want to update this lyric as it was written before this year's election campaign and the 'politician in a hard hat on a building site' craze, which everyone knows is far more distressing. Luckily the Social Economy Alliance have counted the number of hard hats in each election manifesto, along with each social economy relevant policy, to help us all decide who to vote for next week.
---
"How many y'all wanna be the young and down? How many y'all wanna be the kick knowledge?" (Wyclef Jean, Kick Knowledge)
I'm not young and down enough to know what 'kick knowledge' means I'm afraid. Here's hoping that it isn't something hugely offensive. Anyway, if you want to kick knowledge, it's something that they may be doing at The Big Social: North East, which is The North East's first ever knowledge exchange for social enterprises. It takes place in Durham on 9th June and is free to attend.
---
"Yo welcome to the World Wide Web, we're going to take you through it step by step" (MC Webmaster, World Wide Web)
Sinead Mac Manus, SSE Fellow and co-founder of free digital skills training platform Fluency, has been shortlisted as Best Digital Skills Product or Service as part of the Digital Leaders 100. You can vote for her here.  This song should definitely be their organisational theme tune.
---
"One more cup of coffee for the road, One more cup of coffee 'fore I go" (Bob Dylan, One More Cup of Coffee) 
I'm not sure if Bob Dylan has ever been to Peckham but if he's there in the future he should definitely check out Old Spike Roastery, a social enterprise set up by SSE Fellow Cemal Ezel which this week got an excellent write up in the Evening Standard. I've been and can confirm that the coffee is super.
---
Money, money, money / Must be funny (Abba, Money Money Money)
The deadline for Comic Relief's Tech For Good programme is next Friday (8th). The scheme funds projects that use software and digital technology as a part of a solution to addressing any of our UK Main Fund themes: Better Futures, Safer Lives, Healthier Finances, Stronger Communities, Fairer Society.
---
Nothing is sustainable /There is no one left to embrace /Peace is unattainable/ Everyone has the same face (Dredg, Stationary Transient)
Don't they seem a cheerful bunch? Anyway, I'm happy to report that they are wrong, because Jane Chen is making her social enterprise sustainable and tells you all about it here. It's a good read.
---
"(Ride your pony) get on your pony and ride" (Lee Dorsey, Ride Your Pony)
A bit in-joke this but we found out this week that our communications officer Leonie Jarrett used to go to school on a Shetland pony and I thought a revelation like this deserved a wider audience. Tweet her @leoniejarrett if you have any questions. As far as we are aware she uses public transport to get to the office.
Coming up at SSE