by David McGlashan
Kieron Tilley is co-founder of We Walk the Line, a social enterprise which has recently celebrated its first birthday.  The organisation aims to train disadvantaged individuals to become baristas, and teaches them the skills that they require to set up their own business. Kieron and his colleague Mat Corbett were participants in our last social franchising programme.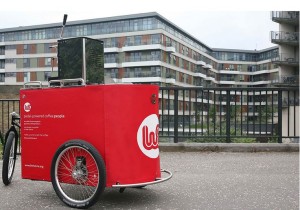 What does We Walk the Line do and what impact are you trying to achieve?
We founded We Walk the Line just over one year ago with a vision to empower tomorrow's entrepreneurs. Both Mat and I had been working with excluded and marginalised people for a very long time, nearly 20 years each and we noticed that when we asked people 'What do you want to do?' They always said one of two things. Either a) I want a good job or b) I want to be my own boss.
Focusing on the latter, we think we have come up with a model that supports the young and disadvantaged to become their own boss. Our mission is to provide a supported holistic route to to self-employment where our 'apprentice entrepreneurs' learn by doing how to set up and run their own coffee franchise.
We reinvest our profits in our 'apprentice entrepreneurs' – creating a new coffee franchise business for them to own. We offer ongoing support in bookkeeping, marketing, insurance, health & safety as part of a social franchise model. We decided in the first instance to focus on the artisanal coffee market as we saw opportunities for young people to become self-employed baristas.
What was your motivation for founding We Walk the Line?  What had you been doing previously?
We Walk the Line celebrated its first anniversary on 14 October 2014 so we are a relatively new organisation – prior to this, both co-founders were working in sectors with people who, for a number of reasons, were interested in working for themselves. Having previously worked within the further education and criminal justice sectors we became increasingly interested in people's motivation to set up their own business and determined to look at ways in which we could look to support them.
We Walk the Line's focus is on self-employment – all our beneficiaries will be people who wish to start their own business but need extra support to have the confidence to take that first step.
How do you strike a balance between mission and money? The more money we can generate the more impact we will have. We prefer the term 'more than profit' than 'not-for-profit'. Money is key to us achieving what we want to do – without it we cannot fulfil our mission or our objectives.
What is the biggest challenge that you have faced as a social entrepreneur and how did you overcome it?
Early cash flow challenges – this is the same for all new businesses, so we are acutely aware of what our beneficiaries will be going through! A key lesson learnt in the early days is not to worry about asking for support. Finance aside, there are a whole raft of challenges, from deciding on a governance structure, designing a branding and marketing strategy and building successful partnerships. Perhaps also overcoming self-doubt – which isn't a bad thing necessarily but talking through our ideas with as many people as possible has helped to focus on the direction we are heading in.
And what has been your greatest achievement? 
Reaching our first birthday and getting the support of the RSA in developing our Kickstarter campaign. (Watch this space!)
What does a typical day look like for you? 
Each day is different – at the moment we are working hard to develop our business relationships and secure funding which will enable us to develop our model to the next phase. What motivates us and keeps us going is the belief we can offer something a bit different – an alternative route for young people to become their own boss.
What are your hopes (and fears) for the social enterprise sector?  
We hope that more businesses 'Buy Social' and also that more young people enter the social enterprise sector. A recent survey (RBS Enterprise Tracker, in association with the Centre for Entrepreneurs 2014) shows that 27% of young people wanting to start their own business would be interested in starting a social enterprise, which is encouraging. We believe the sector is going to grow and as it does there is a fear that some organisations may misappropriate the term social enterprise for their own benefits.
You're made Prime Minister for the day.  What would you do? 
Appoint a Cabinet Minister to be solely responsible for a new Department for Social Enterprise!   You can find out more at wewalktheline.org/ or follow them on Twitter @wewalkthelineuk