While you are reading this, I'm actually sat at an email marketing conference, so who knows what I'll learn and what this could look like next week.  It will probably be in 3D or something.  Or have sound effects.  Or it won't even arrive in your inbox, but will be instead be transmitted directly into your mind.  The future is a scary place…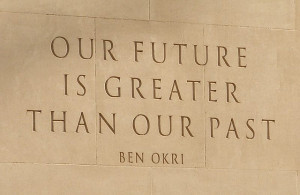 Here's this week's news…
Eric Dies's book Lean Startup has become a manual for many entrepreneurs, particularly in the tech sector (I'm afraid to say that I bought it about a year ago but that it's been mainly gathering dust).  Now, the time has arrived for 'lean and design to meet social'.
A great article with an even better headline: 'Twenty years of making microfinance, or whatever you want to call it, work'.
New Minister for Civil Society Rob Wilson declared he would ensure that small charities and social enterprises benefit from government policies.
Ka-boom. The gloves were off in the social investment space this week.  Jonathan Jenkins of SIB wrote a well balanced article about how charities can access social investment, in repsonse to which Richard Hawkes, Chief Exec of Scope, tweeted that 'for a vibrant and successful third sector more must do this'.  Not the views of Kathy Evans, CEO of Children England, however, who asserted that social finance was 'absolutely the wrong thing for the sector'.  Sir Thomas Hughes-Hallett, a trustee of Esmee Fairbairn, argued that the whole thing was simply a passing phase.
(If you are as confused as I am by the whole thing, our Unlocking Social Finance workshop is coming up.  I'm going to go on it.)
Are you David, not Goliath? Some useful pointers on how small and medium organised can measure impact.
This link may or may not work, depending on how the FT's paywall is feeling, but if it does, it's a really good article about crowdfunding.  (If it doesn't work, Google 'Crowdfunding merits its hype as a tool for risk-takers' and it should be there).
Jingle bells, jingle bells…it's only 61 days until Christmas. You will almost certainly be buying someone a calendar, so why not get one from social enterprise (and SSE Fellow) Cafe Art?. 
We're going to be exhibiting at the Locality conference in Cardiff in just under a month, come and say hi.
Have a good week!