We often get delegations from around the world e-mailing us and asking if they can meet with SSE and find out more about what we do. When we're able to accommodate these requests it's always a really useful and enjoyable experience for us (and hopefully sometimes for them too). It's so easy to get caught up in the day to day bustle of e-mails and meetings taking a moment to explain to someone else what you do can be a useful reminder of why you do it!
Last Saturday I had the esteemed job of showing the Deputy Prime Minister of Thailand and 6 of his office around social enterprises in London (much to the hilarity of my friends, who don't really get my job or understand why anyone would trust me with a Government official.) We had a packed day visiting four different SSE Fellow led social enterprises. It was great to go and see some of the SSE Fellows I know well and meet some I hadn't got round to visiting before.
First stop was Old Spike Roastery in Peckham, a not-for profit coffee shop providing employment opportunities for homeless people. Set up by SSE Fellow Cemal Ezel they have just taken on their first homeless employee Lucy- who happens to be our local Big Issue vendor that Cemal met outside the SSE offices! It was amazing to hear all about how the opportunity is helping Lucy develop her language skills and confidence as well as learning how to make a mean flat white.
We then headed off to New Cross to The Hill Station community cafe, shop and exhibition space for some brunch. The place was buzzing with locals who had come to eat or meet with their neighbours over a cup of tea. The bright and airy space used to be a dingy storage unit until some community members with bold vision rallied an army of helpers to reclaim the space. An excellent example for the Thai delegation about how you can use community spirit to make great things happen.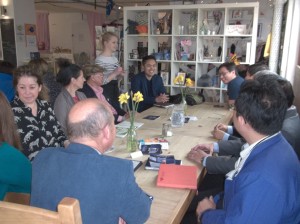 We then hopped back into our HCT minivan and headed to the new South London home of Bike Project, who recently moved after outgrowing their original premises in Hackney. They have a very simple model: take second-hand bikes, fix them up, and donate them to refugees. We were met by founder Jem and one of the refugees who has benefitted from receiving a bike and now regularly volunteers to fix-up new donations. It was really great to hear all about how the project is growing and the delegation were particularly interested to hear how Retail Gift Aid can benefit organisations trading second hand goods.
Last stop of the day was Circle Sports in Dalston. Circle Sports provide employability skills for young people not in employment, education or training. CEO Turly showed us around the shop and excitedly played us the video for their powerful new Jobless Generation campaign. There was also much enthusiasm when the Deputy PM got a reminder of home in Fikay Fashion's Cement Bags.
At the end of the day I went home thinking about how there are SSE fellows all over the world doing amazing things every day, not just when we go to visit them with a delegation! It left me feeling really inspired and reminded me that it takes a certain and very special type of person to be a Social Entrepreneur. So I urge you to go and find the social entrepreneurs in your community, support them, buy from them and then of course send them to SSE.