Fundraising from Trusts and Foundations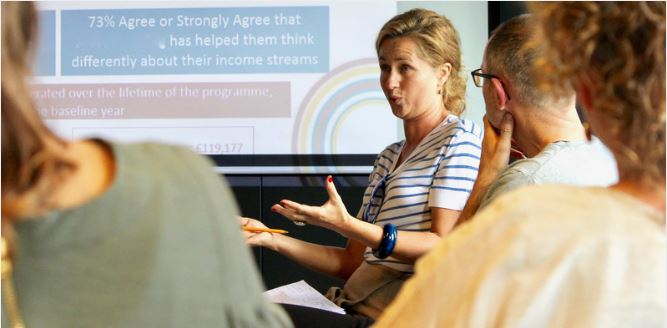 Trusts and Foundations make over £4 billion worth of grants annually and are an important source of income to charities and social enterprises. But what can you do to ensure that your organisation is tapping into this valuable funding pot and how can you stand out from the crowd? This workshop will answer those questions and more.
This course is for people who have some experience of fundraising from trust and foundations but who
Would like to add more quality and strategy to their approach
Would value the chance to take a step back and consider what isn't working and how to change it
Are looking for some tips on how to improve their own written applications
Are struggling to repeat previous success in an increasingly competitive funding climate
Would like to gain more insight into the mindset of funders
The course is based on a five-stage process developed by Lime Green Consulting to help organisations ensure that they have all the key components in place for trusts and foundations fundraising.
"A well run workshop and insightful session today, lots learned and some very useful tips on how to get the best out of funding applications." Gavin

"A very useful and informative session that relates to my daily role. Felt the course was extremely good value for money. Thank you!" Claire

"Great day jam-packed with tools and tips. I was lucky enough to attend two of your fundraising days via a grant from a funder. Well worth it. Will be reporting back to the funder that this has been invaluable for us as a small charity. Thank you Lime Green Consulting!" Jo

"I found the day extremely useful and informative. Gemma and Mike explained each section very well and in layman's terms. I feel much more confident and will put what I have learned into practice. Thank you." Emilie
Course facilitators
Mike Zywina is an experienced fundraising consultant and Director of Lime Green Consulting. Mike Zywina is an experienced fundraising consultant and Director of Lime Green Consulting. Lime Green Consulting help ambitious charities and social enterprises to be more strategic, become more sustainable or access new funding – they provide a mix of strategic consultancy, hands-on fundraising support, training and mentoring. Mike was previously Fundraising Manager and a member of the Senior Management Team at Link Community Development, overseeing a thriving fundraising portfolio raising £600,000 per year.
Gemma Pettman helps charities to raise both their profile and vital funds. She's supported causes ranging from city farms to youth unemployment. Demonstrating impact through storytelling is a crucial part of Gemma's work, particularly when applying to trusts and foundations. As well as raising much-needed income, she has received praise from funders for her use of sincere and straightforward language.
Timetable
| | |
| --- | --- |
| 10:00 am | Welcome and introduction |
| 10:10 am | The state of the funding landscape |
| 10:50 am | Stage 1: Establishing your funding needs |
| 11:40 am | Stage 2: Prospect research |
| 12:00 pm | Stage 3: Developing your case for support and a template application for key projects |
| 1:00 pm | Lunch |
| 1:45 pm | Stage 4: Writing strong applications |
| 3.15pm | Stage 5: Robust record keeping and building a long term relationship with funders |
| 3.30pm | What funders say, what they really mean and what to do about it |
| 4.15pm | Questions and close |
| 4.30pm | Finish |
Location
The course takes place from 10:00am – 4:30pm at our offices in The Fire Station, 139 Tooley St, London Bridge:
Price
For this one day workshop  plus all course materials you pay:
| | |
| --- | --- |
| Organisational turnover £1m + | £149 |
| Organisational turnover £500,000 – £1m | £129 |
| Organisational turnover £100,000 – £499,999 | £109 |
| Organisational turnover less than £100,000 | £79 |
How to book
First, select the date you wish to attend below. You will be asked for your name, email address and telephone number.  Once you have entered these, select your price category and click 'proceed to payment'.
You will be given the option to pay immediately online with a credit or debit card (make sure you have one to hand!), or you can select 'pay by invoice' and our finance team will be in touch with an invoice.
If you have any questions about or issues with the booking process please contact SSE's Sales and Marketing Manager David McGlashan on 020 7089 9120 or email david.mcglashan@sse.org.uk.
Your data 
We may share the information that you provide when booking this course with external speakers and course facilitators to assist with the planning and delivery of the programme. For more information, please see our data protection policy.