What makes our courses different?
At SSE, our courses are different from anything you've experienced before! We work hard to make sure our courses are practical and engaging. You'll be able to apply what you learn to your own organisation straight away.
Here's how we are different:
We won't teach you.  
Instead you'll hear stories from experts and practitioners with real world experience. You'll leave full of ideas for developing your organisation and an action plan for implementing them. You'll lead yourself to the answers that are right for you.
You won't be bored! 
Our courses are lively, full of inspiration, and jargon-free. We're definitely not about essays and textbooks! You'll have conversations, make stuff, share stories, move around, interact, and work with other people in a group.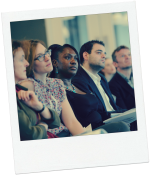 You will leave inspired, re-energised and more confident in your role.
We know that our approach works! 95% of participants on our one-day workshops rate our courses as either good or extremely good. Over 90% of students on our Start Up programme think the course made them a more effective social entrepreneur.
What happens on a course at SSE?
You'll be in a group of around 20 people, of different ages and from different backgrounds. There are no exams or academic entry requirements to get on an SSE course. At the SSE we believe practical experience outweighs paper qualifications. Each course is made up of different elements, depending on the programme:
'Witness' Sessions
We call speakers on our courses 'witnesses.' Our witness pool is made up of social entrepreneurs from across the sector, including organisations such as the Big Issue, Fifteen, and the Eden Project.
Expert Sessions
Some topics need expert attention. We use experienced practitioners to cover a range of topics such as financial management, sales and marketing, legal structures, and business planning. The sessions are run as practical and interactive workshops. All our sessions are engaging, accessible, and easy to understand.
Mentoring
On our longer courses you will be guided by a mentor from one of our corporate partners. Your mentor will offer personal advice, coaching, information, support, and contacts.
Action Learning Sets (ALS)
A key part of our longer courses, Action Learning Sets involve small groups of students working cooperatively to tackle issues and problems.
Watch: Our short animation featuring SSE Fellows explains what you can expect from an Action Learning Set. 
Project Visits
See social enterprise in action! You'll have the opportunity to visit projects that have been established in your local area, often run by Fellows of the SSE.