Developing a Fundraising Strategy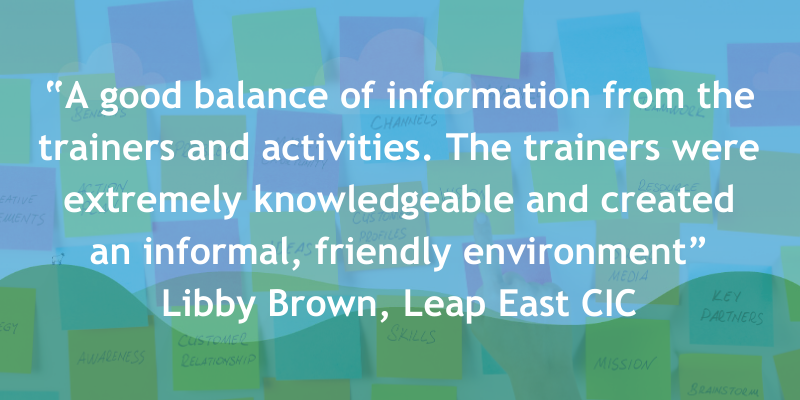 This course is for people who have at least some fundraising experience already, but want to develop a more strategic and sustainable approach. It will equip you with the ability to evaluate and prioritise different fundraising opportunities and ideas, make better use of your limited resources, and more confidently navigate the post-Covid fundraising landscape.
Depending on your current position and experience level, you may prefer to check out our Getting Started With Fundraising or Fundraising from Trusts and Foundations courses instead.
What you'll learn
Developing an effective fundraising strategy requires a methodical approach, a sound knowledge of how fundraising works and an honest evaluation of your organisation's position. We'll be walking you through a comprehensive process for developing a smarter and more focused strategy, and sharing a number of powerful decision-making techniques.
"Thank you for clear, concise, realistic information delivered in a friendly, inclusive way. See you again!" Rose
We'll start by introducing some vital foundation exercises to do before developing your fundraising strategy. These will help you to articulate why fundraising is necessary, review your current performance and identify how to reach key fundraising audiences. We'll then show you how to evaluate and prioritise different types of fundraising, and ensure you have the key building blocks in place for long-term fundraising success.
This course is ideal for you if you're looking to:
Identify how best to fund and sustain your organisation's work in a challenging fundraising climate
Harness the many different ideas from colleagues and trustees / directors into a coherent fundraising strategy
Ensure everyone within your organisation pulls together on fundraising, and agrees what fundraising success should look like
"I didn't expect to come away with so many things I can action straight away. I'm now really excited to go back and discuss everything with my colleagues." Katherine
Timetable
This course is delivered online. It consists of two online sessions on consecutive days, with time for questions throughout. We'll be setting you some exercises to work on independently between the two sessions. To get the most from the course, we recommend that you set aside some time for these before the second day.
Dates of upcoming courses:
Tuesday 28th November / Wednesday 29th November 2023
Tuesday 5th March / Wednesday 6th March 2024
Day 1 (10:00-12:15 including a break)
The challenges currently facing fundraising, and the importance of a good fundraising strategy
Reviewing your current fundraising performance and what needs to change
Building a clear picture of how different types of fundraising work, and their potential for you
Articulating the need for fundraising: how much do you need to raise and why?
Some powerful analytical tools to help you – Enhanced SWOT Analysis & Audience Mapping
Introducing some exercises to work on before tomorrow
Day 2 (10:00-12:45 with a short break midway)
Q&A: How can you work with your Board and team to plan for your fundraising strategy?
Deciding which fundraising activities to do, which to discard, and how to resource your plans
Developing your central case for support and other materials to support your fundraising
Creating a whole-organisation fundraising culture
Forecasting income and setting targets
Bonus Q&A: How to fundraise successfully after the pandemic?
Course facilitators
"Mike and Gemma were fantastic. Really well structured and clear. Can't wait to share what I've learned with my team and would definitely return to another workshop." Ben
Mike Zywina is an experienced fundraising consultant and Director of Lime Green Consulting. Lime Green Consulting help ambitious charities and social enterprises to be more strategic, become more sustainable or access new funding – they provide a mix of strategic consultancy, hands-on fundraising support, training and mentoring. Mike was previously Fundraising Manager and a member of the Senior Management Team at Link Community Development, overseeing a thriving fundraising portfolio raising £600,000 per year.
Gemma Pettman helps charities to raise both their profile and vital funds. She's supported causes ranging from city farms to youth unemployment. Demonstrating impact through storytelling is a crucial part of Gemma's work, particularly when applying to trusts and foundations. As well as raising much-needed income, she has received praise from funders for her use of sincere and straightforward language.
Location
All our learning will be taking place in live online sessions until further notice.
Joining details will be emailed to you in the run up to the workshop.
Price
For this one day workshop  plus all course materials you pay:
Organisational turnover £1m +
£169
Organisational turnover £500,000 – £1m
£149
Organisation turnover £100,000 – £499,999
£129
Organisational turnover £50,000 – £99,999
£109

Organisational turnover less than £50,000

or individuals unattached to an organisation

£89
Book now:
Book your place immediately with a credit or debit card via our website using Stripe, our payment processor. We'll send you a booking confirmation right away (check your spam too).
Please only request an invoice if absolutely necessary and if it is for an amount over £100.
Please note our terms and conditions: we can offer a full refund provided you give us at least 7 days' notice (within 7 days you can substitute the participant for someone else).  
If you have any questions about the course or the booking process please contact SSE's sales and marketing manager, David McGlashan on 020 7089 9120 or email [email protected].