7 things I've learnt about starting up a social enterprise
4 May 2020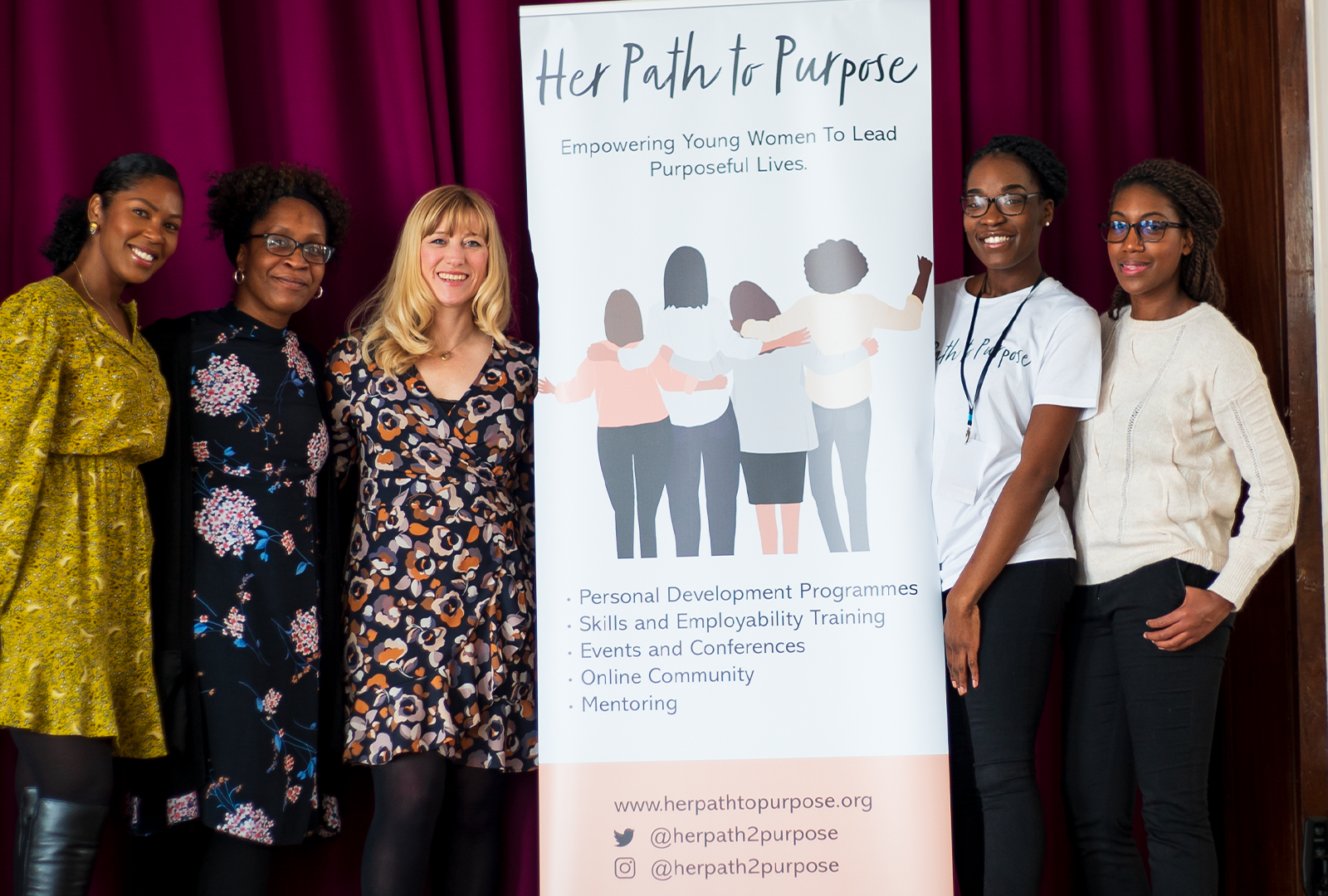 From left to right: Kadian Pow, Rebekah Salmon-Craig, Rachel Vann, Nicole Robinson-Edwards, Louise Watson
Getting your social enterprise up and running is an achievement, both challenging and rewarding. Nicole Robinson–Edwards knows this all too well. She took part in the Lloyds Bank and Bank of Scotland Social Entrepreneurs Start Up Programme with SSE Midlands to develop her social enterprise, Her Path to Purpose. Its mission is to equip and empower young women to fulfil their purpose in life. Discover the most important things Nicole has learnt during her start-up journey.
Thinking about starting up your very own social enterprise? You've come to the right place. Some of you will be in the early stages of your adventure, others are putting final ideas together. Wherever you are, these key learnings will help, support and reassure you.
My mission in life is not merely to survive, but to thrive; and to do so with some passion, some compassion, some humour, and some style.

– Maya Angelou
So come on, you got this! You will excel, you will thrive and you will start up your own social enterprise.
1. Dream big
Get used to receiving prestigious titles which don't always entirely fit your role, even if only from your proud grandma or over-enthusiastic parents. At one of my first public speaking events I was given the title of CEO of the globally recognised charity Her Path to Purpose. I know they say you have to fake it to you make it but come on! It was said with the best of intentions, but even I have to say it seemed far-fetched. The first thing I've learnt about setting up a social enterprise is that you have to dream big, be confident and recognise your worth. Be brave enough to share the amazing work you're doing. We should be proud of the work we've achieved; it can inspire others to do the same.
2. Good connections, good vibes
To celebrate International Women's Day 2020, I met with over 1000 young women from schools in Birmingham to deliver assemblies and workshops around the theme of passion and purpose. This annual event, The Passion and Purpose School Tour, gave us the opportunity to connect with women from all walks of life. 15 speakers, including SSE students and fellows, from different career backgrounds joined us. A special thank you goes to Rebekah Grant (Practising the Pause), Grace Lynskey (Empowerment Project), Janet Grey (Feed my Creative), Charlotte Watvicks (Zero waste Life) and Justice Williams MBE who joined us during the tour. Working together in this way showed me that we are stronger together, working as a team to better our communities.
3. No man (or woman) is an Island
We all need help and support along the way, even for us business savvy women. Don't be afraid to work with volunteers, friends and family to execute your vision. Involving people in your work also gives other people the opportunity to develop their own skills and identify areas of interest. Organising events can be challenging, which is why I worked with 14 volunteer speakers and managed six event volunteers who helped with the 2020 school tours.
Having a mentor can act as another effective support system. A key part of the Lloyds Bank Social Entrepreneurs Start Up Programme is mentorship and I know the importance of working closely with a mentor to achieve a goal. My mentor, Rachel Vann has been a huge support and source of knowledge.
Want to learn more about mentoring?
4. Funding and freebies
Funding is available, I promise! When someone else wants to support your vision, it makes you feel as if you're doing something right. I recommend connecting with Get Grants and the Small Charities Coalition who advertise many funding opportunities. The Alec Dickson Trust funded The Passion and Purpose School Tour 2020, enabling me to cover logistics, develop marketing material, provide refreshments as well as designing and distributing over 1000 motivational cards.
5. Adapting to change – or a global pandemic!
Organisation is key, but sometimes the inevitable happens – the Covid-19 outbreak is testament to this. I had to cancel three events and wave goodbye to the balloons, confetti and canapes for our finale event. Sometimes things don't always go to plan; you may have to cancel or reschedule events. But don't be disheartened. As Aaliyah once said (or sang!) "if at first you don't succeed, dust yourself off and try again". The current Covid-19 situation has allowed us the time to re-evaluate our work and explore how we can continue to support the young women we serve virtually. Let's remain hopeful in the midst of uncertainty!
6. Social enterprise + social media = social success
Whether you're contemplating setting up a social enterprise or ready to launch one, social media can be a valuable tool. Stay connected with other businesswomen and feel free to follow us at @herpath2purpose on Twitter and Instagram to stay up to date with our work and for your dose of inspirational quotes and videos.
7. Last but not least…
Be confident. You can do this!
Learn more about how to start up a social enterprise
Check out our online guides:
Register interest in the Lloyds Bank and Bank of Scotland Social Entrepreneurs Start Up programme, in partnership with The National Lottery Community Fund.