Lloyds Bank Social Entrepreneurs Start Up Programme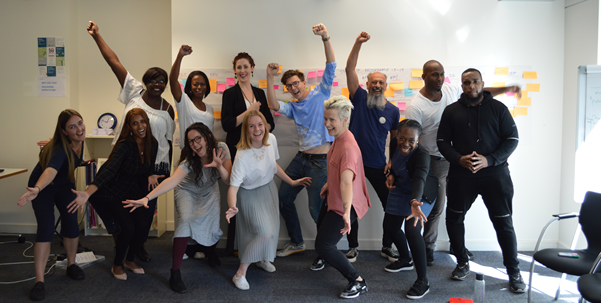 Applications for this programme have closed.
If you've submitted an application  – congrats.  See FAQs below for next steps.
Register interest in the 2021-22 programme below and we'll email you when applications open.
This programme is for people in the early stages of setting up a social enterprise, charity or impact project.
We  support you with:
A free learning programme (14 learning days, spread over a year)
A grant of £1,000 (money you don't pay back)
A support network
Mentoring
Try Trade Up if your project has been running for over a year.
Accessibility
If  you need any of the information about this programme in another format, please let us know on 0207 089 9120 or LBSEP2020@sse.org.uk and we will do everything we can to accommodate your needs.
Register interest
Find out more
Hear from Lyndall, who has completed the Start Up programme:
FAQs
How do I apply?
Applications for the 2020 programme are now closed.
Our recruitment process is now fully online due to government guidelines on social distancing.
Register interest in the 2021-22 programme and we'll email you when applications open.  Complete the form above.
Is Start Up for me? Am I eligible?
Start Up could be right for you if:
You want to start a project or organisation committed to making a social or environmental impact, in a disadvantaged area or with people in need.
Your project is in the planning stages but ready to start, or less than two years old.
You don't yet have any project income, or your project income is less than £15,000 a year.
You're aged 16+.
You're based in the UK and your idea aims to create impact in the UK.
You're committed to participating in the learning programme.
We're not worried about:
Whether you'd call yourself a "social entrepreneur" – the key is that your idea or organisation is committed to helping those in need or improving a community.
Your background, education or experience – we welcome people from all backgrounds, of all abilities, and we make no judgements on your past.
What are the dates and locations?
The learning programme consists of 12-14 days, spread  over a year, starting in October 2020 and running to October 2021. Typically, you attend for a day or two a month (not including school holidays).  However, all learning activities will take place online until government guidelines on social distancing change.
The Start Up programme will run in the following regions in 2021-22 (though you can apply from anywhere in the UK):
East of England (Ipswich)
Hampshire (Winchester)

London
South West (Dartington)
Midlands (Birmingham)

Yorkshire and North East (York)
Liverpool
Scotland
If you need specific course dates, please contact the school you are applying to.
What will I learn?
The course is a transformational experience that will push, challenge and support you. It will give you the confidence and skills to create the impact you're aiming for.
The Start Up programme helps you to get a new social enterprise up and running. You'll learn about how to:
Set up your organisation, using a suitable legal structure
Make money and develop your business model
Manage finances
Develop your impact and purpose
Keep a work/life balance
Build networks
Do marketing and social media
Build confidence in your leadership skills
You'll need even greater resilience, skills and networks to survive and thrive in these challenging times. We'll make sure the learning on this programme is adapted to meet your needs.
You'll be in a group of around 20 other people at a similar stage to you, from all backgrounds. You'll form an 'action learning set' that helps you reflect and develop in a trusted circle. Here's a video that explains action learning.
These trusted relationships with other social entrepreneurs are really important to our students: 19 in 20 students stay in touch with people they met at SSE after they finish the programme.
Our learning programmes are very different to traditional teaching. We're not about essays and academia. We believe in learning from other people's stories. You'll hear from inspiring social entrepreneurs who speak frankly about the good, the bad and the ugly of running an organisation. (This playlist of videos shares the types of stories you'll hear.)
We'll also introduce you to experts to help you develop new skills. You'll build a network of peers and professionals who can support you.
To help keep you on track, we'll also match you with a mentor from Lloyds Bank.
How does the grant work?
All students on the Start Up programme receive a grant of £1,000, thanks to funding from The National Lottery Community Fund. (A grant is money to help you start up your project that you don't have to pay back.)
If you join the programme you will be paired with a grant manager, who'll help out with any questions you have about your grant. Payment of the grant is directly linked to course participation.
Is all this really free?
Yes! You can use the grant for your project's running cost and to pay for travel and subsistence to support you in attending the learning programme.  The learning programme and mentoring is fully funded, thanks to funding from our partners Lloyds Bank, Bank of Scotland and The National Lottery Community Fund. The School for Social Entrepreneurs is a charity.
I've submitted my application - what happens next?
May 2020: Once we have received your application, we assess it to check that you meet the basic eligibility criteria and that your application is complete. (Please note that incomplete applications will be rejected.) Your application will then be assessed by the SSE team at your chosen location. You will find out by end of the May whether your application will be taken to the next stag
May/June 2020:  If you're accepted to the next stage, you'll be invited to attend an information session and interview at your chosen location in May or June. We'll make any reasonable adjustments to ensure you feel comfortable, and you can attend online if you can't make it in person. At this stage, we may ask you to provide your proof of identity and right to work. We'll let you know if you've made it through to the next stage by June or July.
June/July 2020: You will be invited to present a quick pitch of your plans to a selection panel. We'll make any reasonable adjustments to ensure you feel comfortable, and you can attend online if you can't make it in person.
August 2020: If successful, you will be offered a grant offer and learning programme package, with 30 days to sign and accept the terms and conditions
October 2020: The programme begins! The learning programme starts in October 2020 and runs until October 2021.