[START]social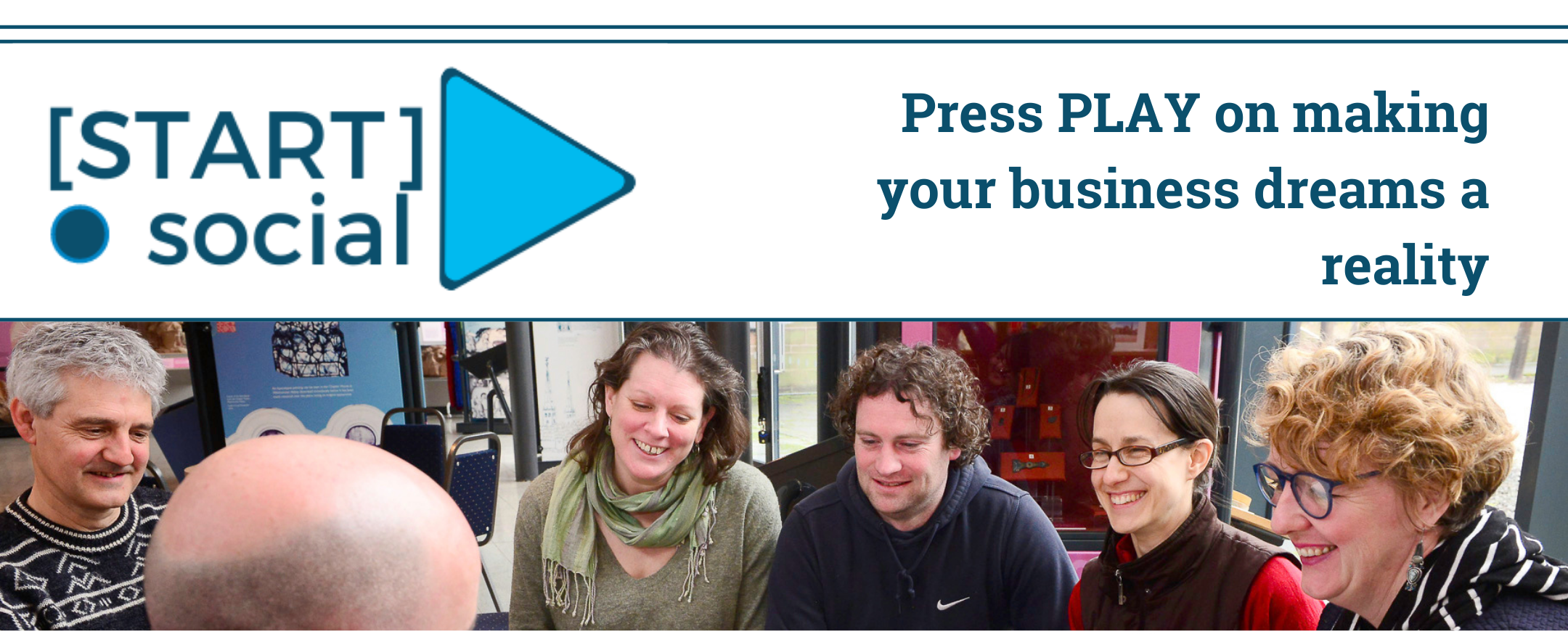 The [START]social programme is business advice and support for people living in Plymouth. The Start Social programme will give them the tools, advice and support they need to take their business idea and get it started!
Is [START]social right for you?
Would you like to run your own socially minded business or start a community project?
Can you see a gap for support in your community (or the wider world) and have an idea of what to do?
Have you experienced a service or product and thought that you could do it better?
Are you new to the business world and need some support to feel ready to commit to your ideas?
Then the support offered by [START]social could be just what you need to press PLAY on your future.
What kind of business support can you get?
The [START]social business advice and support will be delivered in a range of ways. You will have an initial 1-1 consultation with our [START]social business coach. Then we can work with you to figure out what your first steps should be. Then there will be a range of 1 day workshops and learning programmes available to take you all the way through to setting up and registering your business.
Support offered will include:
What is a social enterprise – why is it different and what benefits does it bring to your business idea.
Making it legal – What business model do you need and how to complete the paperwork, and make sure your documents are in order to register your business.
Making it viable – including how to take a look at your market, audiences and marketing, costing and pricing, and more.
Making it meaningful – What it means to be a social business and how to record the impact and change you're making.
Making it easier – we'll take a look at funding for your social enterprise and how you can access grants and investments.
Making it more supportive – we'll be able to link you up with other entrepreneurs, businesses, support programmes and people who can support you going forward.
Making it digital – help and support with everything from making your website and cloud storage to making best use of Instagram and Google ads.
When is it happening?
You can access this support on a rolling schedule from this October 2021 until the end of February 2022.
How do you get the free support?
The first thing to do is complete this simple form. And then we'll get back to you for a friendly chat to learn more about your idea and the difference you want to make. You will be given more joining information after we've had a chat but you can see all the available workshops here
Who can apply?
Anyone aged 18 or over that lives in the local authority area of Plymouth City Council and has an idea for a business. You don't need qualifications, professional experience in the field you want to try or experience running a business. You just need an idea and the desire to make it real!
Sole Traders are very welcome to apply but you must not be incorporated on companies house.
Is it really free?
Yes, it is TOTALLY free! Because the programme is being fully funded by Plymouth City Council as part of their Resurgam and Covid Recovery Plans. They have contracted us at the School for Social Entrepreneurs and Iridescent Ideas cic to deliver it. And that's because we have over a decade of experience helping people just like you start, run and grow their business ideas. Working with social entrepreneurs to create a fairer, kinder way of doing business.
Our Commitment to Equality and Diversity
Diversity is a fact of life. Inclusion is a choice and a practice – for organisations and individuals. At the School for Social Entrepreneurs, our aim is to drive inclusion into every area of activity of what we do; from accessing programmes, to grant investment, to board, staff and partnerships.
However you identify, we want to hear from you. If you require any reasonable adjustment during our recruitment, including assistance with the application, please contact our learning facilitator [email protected].