Shifting London Learning Programme – Start Up and Trade Up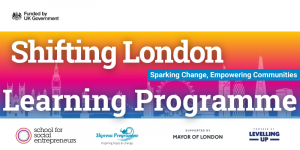 The Shifting London learning programme is funded by the UK government through the UK Shared Prosperity Fund. The programme will support leaders in social enterprise through access to support, learning and funding. Each programme will equip leaders with the skills and networks to start and grow their social enterprise.
The Shifting London Learning Programme will run for 12 months with 2 cohorts:
Start up: For leaders in the early stages of setting up a social or environmental impact project, social enterprise or charity with an income of less than £15,000 a year. There will be 2 cohorts with 20 places on each.
Trade up: For leaders running organisations for at least one year and have an income of over £15,000. There will be 2 cohorts with 20 places on each.
Each learning programme will offer:
8 learning sessions with other social entrepreneurs (4 sessions in person, 4 online) from January to December 2024.
Funding with a grant of up to £3000 for Start up and a Match Trading®  grant of up to £7000 for Trade Up.
4 Action Learning Sets – this is smaller group work with a trained facilitator, designed to support leaders to share successes and challenges and learn from one another. Learning more about Action Learning.
3 one-to-one coaching sessions – with our entrepreneurship team to provide participants with the opportunity to reflect on their learning and receive support to apply it to their organisations.
Access a diverse network of social entrepreneurs, who will support your plans and help you through tough times.
Collaborate and build a relationship with SSE and its wider Fellows' network.
Celebrate your achievements at the graduation event in January 2025
The learning programmes will run from January 2024 to December 2024.
For full information about the programme including delivery dates and eligibility, please read our application guidance notes before making an application.
Alternatively watch our information videos:
Start up information video
Trade up information video
---
How to apply
A downloadable set of application questions can be found below to support you to plan your answers, but you will need to apply using the online form by noon on 16th October.
Downloadable questions for Start up
Downloadable questions for Trade up
Apply for the start up programme