Getting Serious: Your Next Steps to Success (South Bristol Enterprise Support)
Do you run your own social enterprise, such as a community business, charity, or company dedicated to bringing about social or environmental change?
Want to know how to expand, grow, and stand on your own two feet without the help of grants?
Then our Getting Serious: Next Steps to Success course is for you!
This programme is for social enterprises in South Bristol – it's part of the South Bristol Enterprise Support (SBES) project, in collaboration with Bristol City Council.
What's in it for you?
Our fully funded (therefore free to access) programme will bring business developers like you together, with support and advice from experts – and each other. Over several sessions we will look at:
Your enterprise's vision and values
Measuring your enterprise's social impact
Income diversification – selling, costing, pricing and investment
Business planning
Branding and marketing
Understanding your customer
Sustainability – trading with people and planet in mind
You will also benefit from an expert Business Review Panel tailored to your organisation.
When is it?
The next programme will run as a modular course: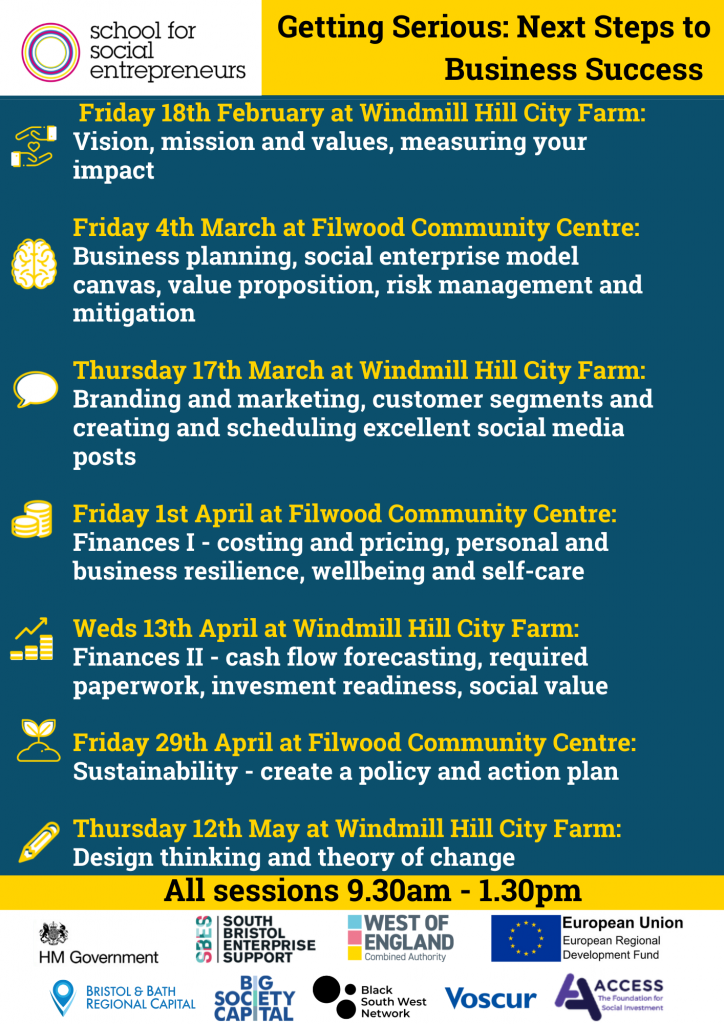 You can attend as many sessions as you wish – these will cover different areas so you can choose depending on which areas you would like support with.
There are also opportunities for grants, business review panels and peer support as part of this programme.
Who can apply?
To be eligible for a place on the South Bristol Next Steps to Success course, you need to be:
Currently living or working in the South Bristol region (or planning to in the very near future).
Your community group or business idea must already be incorporated (as, for example, a sole trader, a Community Interest Company, or charity). Beginners or those thinking of setting up a new venture should instead check out our SBES Strong Foundations course
Other useful information
There are only 15 places available on this programme, so please do book early.
Yes, it really is free! We get our funding from the European Union, West of England Combined Authority, and the UK Government, so you don't need to pay a penny.
Our Commitment to Equality and Diversity
Diversity is a fact of life. Inclusion is a choice and a practice – for organisations and individuals. At the School for Social Entrepreneurs, our aim is to drive inclusion into every area of activity of what we do; from accessing programmes, to grant investment, to board, staff and partnerships. However you identify, we want to hear from you. If you require any reasonable adjustment during our recruitment, including assistance with completing this application, please contact us via email at [email protected] or by phone: 07748 314717.