Getting Serious: Your Next Steps to Success (South Bristol Enterprise Support)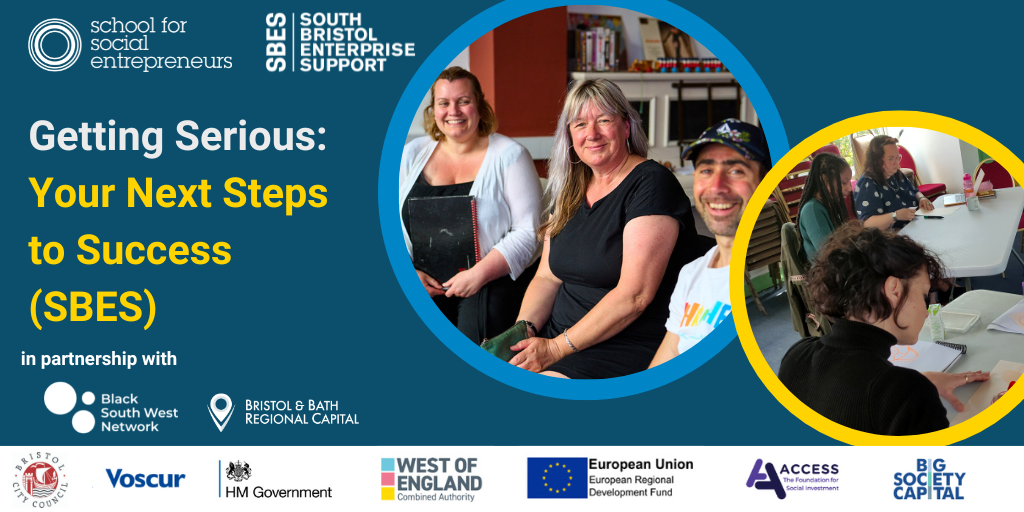 Do you run your own social enterprise, such as a community business, charity, or company dedicated to bringing about social or environmental change?
Want to know how to expand, grow, and stand on your own two feet without the help of grants?
Then our Getting Serious: Next Steps to Success course is for you!
This programme is for social enterprises in South Bristol – it's part of the South Bristol Enterprise Support (SBES) project, in collaboration with Bristol City Council.
What's in it for you?
Our fully funded (therefore free to access) programme will bring business developers like you together, with support and advice from experts – and each other. Over several sessions we will look at:
Your enterprise's vision and values
Measuring your enterprise's social impact
Income diversification – selling, costing, pricing and investment
Business planning
Branding and marketing
Understanding your customer
Sustainability – trading with people and planet in mind
You will also benefit from an expert Business Review Panel tailored to your organisation.
The next programme will run as a modular course this autumn: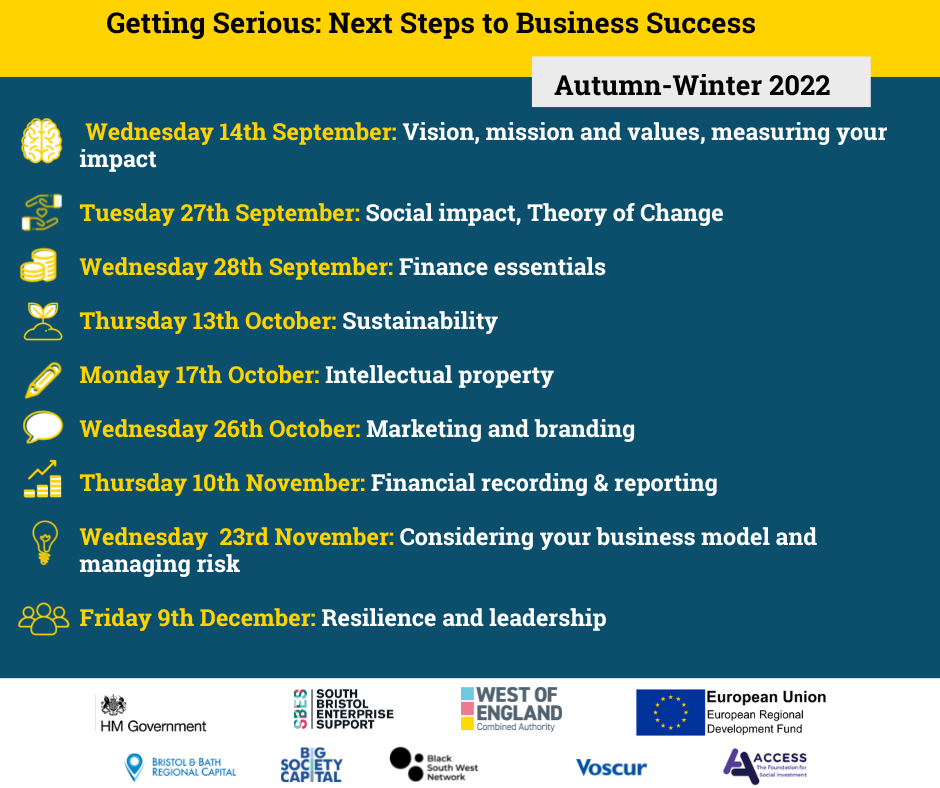 Please apply here and let us know which sessions you can attend.
You can attend as many sessions as you wish – these will cover different areas so you can choose depending on which areas you would like support with.
There are also opportunities for grants, business review panels and peer support as part of this programme.
Dates, topics and venues
Vision, mission and values & measuring your impact 14th September at the Gatehouse Centre, Hareclive Rd, BS13 9JN
In this session we will do a deep dive into what vision, mission and values mean for your organisation, and how you can make sure that you are staying true to them throughout your work. We will also begin to look at how to measure and communicate that impact to funders and other stakeholders, and build on this in the next session.
Social Impact & Theory of Change 27th September at the Gatehouse Centre, Hareclive Rd, BS13 9JN
This session focuses on social impact, demonstrating to funders and the public how you are making a difference, plus how to put together a Theory of Change document, examining real life examples, as well as working through ideas from the group.
Finance Essentials 28th September (one off workshop) at the Gatehouse Centre, Hareclive Rd, BS13 9JN 10am-12pm
Ben Steele of Steele Financial, a chartered accountant firm in Bristol will lead this session. Ben specialises in helping start-up businesses and owners, making finance and tax easier to understand.
We will cover:
🌱How to start a business
🤷🏻‍♀️ Self-employed or Limited Company?
🧾 Tax return basics & HMRC
📚 How to keep records for your business
❓ Other FAQs – e.g. do I need to register for VAT?
Register for this stand-alone workshop here.
Sustainability 13th October at Filwood Community Centre, Barnstaple Road BS4 1JP
As well as creating an opportunity to explore the concept of 'sustainability' in relation to enterprise and your idea or business, and what we can all do set against the backdrop of huge concerns, this session will look at the UN Sustainable Development Goals (SDGs) and writing a sustainability policy and impact statement for your organisation.
Intellectual Property 17th October (one off workshop) in the John James room at Windmill Hill City Farm, BS3 4EA 10am-12.30pm
This fully-funded and therefore FREE to access workshop will cover everything you've ever wanted to ask about intellectual property (IP). Did you know a company's intellectual assets are often worth more than its physical ones? Join us to find out how you can protect yours and make sure you're not infringing on anyone else's. Sign up here.
Marketing and Branding 26th October at the Gatehouse Centre Hareclive Rd, BS13 9JN
In this session we will look at the importance of identifying your audiences, and linking that to finding different markets. Our resident expert will help you think about choosing the right-fit social media platforms, creating effective content and establishing your brand.
Financial recording and reporting 10th November at Filwood Community Centre, Barnstaple Road BS4 1JP
If you want to brush up on your financial know-how, the reporting and recording required then this session is a must! We will be joined by an expert in all things financial – from big picture to detail. And finally some time to think about different forms of income generation and trading.
Business planning and risk mitigation 23rd November at the Gatehouse Centre Hareclive Rd, BS13 9JN
If you want to improve your business plan and think about how you can mitigate for risk then join us for this interactive session. We will be joined by Mark Cotton, expert in social enterprise business development who will guide us through the process of ensuring that the Business Model we choose will underpin any future robust business planning process.
Resilience and Leadership 9th December at Windmill Hill City Farm BS3 4EA
In this session we will look at what it takes to be a business leader and taking care of yourself so that you can take care of your team and ensure your business is maximising its impact.
Who can apply?
To be eligible for a place on the South Bristol Next Steps to Success course, you need to be:
Currently living or working in the South Bristol region (or planning to in the very near future).
Your community group or business idea must already be incorporated (as, for example, a sole trader, a Community Interest Company, or charity). Beginners or those thinking of setting up a new venture should instead check out our SBES Strong Foundations course.
Click here to apply and we will be in touch when we have course dates available.
Other useful information
There are only 15 places available on this programme, so please do book early.
Yes, it really is free! We get our funding from the European Union, West of England Combined Authority, and the UK Government, so you don't need to pay a penny.
Our Commitment to Equality and Diversity
Diversity is a fact of life. Inclusion is a choice and a practice – for organisations and individuals. At the School for Social Entrepreneurs, our aim is to drive inclusion into every area of activity of what we do; from accessing programmes, to grant investment, to board, staff and partnerships. However you identify, we want to hear from you. If you require any reasonable adjustment during our recruitment, including assistance with completing this application, please contact us via email at [email protected] or by phone: 07748 314717.