Getting Serious: Your Next Steps to Success (South Bristol Enterprise Support)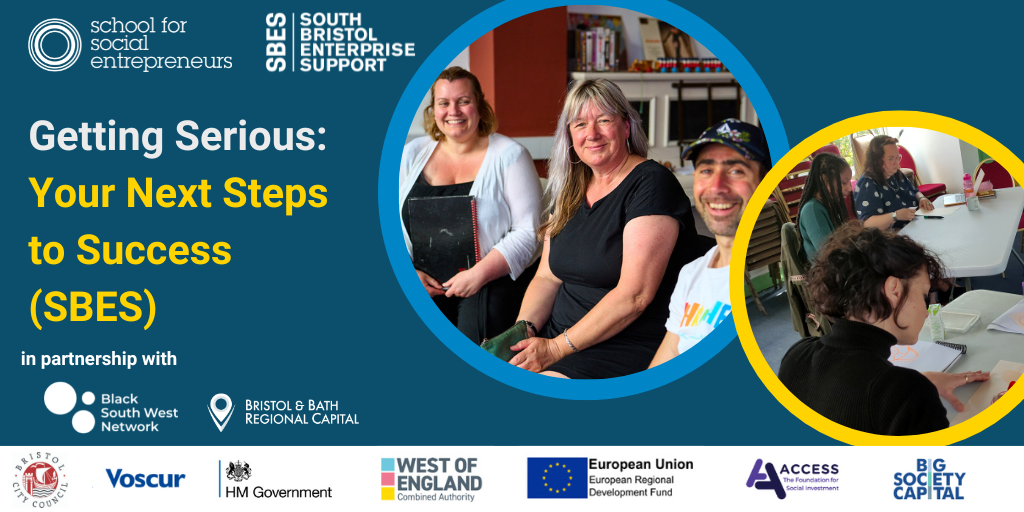 Do you run your own social enterprise, such as a community business, charity, or company dedicated to bringing about social or environmental change?
Want to know how to expand, grow, and stand on your own two feet without the help of grants?
Our fully funded (therefore free to access) programme will bring business developers like you together, with support and advice from experts – and each other.
We will not be running Getting Serious again as a full programme, but we do have several one-off specialist workshops in 2023 that are free to join:
Tell your story in bold & engaging ways: with Unique Voice and the SSE 18th January 10-12 at The Chessel Centre, 47 Chessel Street Bedminster BS3 3DP.
Your story is everything – people buy from people, after all. How can you tell your story, connect with new supporters and most importantly win business by being you and telling your story loud and proud. This workshop helps myth bust the skills you need in order to speak with conviction, creativity and authenticity about your enterprise. You will explore how you can use your body and voice to convey important messaging, practice pitching your business in a range of environments and leave with confidence to tell your story everywhere.
Read more and book here.
Social media scheduling 101: A 1-hour online masterclass 26th January 6-7pm.
Save yourself time and energy by scheduling social media in advance. This 1-hour workshop will show you how to choose the right application for you, and how to schedule posts at optimum times. Read more and book.
Finance Essentials with Enterprise Orchard 22nd February 10am-1pm.
Ollie Collard of Enterprise Orchard will lead this interactive session. We will cover:
🌱How to start a business
🤷🏻‍♀️ Self-employed or Limited Company?
🧾 Tax return basics & HMRC
📚 How to keep records for your business
❓ Other FAQs – e.g. do I need to register for VAT?
Register for this stand-alone workshop here.
Sustainability with Traci Lewis of Catalyse Change CIC 2nd March 10am-1pm at Filwood Community Centre, Barnstaple Road BS4 1JP
As well as creating an opportunity to explore the concept of 'sustainability' in relation to enterprise and your idea or business, and what we can all do set against the backdrop of huge concerns, this session will look at the UN Sustainable Development Goals (SDGs) and writing a sustainability policy and impact statement for your organisation. Book here.
Social Impact & Theory of Change TBC
This session focuses on social impact, demonstrating to funders and the public how you are making a difference, plus how to put together a Theory of Change document, examining real life examples, as well as working through ideas from the group.
Who can apply?
To be eligible for a place on the South Bristol specialist workshops you need to be:
Currently living or working in the South Bristol region (or planning to in the very near future).
Your community group or business idea must already be incorporated (as, for example, a sole trader, a Community Interest Company, or charity). Beginners or those thinking of setting up a new venture should instead check out our SBES Strong Foundations course.
Other useful information
Yes, it really is free! We get our funding from the European Union, West of England Combined Authority, and the UK Government, so you don't need to pay a penny.
Our Commitment to Equality and Diversity
Diversity is a fact of life. Inclusion is a choice and a practice – for organisations and individuals. At the School for Social Entrepreneurs, our aim is to drive inclusion into every area of activity of what we do; from accessing programmes, to grant investment, to board, staff and partnerships. However you identify, we want to hear from you. If you require any reasonable adjustment during our recruitment, including assistance with completing this application, please contact us via email at [email protected] or by phone: 07748 314717.