The Community Business Trade Up Programme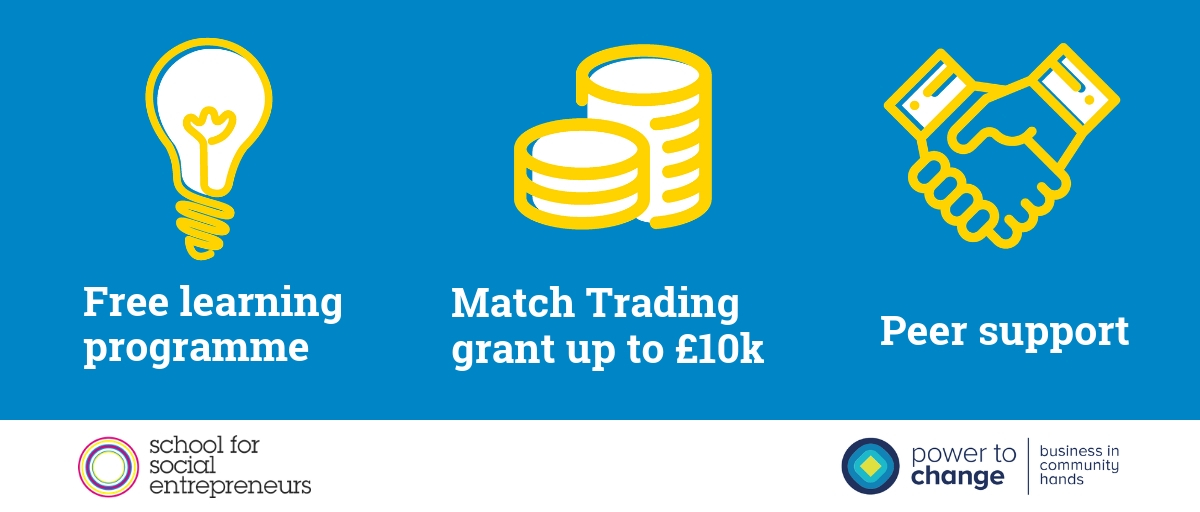 Applications re-open in September 2019. Register your interest below for an email reminder.
The Community Business Trade Up Programme is run by the School for Social Entrepreneurs, in partnership with Power to Change.
This programme helps the leaders of community businesses in England. It focuses on growing income from trading, to improve impact and sustainability. It offers:
A learning programme: 12 days spread over nine months
A Match Trading grant of up to £10,000
A community of people running organisations like yours
There is no cost to you at any point.
In 2020, we'll help a further 80 community businesses. We'll open for applications in autumn 2019.
Register your interest
More about the programme
This programme is already supporting more than 200 community businesses. In the first cohort of the programme, community businesses typically increased their income from trading by 92% in one year.
Find out what other community business leaders think of the programme by watching this video. 
*Please note the deadline in the video is for our previous cohort, and we'll be opening applications again in September 2019.*
This programme runs from seven locations across England.
Power to Change is fully funding this programme, so there is no cost to you, and it is providing grants of up to £10,000 (a grant is money you don't have to pay back). Power to Change is an independent charitable trust endowed by the Big Lottery Fund. Its aim is to support community businesses in England to create better places.
Who should apply?
This programme is for community businesses who want to grow by increasing their sales (trading). A community business is run by and for a local community. Its profits are reinvested for the benefit of that community. They will be working towards these criteria:
Locally rooted
Accountable to the local community;
Trading for the benefit of the local community;
Making a broad community impact
The community businesses on this programme will have plans to grow trading (income from sales) by at least £10,000 in the next year. Find out more in the guidance notes.
The Match Trading grant
Students on this programme receive a Match Trading grant of up to £10,000, which can be drawn down over 12 months. The grant is linked to growth over the year. It incentivises social organisations to focus on increasing their income from trading, so they can build stronger futures.
Read more about Match Trading, SSE's innovation in grant-funding.