Programme Overview
Do you lead an early-stage organisation which involves local people and meets local needs?
Do you want help and support to grow your organisation's impact and develop its trading income?
The Community Business Trade Up Programme is for early-stage community businesses that are planning to grow their trading.
It is a FREE learning programme, supporting you to develop new skills and get support from other community businesses, plus a Match Trading grant of up to £5,000 which will challenge you to increase your trading.
About the Programme
The learning programme will run over 12 days between November 2023 and October 2024.
It includes eight days of learning (4 in-person, 4 online) and four Action Learning Set sessions.
You can apply from anywhere in England, but our in-person learning days will be delivered from venues in the following regions.
South West (Bristol)
Midlands (Birmingham)
North West (Liverpool)
South East (London)
You must indicate your first choice of location during the application process on the website. You can apply if you are based in other regions, but you must be prepared to travel to your chosen location on at least four of the programme days.
Match Trading Grant
Your organisation will also receive a Match Trading grant of up to £5,000. This grant is designed to challenge you to grow your trading income. Match Trading has been proven to increase trading income and boost organisations' resilience. Your community business will receive £1,000 upfront, and then four instalments of up to £1,000 over the year matched against your increased trading. To claim the full grant, you will need to show that your trading income has increased by £5000 over the year.
Your grant can be used flexibly, helping you to attend the programme and to put your learning into practice by developing your trading and community business.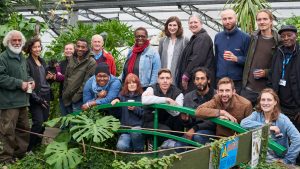 Priority groups
We welcome applications from all community businesses. We're particularly keen to support community businesses which are:
Led by a board or team who are mostly people from minoritised communities
Led by a board or team who are mostly young people (aged 16-35)
Located in and giving support to very deprived or disadvantaged local communities
When we say "led by" we mean that the majority of the board and senior leadership team together are from these groups.
In the application form we ask you to tell us about your board and senior leadership team because we wish to improve our understanding of the diversity and inclusion of the community business sector, so we can better design our support.
Support with applying
Questions: A downloadable set of application questions, with guidance and space for you to plan your answers and share these with others in your organisation. But you will need to apply using the online form. It is possible to upload voice recordings for the longer text questions, if you prefer.
Webinars: To find out more about the programme, help you understand the criteria and how to apply, book onto a webinar.
Helpdesk: Ask questions and get advice on completing your application. Contact the helpdesk at [email protected]
One-to-one support: If you have difficulty filling in forms because of dyslexia, language or disability, or need one-to-one advice about applying, we have a limited number of one-to-one sessions available. Please contact the helpdesk if you need to access these.
Is my organisation eligible?
1. Working towards being a community business
Your organisation must be committed to and working towards meeting the Power to Change criteria for a community business. A community business is run by and for a local community for a social purpose. Its profits are reinvested for the benefit of that community. It must be aiming to be:
Locally rooted. It should be based within a defined geographical area (e.g. a village or town, or a ward, or borough).
Accountable to the local community. It must demonstrate that the local community is involved in planning and supporting the community business, as well as simply using its services.
Trading for the benefit of the local community. It must be trading or planning to trade with profits reinvested in the community or to support activity in the community.
Making a broad community impact. You may have a specific focus on a disadvantaged group, e.g. people from minoritised ethnicities or disabled people, if you are also supporting the local community more widely.
2. Early stage
Your community business must be early stage, with plans to grow its trading over the next year. You may have set up recently, or you may have been running your community business for several years at a low level, but are now ready to seek help to develop your business model and grow your trading. You are likely to have few or no paid staff, but with clear plans to grow over the next year.
3. Based in England
Your organisation must be based in England and working mainly in England.
4. Leadership team
You must have at least two people involved in leading your organisation, as board members, a steering group, a committee or as volunteer or paid leaders. We cannot accept applications from sole traders.
Please note that you must commit to having at least three unrelated board members (and no one person with more than 33% voting rights) by the end of the programme in October 2024.
5. Governing document
Your organisation must be currently active, and have a constitution, set of rules or legal structure. Your community business may be a registered charity, a Community Benefit Society (CBS) or a Community Interest Company (CIC).
We can also accept other companies, co-operative societies or unincorporated associations, if they have certain clauses in the governing document, specifically
a social purposes or objects,
a restriction on distribution of profits, which means that most or all of profits are returned for social purposes and
an asset lock or winding up clause which means that if the organisation is wound up, its remaining assets go to a charity, CIC or other asset locked body.
6. Working towards our social impact goals
Your organisation must have social impact at its heart. By this we mean that it must be set up with the intention of making a difference locally through at least one of the following social impact goals:
Increased employability
Improved health and well-being
Better access to services
Reduced social isolation
Improved environment
Greater community cohesion

Greater community pride and empowerment
Economic regeneration
Improving access to digital products or services
Tackling racial injustices and inequity
7. Committed to learning
The lead applicant should be a leader in your organisation, with some strategic control, usually the CEO, the founder, or a board member. You must attend at least 80% of the course sessions. If you wish, you can also bring a second person from the community business to some of the learning programme sessions. This can be the same person each time, or different people depending on the learning session.
8. Bank Account
You must have a bank account in the legal name of your organisation managed by at least two unrelated people who release payments, or have this in place by the time we make the Grant Offer.
9. Other
All organisation leaders taking part in the programme must have the right to work in the UK and must be aged 16 or over by April 2023.
We cannot support activities that promote the advancement of religion or that are party political in nature. This does not prevent faith groups from applying for a community business which has a charitable purpose other than the advancement of religion.

About the Learning Programme
The programme will cover themes, support and skills areas that growing community businesses need to develop. The final programme is developed based on the needs of each group.
Typical topics include:
Building community engagement and accountability
Marketing, branding sales
Negotiation and pitching
Resilience – looking after yourself
Building a diverse and sustainable income mix
Leadership and management
Business planning
Governance and building your board
Voice, advocacy, and campaigning
Social investment
Winning contracts
Financial management
Measuring social impact
Building a staff and volunteer team
HR and people management
The programme will include:
Witness sessions: Entrepreneurs share their experiences and discuss the secrets of their success. You will be able to listen, learn and question them, to help you examine and find meaning for your own project.
Expert sessions: Our experts will help you to improve your abilities in areas such as product development, financial management, marketing, sales, business planning and strategy, managing people, attracting income and other essential skills.
Action learning sets: You will work in a small group with a trained facilitator, to help you find ways of overcoming the stumbling blocks, dilemmas and other problems encountered in running your project. Find out more here.
Action clinics: You will have 1-2-1 check-ins with your facilitator throughout the programme, who will support you identify how and where to apply your learnings from the programme, and how to embed them in your community business.
Mentoring support: You will be able to access an experienced leader of another community businesses as a mentor, some of whom have gone through this programme in the past. They can offer you and your community business advice and insights, using their specific areas of expertise and experience.
Peer support: You will bring your skills and experience to the group and learn from the skills and experience of the other members. The networking and group support will help you develop your project and bring about sustainable social change.
What is the time commitment?
The programme consists of:
Four days in-person group workshops
Four half-day online group workshops
Four half-day online Action Learning Set sessions throughout the programme
Three online 45-minute Action Clinics with your facilitator throughout the programme
Up to four 90-minute sessions with your community business mentor
An in-person Graduation Celebration at the end of the programme
Pre-work will be set (e.g. watching relevant videos, reading an article, discussing a challenge with a team member/supporter, etc.) before group workshops in order to maximise the time spent collaborating and applying knowledge alongside fellow cohort members in group sessions.
Delivery dates, below, may be subject to change depending on the delivery location.
 Tuesday 7 November  2023 10.00-16.00: In-Person (venue tbc)
 Tuesday 12 December  2023 9.30-13.00: Online
Tuesday 9 January  2024 9.30-13.00: Online (Action Learning session 1)
Tuesday 23 January  2024 10.00-16.00: In-Person (venue tbc)
From Tuesday 23 January  to Friday  1 March  2024: 1hr 1:1 Action Clinic online with Facilitator
Tuesday 5 March  2024 9.30-13.00: Online
Tuesday 26 March  2024 9.30-13.00: Online (Action Learning session 2)
Tuesday 16 April  2024 10.00-16.00: In-Person (venue tbc)
Tuesday From 16 April  to Friday 17 May  2024: 1hr 1:1 Action Clinic online with Facilitator
Tuesday 21 May  2024 9.30-13.00: Online
Tuesday 18 June  2024 9.30-13.00: Online (Action Learning session 3)
Tuesday 2 July  2024 9.30-13.00: Online
Tuesday 10 September  2024 10.00-16.00: In-Person (venue tbc)
Tuesday 24 September  2024 9.30-13.00: Online (Action Learning Set 4)
From Tuesday 24 September  to Thursday 31 October  2024: 1hr 1:1 Action Clinic online with Facilitator
Tuesday 15 October  2024 18:00–21:00 Graduation Event In-Person (venue tbc)
Once you have completed the programme, you will join our alumni network, to stay in contact with your peers and access regular updates and further support opportunities.
The Match Trading grant
How will the grant work?
We want to invest in your community business and challenge you to increase your trading. We do this by "matching" your grant to your increased trading income.
We will set aside £5,000 of funding for your community business, of which you will receive £1,000 when you start the programme.
You will be able to claim the rest of the grant in instalments at the end of each quarter. Your grant claim will be dependent on you increasing your traded income compared to the previous year. The amount will be matched pound for pound based on increased trading, up to a maximum of £5,000 over the year. You will be able to use this grant to develop your project as agreed with us.
For example:
If you had £10,000 of traded income in 2022/2023, and this increases to £12,000 in 2023/2024, your grant will be £2000
If you had £10,000 of traded income in 2022/2023, and this increases to £15,000 in 2023/2024, your grant will be £5000
What do we mean by "traded income"?
Our definition of trading is the provision of goods or services in return for a "consideration". Consideration usually means money, but could also be in-kind or bartering, as long as this is quantified and shown in your accounts.
Trading income includes:
Sales of goods or services to the public, for example – selling food, tickets, training sessions, workshops
Sales of goods or services to other organisations, for example, training courses, commissions, contracting
Sponsorship and membership fees, where there is a significant benefit for the sponsor or member
Rental income
It does not include:
Donations or voluntary contributions
Income from investments
Bank interest
Loans
Equity income (e.g. through sale of shares)
Grants, for example from the Lottery or from Trusts
Transfers of funds from other organisations, e.g. in the case of a merger
Sponsorship or membership fees, where there is no significant benefit to member or sponsor
We can advise you about this if you are not sure.
And just to be clear, by traded income we don't mean surplus or profit – just income.
How can you draw the funding down?
You will be able to request the funds on a quarterly basis, by demonstrating that your traded income has increased compared to the previous year, and completing other grant conditions, such as attending the programme and completing required surveys.
What if your traded income does not increase?
We will work hard with you to support you to increase your trading, and we hope you will. We want to give you the money and we believe that you have the potential to achieve this growth.
If your income increases by less than £5,000 (say £3,000), we will match that increase. But if you don't increase your trading income at all, you will still receive the £1,000 paid in advance and you can still participate and graduate from the course.
What can you spend the grant on?
You can use your Match Trading grant flexibly to support your learning about trading by developing your community business.
You don't have to decide now, and you can change your mind during the programme. For example, you might:
Develop a new product line
Buy in stock to improve your trading
Offer your activities at a reduced cost, as a "loss leader"
Support marketing or update your website
Improve a facility to increase rental income
Cover your salary while you attend training or develop your trading or sales strategy
Cover your travel and subsistence costs to allow you to attend training
Cover the costs of someone else's salary, so you have time to attend training and work on, instead of in, your community business.
You cannot use your funding for
Activity or training not directly related to your community business
Costs for activities or products already incurred
Academic courses
Your own childcare or caring costs or personal benefits
Paying dividends or bonuses
Any retrospective payments or loan repayments
If you want to spend your award on vehicles, buildings or refurbishment, or large items of equipment (over £1000), please check with us first. Costs should be value for money, meaning that you should have checked prices to ensure that you are receiving best value for money.

Making an application
You must apply online (insert link) by 12 Noon, Monday 26 June 2023.
You will need to provide:
A copy of your most recent accounts, if you have them
Your constitution if your organisation is unincorporated
Interview: If you are shortlisted, we will invite the lead applicant for an information session and an online interview in September.
Decision: We aim to make a final decision on places for the programme by late September and you will be informed as soon as possible. The programme starts at the beginning of November.
Data protection
SSE has a Data Protection Policy. We are committed to protecting your personal information and acting in accordance with your rights under the Data Protection Act 1998. We may need to share your information in order to undertake assessment of your application, statistical analysis, research and monitoring, compliance and regulatory reporting and fraud prevention. We may share your information
with our funders
with our agents or subcontractors for operational reasons
with other agencies in order to assess your application
with others for the purpose of compliance and regulatory reporting and to confirm your identity for money laundering purposes and fraud prevention
if compelled to do so by law.
Equal Opportunities
SSE is committed to equal opportunities. We expect our staff, participants and grant recipients to comply with equal opportunities in any activities supported by SSE.
At the end of the application form we ask for you to complete an equal opportunities monitoring form about the person applying for this programme.
This will be used for statistical purposes and it will not form part of your application assessment. If you do not wish to provide the details requested, you have the option to opt out from providing this information.
Complaints
If you wish to make a complaint about any aspect of the running of the programme, SSE has a complaints procedure which is available here.