The Community Business Trade Up Programme
Helping you to improve your local area
Do you lead an early-stage organisation which involves local people and meets local needs?
Do you want help and support to grow your organisation's impact and develop its trading income?
The Community Business Trade Up Programme is for early-stage community businesses that are planning to grow their trading.
It is a FREE learning programme, supporting you to develop new skills and get support from other community businesses, plus a Match Trading grant of up to £5,000 which will challenge you to increase your trading.
Applications are now closed
Key features
A free learning programme, to help you build your income, confidence, resilience and impact
Up to £5,000 Match Trading grant
A community business peer mentor
An opportunity to meet regularly with other people running organisations like yours, so you can help each other out
Programme benefits
Grow a stronger, more sustainable community business or project
Start or build your income from trading and sales
Benefit from time to reflect and map out next steps
Improve your leadership and business skills
Build a local support network of other people running organisations like yours
You'll benefit from SSE's practical learning style and Action Learning approach. No textbooks – just inspiring people who've been there and done it.

Is this right for me?

This programme is open to 'early stage' community businesses in England that are working towards these criteria:
Locally rooted – your organisation exists to benefit your local neighbourhood, village, town, ward or borough; your local area is at the heart of what you do
Accountable to the local community – you consult local people about what you do, and communicate with them
Trading for the benefit of the local community – you want to increase your income from trading, with profits re-invested to benefit your local community
Making a broad community impact – what you do engages different groups of people from your local area

Diversity and inclusion
SSE,  Power to Change  and The Dulverton Trust  are committed to the advancement of diversity, inclusion and equality. We encourage and welcome applications from community businesses from all backgrounds, which meet our grant requirements and are looking to make a real difference to the lives of their local communities.
We welcome applications from all community businesses.  We're particularly keen to support community business which are:
Led by a board or team who are mostly people from minoritised communities

Led by a board who are mostly young people (aged 16-35) 

Located in and giving support to very deprived or disadvantaged local communities
When we say "led by" we mean that the majority of the board and senior leadership team together are from these groups.
More about the programme impact
The Community Business Trade Up Programme is run in partnership with Power to Change and The Dulverton Trust.  Together, we have already supported 440 community businesses and other projects improving their local area.
Community businesses on this programme typically increased their income from trading by 64% in one year.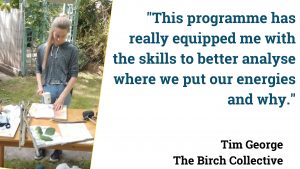 Community Business Trade Up is run by the School for Social Entrepreneurs (SSE) with support from Power to Change and The Dulverton Trust. SSE offers action-based learning programmes to help people grow their social enterprises and community businesses. You can find out more about our work here. Power to Change is the independent trust that supports community businesses in England. The Dulverton Trust is an independent grant-making charity, supporting UK charities tackling a range of social issues, protecting the natural world, and preserving heritage crafts.
Main image courtesy of Amanda Stockley
Need help?
Contact us with queries: [email protected].
FAQ's
Can I have more detailed guidance?
Visit this link to find out about the course, dates, Match Trading and  more in greater detail.
Can I apply if I already have a Power to Change grant or if I am currently on an SSE programme?
Do not apply if your organisation will be on another learning programme with SSE after October 2023.
You can apply if:
You have attended previous SSE programmes.
You have applied to SSE before and were unsuccessful.
Can we apply if our organisation has people that are connected to SSE, Power To Change or The Dulverton Trust?
If your organisation is run by people who regularly work for or are trustees of SSE, Power to Change, or The Dulverton Trust or have a close financial or family connection with our staff or trustees, please contact us before making an application to ensure that there is no conflict of interest.
What if we have particular needs, which may prevent us from fully taking part in the learning programme?
We are keen to enable people with disabilities and other access issues, to join our programmes. There is a separate small fund held by SSE to enable students who have particular needs to access the programme. This will be negotiated individually with participants. If you have specific needs and are concerned about this, please contact us to discuss.
What happens if my project will work with children under 18 or vulnerable adults?
You will be required to provide a Safeguarding Policy and may need enhanced DBS checks for staff and volunteers.
Where can I find out more about the time commitment and dates of delivery?
Visit this link for more information.
How does Match Trading work?
Visit this link for more information.
Can I apply for this programme if I have criminal convictions?
Previous SSE Fellows have included people who have criminal convictions, some of whom have used their experience in prisons to make a difference to the lives of ex-offenders. You do not need to let us know about previous convictions unless they are relevant to your application.
If you have unspent convictions for fraud or any convictions which may affect your ability to run your organisation, including working with children, young people or adults who are vulnerable, you must let us know, as we may undertake checks during the application assessment.