Championing inclusion in England's community business sector
25 May 2021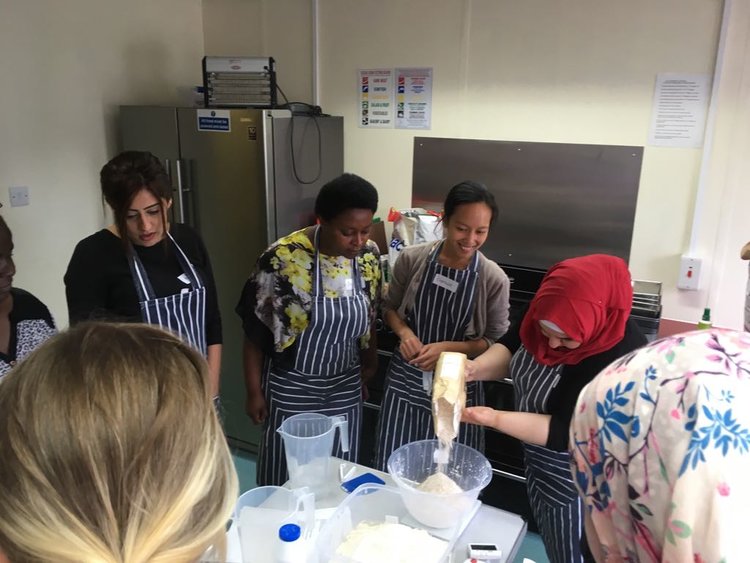 Community businesses strengthen local economies and enrich the fabric of society. They bring people together to improve their local areas, often operating in low-income areas while supporting our most vulnerable groups.
But running a community business can be challenging, especially during a pandemic. For many, the future is still uncertain.
That's where we come in. Throughout April, we welcomed 54 community business champions across England onto our Community Business Trade Up Programme, run in partnership with Power to Change.
In its fifth and final year, Community Business Trade Up has been transformative for nearly 300 community businesses. The programme supports community-focused organisations in their early stages to grow their impact and resilience. It aims to help them diversify and increase income from trading, be less grant dependent and become sustainable. We do this through a learning programme and Trade Back grant of up to £10,000.
Reaching the communities hardest hit by Covid-19
We have been committed to our support reaching the people and places hardest hit by the pandemic. Covid-19 has disproportionately affected racialised and minoritised communities, as well as people living in poverty. So, we prioritised places on our programme for these groups.
We're proud that:
Around half of the community businesses we're supporting (52%) are led by or support people from racialised and minoritised communities.
More than three-quarters (78%) are located in or giving support to very low-income communities (Indices of Multiple Deprivation scores 1-3).
How we did it
We knew we needed to reach beyond our own "echo chamber". We're grateful to the support of the Ubele Initiative. They worked with us to make sure the recruitment campaign was relevant and inclusive to racialised and minoritised communities – for example, by looking at language and imagery.
As well as the campaign content, Ubele, Power to Change and SSE used local and regional networks to spread the word to these specific communities.
We were also purposeful in our language. We were explicit that priority places were available for those led by and/or supporting people from racialised and minoritised communities and organisations in low-income areas.
Meet the community businesses!
Here's a snapshot of some of the amazing community businesses our regional teams are excited to be supporting this year:
Yorkshire and North East

Roshni Community Cafe, Sheffield
A new community café, run by the Roshni Sheffield Asian Women's Resource Centre. Set up by and run by local women as a part of their empowerment programme, they aim to provide training and employment.
A social farm, gardening and environmental based organisation which aims to work with isolated or vulnerable adults – long-term unemployed, people with convictions, people with learning disabilities, or depression. They will provide regular practical hands-on activities, to support them to build confidence, new skills, and employment.
A community café that aims to provide training for baristas, British Sign Language and arts workshops, mental health and LGBTQ+ support, and a community kitchen for training.
North West

A club that uses sport and lifestyle skills to work with young people facing social and educational barriers. This is alongside the work with the wider community, either at their central location or on an outreach basis.
They aim to create local economic opportunities by transforming the disused former St Ignatius Rectory and St Ignatius former church into a sustainable and environmentally efficient community enterprise centre. They promote social inclusion and use heritage, art and culture to improve social mobility and life chances.
Odd Arts, Manchester
Odd Arts aims to address the injustice, inequalities and barriers faced by people in prison and others experiencing disadvantage, discrimination, and vulnerability.
They support over 25,000 people each year and deliver theatre based social-action projects and prevention programmes (radicalisation, exploitation, violence, mental ill health) in education, criminal justice, and community settings.
Midlands
A community centre offering free dance, activities, exercise classes, crafts, socialising opportunities & creativity for young people, who are at risk of gang activity.
A bakery that trains, supports, and employs refugee women. They bake 500 loaves a week for food banks, grub hubs, and a social supermarket across Coventry. And they sell home-delivery baked good / baking kits and online baking classes.
A community centre supporting asylum seekers, refugees and racialised and minoritised communities around mental and physical health, especially in the wake of Covid. They offer Community Health Awareness Training Services (CHATS) – offering calls and remote 121s, Mental Health First Aid, stress management, courses on chronic disease and contraception.
A bike repair service that started during the March 2020 lock-down. Supports cycling for women and refugee communities and offers bike maintenance workshops, cycle training for confidence on the road, a mobile mechanic and group bike rides.
London
Run by refugees, they support integration and aim to challenge the narrative around refugees.  They sell food products at farmers markets and online, run events and workshops focused on wellbeing and employment.
A residents' group that campaigns to restore, preserve and enhance Brixton Windmill and Gardens. During Covid, they have been sending out flour and activity packs for children via food banks. They run all sorts of activities for the community, including bat walks!
A food and growing project that aims to reduce food inequality, help people eat more nutritious food and be healthier. Their food distribution during Covid, funded by Haringey Council, delivered equivalent of 180,000 meals in fresh produce; 80,000 prepared meals; 600 meals a week at a homeless shelter; and baby food and supplies to whoever needs them.
They develop digital skills in older people, vulnerable adults, carers and the community groups that serve them. They also train volunteers for other support organisations, including housing associations and care homes, to address isolation and manage finances of vulnerable people.
South West

Coexist Community Kitchen, Bristol
Coexist works with refugee projects, mental-health services for young people, people in drug and alcohol-abuse and recovery.  They provide cookery workshops, events, education and training in a safe space where people develop skills, work together, build confidence and help people on a path to recovery.
OFCOM-licensed community radio station serving mainly listeners of African and/or Caribbean origin. Led and run by over 200 local volunteers, they produce music shows, topical broadcasts and provide training in advertising sales, digital media and journalism.
Provides business support to entrepreneurs and business owners from racialised and minoritised communities, specifically food entrepreneurs.
Initially set up and run by a group of volunteers, they aim to help those who seek to learn Arabic language and culture to preserve identity and be able to communicate effectively in society.
Written by Hannah C, SSE comms lead for Community Business Trade Up