Food, mental well-being, mobilising volunteers: How community businesses are rebuilding
11 Jun 2020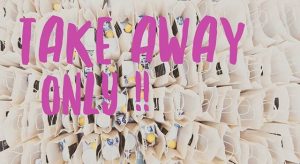 By community business enthusiast,  SSE comms manager, Hannah Corbett
Accountable to their local communities, community businesses have been at the centre of local volunteering efforts during this pandemic.  They bring people together to improve their local areas, operating in the most socially disadvantaged parts of the UK, supporting our most vulnerable community groups.  Typically, community businesses get 57% of their income from selling products and services.  Nearly half of this income is from venue-based activities such as cafes, shops, pubs and hiring out meeting space.  This essential income rapidly dried up as people were forced to stay home.
Some have completely changed their business models to provide crucial delivery services or set up as food banks. Others are moving community activities like exercise classes, and mental health and well-being support, online.
Throughout June, we welcomed 71 community business champions onto our Community Business Trade Up Programme, run in partnership with Power to Change, at our schools across England.
Discover how two of these organisations have responded to the crisis.
Taking edible gardens online for mental well-being
Forest of Hearts, in Warwickshire, supports the unemployed and those with poor mental health through the creation of edible 'forest gardens'.  A forest garden is a low-maintenance sustainable plant-based food production and agro-forestry system.  These gardens become a place of purpose and pleasure for people and help build skills and confidence working as volunteers.
Forest of Hearts founder, Carole Longden, explains the impact of Covid-19:
"That week, we were just about to start a garden project with Stratford NHS Hospital.  We'd had a poly tunnel delivered and two corporate teams booked to plant trees and hedgerows.  All that had to be put on hold due to lock-down."
"Instead, we set it up virtually."
Using WhatsApp for good
"We got our volunteers to do what they would have done at the hospital at home instead", says Carole.  "We sent out 'sow and grow kits' to our volunteers and created a 12-week challenge.  A box of seeds and a book to grow all you can eat in three square feet."
"We normally meet weekly but did it all online via WhatsApp.  We've even given one of volunteers a smart phone – he'd never used a mobile phone before.
What we've discovered is that our volunteers, especially young people, are already up and running on WhatsApp.   So that's how we've kept it going."
"One of our volunteers is a handy carpenter and he's been making wooden benches at home that would have cost us a fortune.  All our volunteers are maintaining that sense of purpose that producing a garden provides and are valued and connected still."
Diversifying income through online
Carole has had to be smarter about how to raise more income having lost a large tree planting contract with a corporate client at the start of lockdown.
She's set up an online shop to sell the edible growing kits that are made up by volunteers.  Carole plans to sell large volumes of the home growing kits to corporates keen to protect the mental well-being of their staff working from home.
"Now we're selling online, our organisation has become national and the links we have with the NHS means we can help other groups set up hospital gardens locally."
From community café to online food delivery
Umbrella Café CIC is one of the friendliest and most accessible cafes in the heart of Whitstable.  Cosy, quiet spaces, free Wi-fi and lovely, affordable food make the perfect backdrop to reduce social isolation in the local area.  The café gives its profits back to The Umbrella Community Centre, and shares their beautiful town garden.
Its 'pay-it-forward' scheme ensures the most vulnerable members of the community are fed and have a place to meet.  Customers and local businesses contribute to costs so that local groups can be hosted at the café.
Debts and deliveries: the impact of Covid-19
Café Director Jo Verney, explains: "It all changed on March 23rd.  We had to shut to the public, knowing that for the previous two weeks our revenue halved and we still needed to pay our staff and overheads. We ended the month thousands of pounds in debt.  We knew that we probably weren't eligible for government support as we didn't have our own business rate account being in a shared space."
Concerned about their most vulnerable members of the community, they started The Community Dinner Fund project in partnership with Whitstable Umbrella Centre and Food Friends.
"We started with 30 referrals and are now coordinating over 200 meal deliveries per week to local families and individuals", Jo explains.  "Each volunteer delivers to only a handful of households and they provide a weekly befriending call.  If a household is in crisis there is the potential to help them via extra meals and referring them onto support services.  We have funding to continue until September with a breakfast box expansion."
Even though its doors may be closed, the café is putting community needs first.
What does the future hold?  Jo remains positive: "I expect we will survive on mostly funding and have a smaller revenue-based model for the next year, which is the opposite to how we normally work.  This crisis has taught us that we're stronger when we collaborate with other organisations."
Support for community businesses
Find out more and apply to Community Business Trade Up 2021/22