Our Match Trading grants work – and a new report proves it
11 Nov 2020

It's always reassuring when an external evaluation proves the impact of your work.  Here at SSE, we're really proud to announce the findings of a new report by independent trust Power to Change and Renaisi.
Trading Back: Match Trading® for Community Businesses as a powerful incentive for regeneration post-COVID demonstrates the impact of our Community Business Trade Up programme.
Delivered by the School for Social Entrepreneurs, The Community Business Trade Up Programme has reduced grant dependency and boosted annual trading income for locally rooted organisations. This five-year, £6.5million support programme aims to strengthen community businesses and was a pioneer of Match Trading, SSE's innovation in grant funding.
Key findings from the report:
Incentivised grants work
The average increase in annual income from trading attributed to receiving the Match Trading grant is £9,190. Trade Up participant businesses achieved this increase in trading income despite the fact that over half (54 per cent) of them are based in the most deprived areas in the country.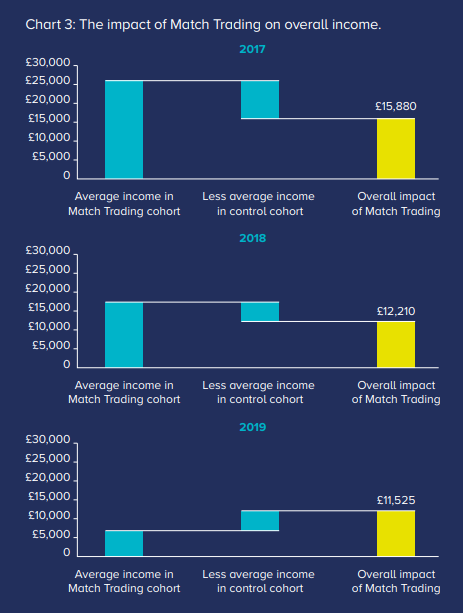 Incentivised grants reduce grant dependency
The use of Match Trading grants is shown to drive an increase in income from trading as a proportion of total revenue. A 9.5 percentage point shift in this 'trading ratio' is credited to the grant mechanism.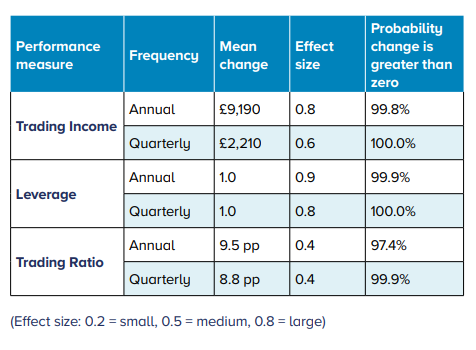 Growing entrepreneurial mindsets
The learning programme gives participants the business skills, confidence and peer support to develop a truly entrepreneurial culture. All this contributes to an organisation's chance of long-term sustainability via more diverse income streams, greater social impact and the ability to adapt to future crises.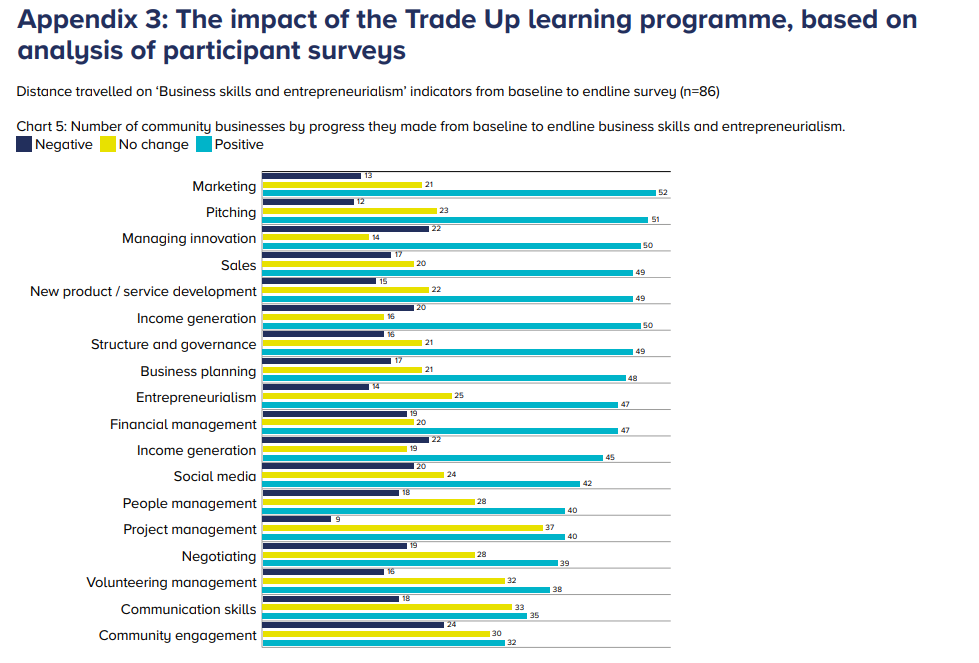 Download full impact evaluation report
Match Trading grants explained
Match Trading is one of 20 proposals in Danny Kruger MP's report to government, Levelling up our communities: proposals for a new social covenant.
Roundtable launch
The report launched at an online roundtable chaired by the Rt. Hon Nick Hurd, Chair of Access – The Foundation for Social Investment.
The panel included: Abena Oppong-Asare MP, Shadow Exchequer Secretary; Vidyha Alakeson, Chief Executive at Power to Change; Alastair Wilson, Chief Executive at School for Social Entrepreneurs and Zaffer Khan, CEO of One Voice Blackburn and a fellow of the Community Business Trade Up Programme.
Abena Oppong-Asare MP, Shadow Exchequer Secretary said:
"I'm really excited about this report…..The Trade Up programme provides a clear incentive for community business to create more revenue.

"I'm interested in the idea of helping community businesses to grow with greater traded income that's appropriate to help them grow in a more sustainable way.  Match Trading grants would certainly encourage this."
Rt Hon Nick Hurd, Chair of Access – The Foundation for Social Investment said:
"Community businesses are critical to our economic recovery as they create local jobs for local people."

"I congratulate the bravery of Power to Change and the School for Social Entrepreneurs for taking the lead on Match Trading.  I encourage the government to look carefully at the social economy and innovations like Match Trading to get the economy moving again."
Vidyha Alakeson, Chief Executive at Power to Change said:
"As a funder, one of the things that is motivating for us is that Match Trading generates leverage.  That's why we've pioneered this new approach to grant funding with SSE and The National Lottery Community Fund.

We hope other funders and the government will consider the role of Match Trading in administering grants as part of the recovery from the pandemic."
Alastair Wilson, CEO at SSE said:
"Match Trading is a UK first.  There's been a huge amount of activity in the traditional grant world and social investment world (eg. blended finance).  Match Trading grants fill in the huge gap between traditional grant and social investment and are becoming part of the financial eco-system of social change.

"If we use big data correctly and work together as a sector, we can begin to work out appropriate levels of trading for different business types in different parts of the country.  So there are bigger implications about how we use grants more sparingly based on the data."
Watch the roundtable discussion
Applications are open for the fifth and final round of this successful programme.  Community business in England must apply before 2nd December 2019.