Measuring Social Impact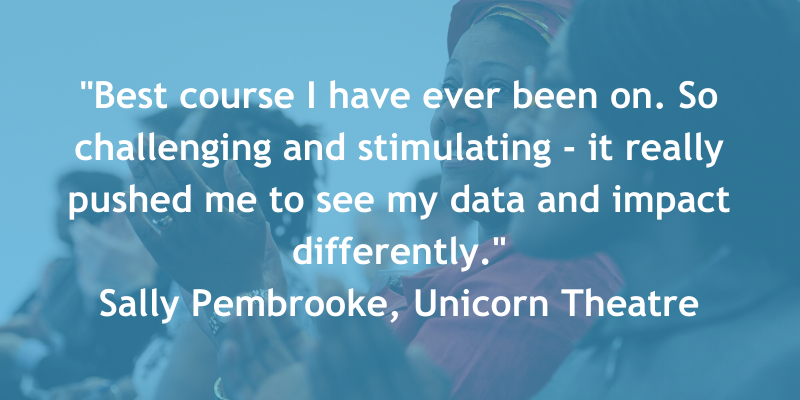 Overview
As well as making your organisation more attractive to funders, being able to measure social impact will enable you to measure the effectiveness of your organisation, to benchmark with your competition and allow you to see where improvements can be made.
This three-day Measuring Social Impact course is jam packed full of the information that you need to measure your impact successfully.
"Honestly one of the best courses I have ever attended. Excellent trainer, expertly delivered" Sarah Hulm, Break
What you'll learn from this course
What is social impact and why should we measure it?
How to engage with stakeholders when measuring social impact
Understanding outcomes
How to measure well-being
Developing your 'Theory of Change'
Social Return on Investment (SROI)
Resources to help you measure social impact
Social impact measurement tools
Best practice case studies and examples of social impact
By the end of the course you will be able to:
Explain the business case and social imperative for measuring impact.
Identify the appropriate depth and frequency of evaluation for your project.
Select the most practical, but rigorous sources of data.
Justify sample sizes and assess the value of closely involving stakeholders.
Create a tailored Theory of Change for a project.
Demonstrate the use of attribution, deadweight and drop-off.
Discuss the use of social valuation and explain different methodologies.
Design an impact map and measurement action plan for your own project.
Read 5 key lessons from our Measuring Social Impact course
The course is run in partnership with NEF Consulting, industry leaders who work with organisations to prove and improve the value of what they do to drive stronger decision-making and deliver better outcomes for their customers, clients and communities.
Who should attend
Anyone keen to learn how and why to measure social impact!  No prior knowledge is required.  Previous participants have included:
Development Officer, P3 Social Inclusion Charity
Chief Exec, Scottish Waterways Trust
Chief Officer, Rural Action Yorkshire
Resident Involvement Manager, Paragon Housing
Senior Project Officer, NUS
Evaluations Officer, Bow Arts Trust
CSR Manager, Johnson & Johnson
Chief Exec, Nottingham Care Partnership
Commerical Manager, Spurgeons
Change Manager, Cafod
If you aren't sure that the course is right for you give us a call on 020 7089 9120 and we can discuss it with you in more detail.
"The facilitator was extremely knowledgeable and engaging. The course offered a good balance of case studies, group coaching, peer learning and customisable exercises.  Course material was very well devised" Naomi Bulliard, UAL
Location and price
All our learning will be taking place in live online sessions until further notice.
Joining details will be emailed to you in the run up to the workshop.
For this three-day course plus all course materials you pay:
Individuals or organisations with a turnover less than £1m = £415
Organisations with a turnover over £1m = £485
Discounts are available for multiple bookings. See booking form for details.
Dates and Timings
The course runs over three consecutive days:
18th, 19th, 20th April 2023 SOLD OUT
23rd, 24th, 25th May 2023 SOLD OUT
4th, 5th, 6th July 2023
17th, 18th, 19th October 2023
5th, 6th, 7th December 2023
Day One: 09.30-12.15
Day Two: 09.30 – 12.15
Day Three: 09.30 – 14.45
"Awesome learning and training, going to hugely useful for my work. Also pleased to see how well engaging in training like this works via Zoom!"
How to book your place
You can choose to pay by credit / debit card or you can request to pay by invoice. In both cases, you will be redirected to a booking form that we need you to complete.
Book now:
Book your place immediately with a credit or debit card via our website using Stripe, our payment processor. We'll send you a booking confirmation right away (check your spam too).
Please note our terms and conditions: we can offer a full refund provided you give us at least 7 days' notice (within 7 days you can substitute the participant for someone else).  
If you have any questions about the course or the booking process please contact SSE's sales and marketing manager, David McGlashan on 020 7089 9120 or email [email protected].
We prefer payment by card but if you do not have access to a payment card and would like to pay by invoice please email David, [email protected]. Please only request an invoice if absolutely necessary and if it is for an amount over £100.