Enterprise Learning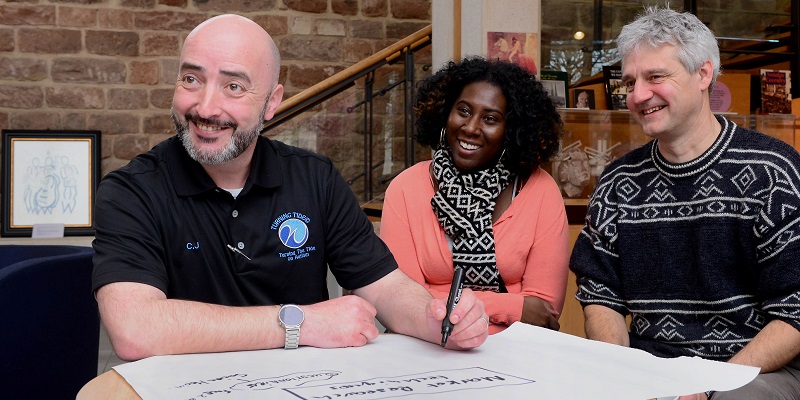 We're looking for the leaders of established charities and social enterprises, working in the youth or homelessness sectors.
We want to help you lead your organisation to the next stage of its growth. Enterprise Learning will support you to:
develop your income from trading (earned income)
lead a team for diversification and growth
overcome strategic challenges
build a support network of peers and experts in your sector
You'll receive:
A leadership programme: 8+ days of learning for CEOs and directors
Peer-learning and expert support
A Match Trading™ grant of up to £10,000
There is no cost to you at any point, thanks to support from Access – The Foundation for Social Investment.
This programme is part of the Enterprise Development Programme, a five-year, £40m programme funded by Access – The Foundation for Social Investment and managed by a coalition of partners.
The deadline to apply is 1pm, Wednesday 31st October 2018.
---
I'm interested!
Fill out your details to access the application form and get a deadline reminder.
---
"SSE's support really helped us grow and develop, and increased the speed of our trajectory and growth"

Cemal Ezel, founder and CEO, Change Please
---
Join an info session
Get more information from a member of the SSE team!
Sign up for an info webinar on:
Or visit us in London for an info session on:
Questions?
Contact programme manager Amber Sorrell on 0207 089 9120 or amber.sorrell@sse.org.uk.
Alternatively, our partner organisations are available to help.
For homelessness sector organisations:
Contact Homeless Link: Sophie.price@homelesslink.org.uk
For youth sector organisations:
Contact UK Youth: enterprise@ukyouth.org
Contact Centre for Youth Impact: hello@youthimpact.uk
---
FAQ
What will I gain from this programme?
We'll support you to transition your organisation to the next stage of its growth and sustainability. You'll develop new ways to increase your income from trading (earned income). We'll also support you to strengthen your leadership skills so you feel more confident and capable to build a team for growth.
Throughout, you'll be part of a group of 20 other leaders who are running organisations similar to yours, and hear from experts in your field. Together, you'll tackle strategic challenges and share experiences. Building this network of peer support is one of the things people value most about learning with SSE.
Am I eligible?
You could be right for  Enterprise Learning if you:
Are a CEO or director of a charity or social enterprise based in England
Support young people or people experiencing homelessness
Are established and growing: typically total annual income will be £50,000 or more for youth organisations or £100,000 or more for homelessness organisations– that's your total income from all sources, including grant, donation, trading and other sources. (If you're generating less, please contact Amber Sorrell on 0207 089 9120 / applications@sse.org.uk as we may still consider your application)
Want to increase and develop new income from trading
Not sure if you're eligible? Contact Amber Sorrell on 0207 089 9120 / applications@sse.org.uk.
Please register your interest above to access the full programme and eligibility information.
Where does the programme take place?
The learning days take place in London. We welcome applications from organisations based anywhere in England.
Accommodation and meals will be provided and travel costs reimbursed.
What's the time commitment?
You'll benefit from eight learning days in London, have four action learning sets and four webinars, spread between January and August 2019.
That's one or two days per month to:
explore new models of income from trading and enterprise development
hear from some of the most successful leaders in your field
tackle challenges with a supportive network of other leaders
You can use the Match Trading grant to help subsidise the cost of being away from your workplace.
How does the Match Trading™ grant work?
As part of this programme, you have access to a Match Trading™ grant of up to £10,000. The Match Trading grant supports you to develop your earned income, by matching increases in your income from trading and sales, pound-for-pound.
Check out the video below to find out more:
How do I apply?