Impact
How we create change, and how we prove and improve our approach
SSE supports more than 1,000 leaders of social change each year, who in turn help hundreds of thousands of people. They tackle a huge range of social and environmental problems, while creating meaningful jobs – often for people who are most in need.
Social entrepreneurs multiply the impact of support they receive.
It's something we like to call "the SSE effect"…
For example, the 1,350 social entrepreneurs supported by the first five years of our biggest UK programme have benefited the lives of 328,000 people – more than the entire population of Coventry! – while creating 4,000 meaningful jobs.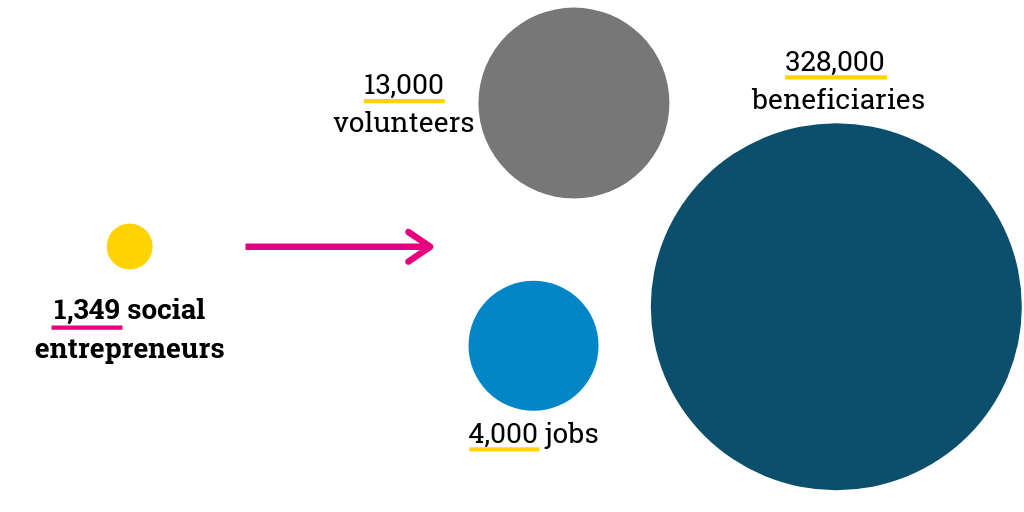 Championing diverse leadership
We champion diversity and inclusion at SSE. The social entrepreneurs supported by our biggest UK programme programme are leading the inclusive growth agenda and demonstrating the value of diverse leadership.
One in five of the social entrepreneurs are from black, Asian and minority ethnic (BAME) backgrounds. One in 10 self-identify as having a disability. Two thirds are women or trans women.
Read more about how social entrepreneurs are leading the diversity and inclusion agenda in our managing director Nicola Steuer's column for Third Sector.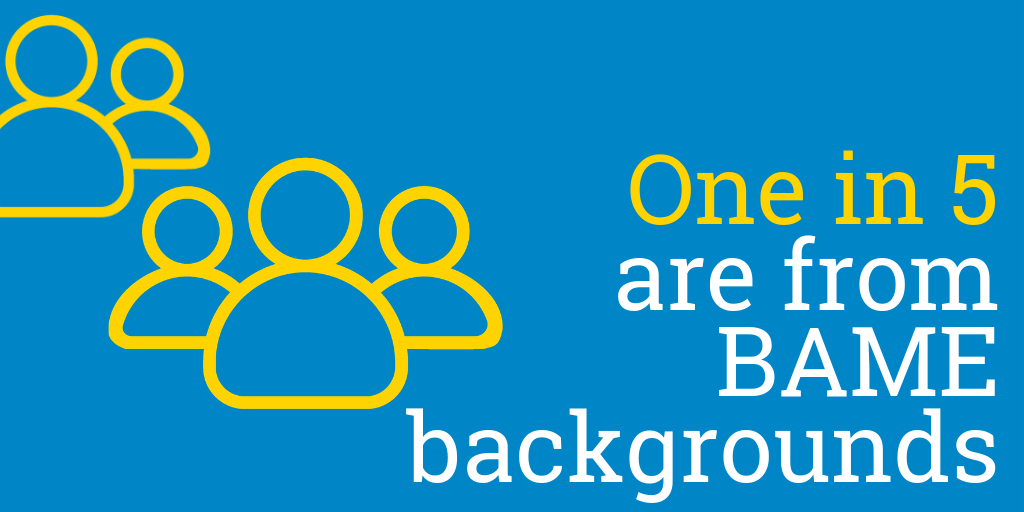 Building sustainable organisations, in the most deprived areas
We support social entrepreneurs and social-sector leaders to become better leaders. We equip them with the networks, personal strengths and business skills they need. This enables them to build sustainable, impactful organisations.
In fact, the five-year survival rate of the enterprises supported by our biggest UK programme is 66%, which far outstrips the UK average of 44% for pure-profit businesses.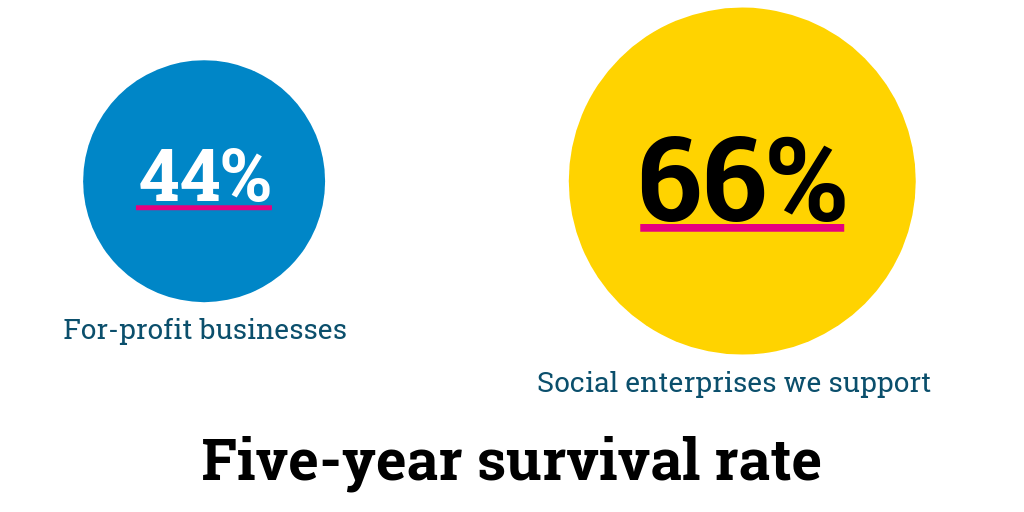 Many of the social entrepreneurs we support operate in the most challenging parts of the UK. One-third are operating in the 20% most deprived areas of the UK.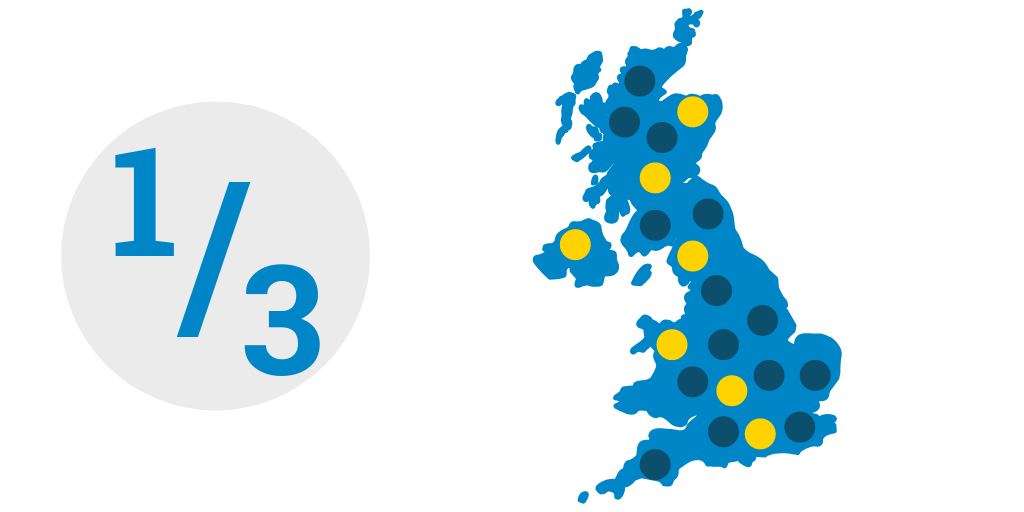 Want an in-depth look at SSE's recent work?
Read our 2017-18 Trustees Annual Report
You can also read the evaluations at the bottom of this page. Please contact us for further info.
SSE's theory of change
A "theory of change" is a way of explaining the overall change in society that an organisation hopes to create, and how all the things the organisation does aim to create that change.
Download a pdf of SSE's theory of change
How we measure our impact
As a charity, we know how important it is to measure the impact of our work. It helps us prove that SSE makes a difference to society. It also guides us on improving our work where things haven't gone as we expected.
We internally evaluate all our courses, to ensure they meet expectations, and so we can keep learning.
Every few years, we also invite external organisations to evaluate our work. This gives us a completely unbiased view of SSE's work, including hard data on the impact we have on our students and their organisations.
Download our major external evaluations below.
---
External evaluations of SSE's impact
Evaluation of phase one of the LLoyds Bank and Bank of Scotland Social Entrepreneurs Programme, in partnership with SSE an jointly funded by the National Lottery Community Fund (2019)
The Centre for Local Economic Strategies (CLES) evaluated the first five years of our biggest UK programme, after the conclusion of phase one of the programme (2012 – 2017).
Download full impact evaluation report
Social Impact Review: LLoyds Bank and Bank of Scotland Social Entrepreneurs Programme, in partnership with SSE (2016)
CAN Invest and Numbers for Good evaluated our biggest UK programme, during the mid-point of its first five years.
A Report on Social Enterprise Training in the UK (2013)
In 2013 we contracted Mark Richardson, of Social Impact Consulting, to carry out research examining the training needs of social entrepreneurs in the UK.  The key findings, which we have used to shape our course offering, are available in this summary report.
Scaling to Success Evaluation (2011)
Completed by Rocket Science, this evaluation looks at Scaling to Success, a 2010/2011 pilot training programme delivered by SSE.  The programme has since evolved to become 'Replication and Social Franchising', which is still delivered each year.
Impact Evaluation Report (2011)
New Philanthropy Capital completed an organisation-wide impact evaluation, looking at SSE's impact from 1997 to 2011.
SSE Cultural Leadership Programme (2008)
The New Economics Foundation evaluated the efficacy and transformative effect of the SSE approach and methodology. It looked at students of our Cultural Leadership Programme 2007/2008, and their organisations.
Want to help us create more impact?