Rianna Raymond-Williams, Shine ALOUD UK CIC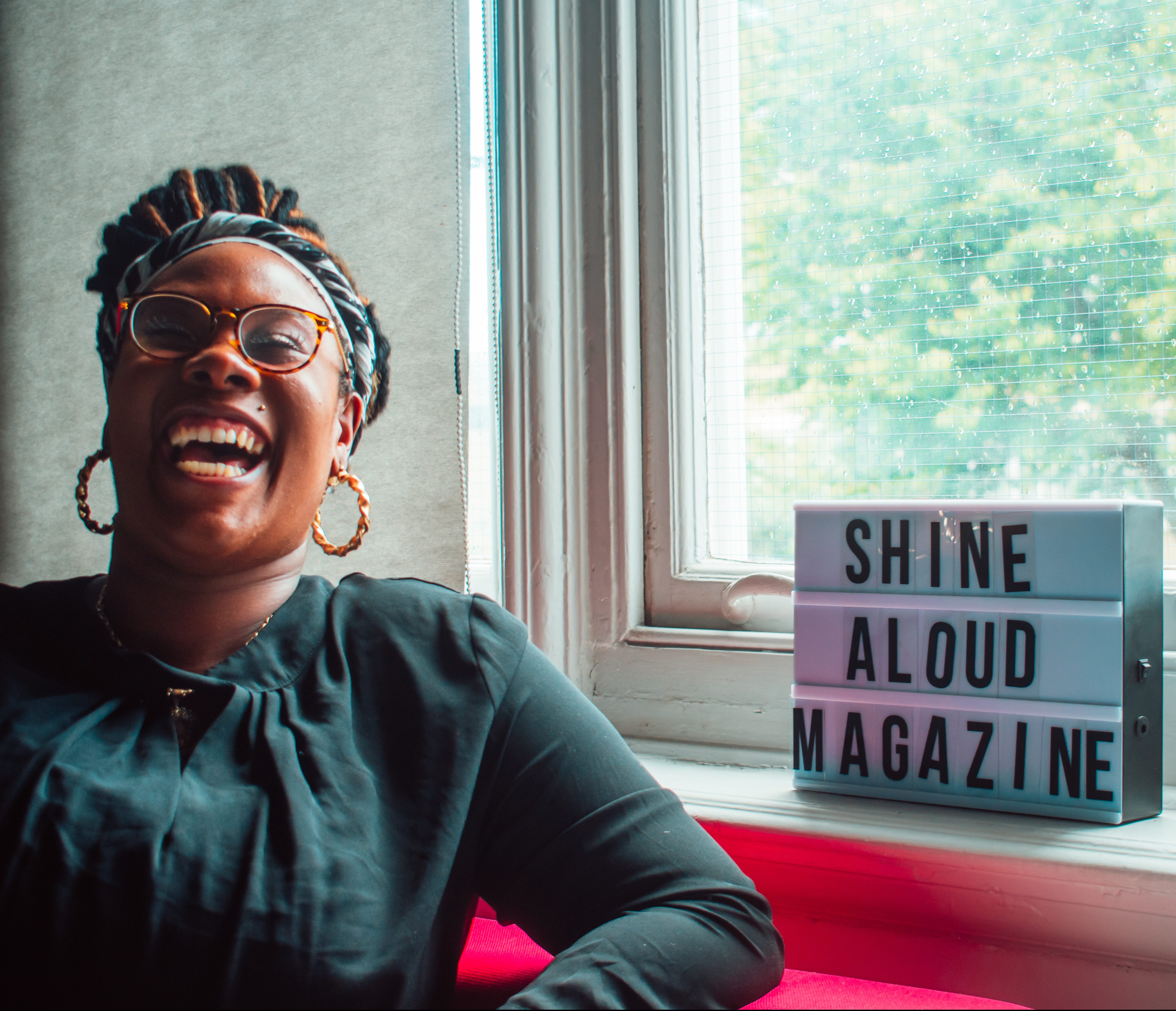 Photo by: Oli Monks
We caught up with Rianna just as she wrote about PrEP for The Independent, and six years after she completed our Lloyds Bank Start Up Programme. Discover her social enterprise and see what she's been up to since joining SSE back in 2013…
What does your social enterprise do?
Shine ALOUD UK CIC is a sexual health awareness social enterprise based in North London. Our creative solutions empower under-25s and adults working with this group to have healthier conversations about sexual health and relationships. We pride ourselves in educating and empowering all to have healthier sexual health outcomes.
We work with a range of young creatives to create our unique publication, Shine ALOUD UK, which tackles a range of topics relating to sexuality, such as parenthood, peer pressure, contraception and personal hygiene.
Shine ALOUD's  magazine
What motivated you to start your social enterprise?
Growing up I knew I wanted a career that would allow me to help people as well as be creative. Over the years, I built and defined my path to include all the things that are important to me. These are now key elements of my business: Sexual and Reproductive Health Education and Empowerment, creativity and research.
I believe it's a human right for us to have access to adequate information, support and services to allow us to make informed choices. We should be able to navigate our sexual and reproductive health regardless of faith, culture, age or location. That's why we promote sex positivity and tackle sexual health inequalities, particularly among marginalised groups.
Why are you passionate about this cause?
Sex and relationships are still subjects that aren't talked about freely, specifically among young people. In the hyper-sexualised culture of today, it's easy to be indoctrinated with the ideas that you should be having sex, just because everyone around you seems to be.
But, by starting with the basics where we explore what defines a healthy relationship etc., I believe we can help to create a generation of sexually-empowered young people and provide a space to empower adults to promote the same messages.
How has the School for Social Entrepreneurs supported you?
A huge milestone for me was securing a place on the programme back in 2013. It reassured me that people are willing to invest in my ideas. It allowed me to build the foundation of my enterprise and it really shaped the way I approach business. Learning about cash flow, income streams and all the things that come with business, has been hugely beneficial.
The most valuable part of the programme were the witness sessions. It's so refreshing to hear from social entrepreneurs and learn about their experiences.
Entrepreneurship can be lonely and scary, but listening to the experiences of other social entrepreneurs is really comforting and motivating.
What have you been up to since graduating from the Start Up Programme?
I returned to education to complete my Masters in Reproductive and Sexual Health Research at the London School of Hygiene and Tropical Medicine. I've also developed my practice as a Sexual Health Advisor for the NHS.
Most recently, I secured a place on the Hatch Enterprise Impact Accelerator programme. I also secured a €130K grant from Erasmus to run a 24-month project 'Wholesome Living – Substance Abuse is Self-Abuse'. This project aims to understand the factors that influence substance abuse among under-25s.
We held our first Youth Exchange in Cluj-Napoca, Romania just over a month ago. Young people, teachers and youth workers from six European countries were engaged in a host of seminars and activities as part of an international dialogue to share perspectives and best practice on substance abuse. Through the initiative, we aim to create a youth-led creative solution to address the problem.
What challenges have you faced?
There have been many challenges along the way, but one of them would be staying true to myself and my values.
Me and my team want to create impact and be purposeful and that can be hard in the world of business. Not all companies have the same interests or ethos. Having said that, I'm keen to collaborate with and support companies that do similar work and are passionate about reproductive and sexual health empowerment just as much as we are!
What advice would you give to a budding social entrepreneur?
Building a team who are committed and reliable is essential to growth and sustainability. I would advise other entrepreneurs to learn the art of delegation. As with anything, especially your own project or business, it can all seem very precious. Your business is your own little baby. A living, breathing and evolving new-born. But try not to get caught up in doing things your way because you might not always be the best person for the job. It can be hard to swallow, but you must be honest with yourself.  Once you are, you can begin to move forward a lot quicker.
If you've been inspired by Rianna's story take a look at our courses and see how we can help turn your idea into a reality.