Abigail White, Scarab Pots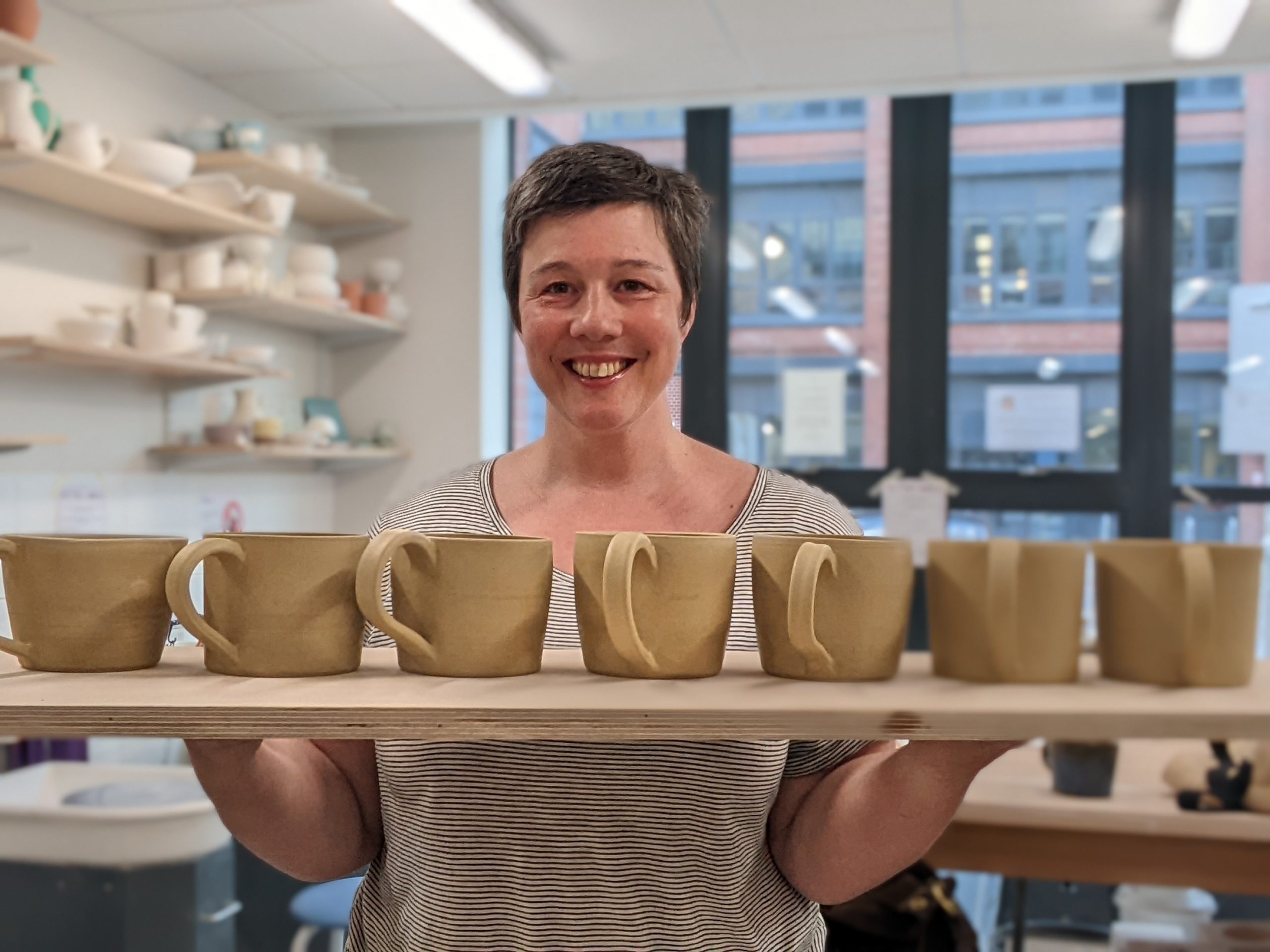 Meet Abigail, Founder of Scarab Pots whose mission is to use pottery classes as a tool for wellness for people with dementia or physical impairments.
In a nutshell:
Founder: Abigail White
Organisation name: Scarab Pots sell handmade pottery and run classes for beginners. In January 2023 a third arm will be established, running pottery sessions for people with dementia or physical impairments as a tool for wellness.
Business model: Currently most income is coming from running classes. The business has only been established six months, but Christmas sales have had an impact on annual profit.
Region/s you work in: Keynsham, (BANES) but living in Bedminster.
SSE programme: Strong Foundations July 2022, coaching, mentoring and some of Getting Serious: Next Steps to Success as part of the the South Bristol Enterprise Support Programme through SSE Dartington and the South West.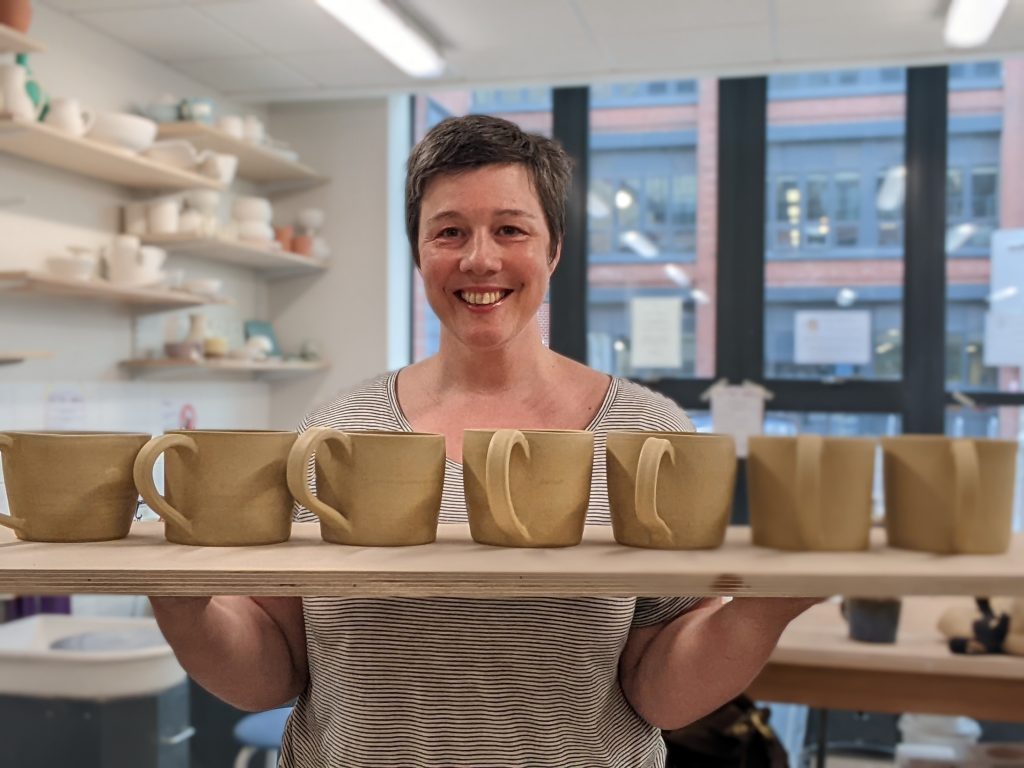 Abigail was a teacher for more than 20 years before she decided to start Scarab Pots. She loves working with people and feels strongly about providing stimulating, creative communities for older people. She's been potting for less than two years and is still on a 'steep learning curve' but she likes to share with other people and has found a real appetite in the local area. Finding her studio was a real stroke of luck:
"I'm still pinching myself that this studio came up. It was another piece in the puzzle – this was a studio where I can do sessions as part of a retirement community."
Abigail is still very much in the early stages and has been operating less than six months, so the social enterprise arm of her business isn't fully up and running yet. However, she can already see the benefits for some of the residents in the retirement village and members of the public who attend her classes:
"It's an excellent tool for wellness, it's very mindful and focused, you can't be anywhere else when you're in it. It's great for reducing anxiety."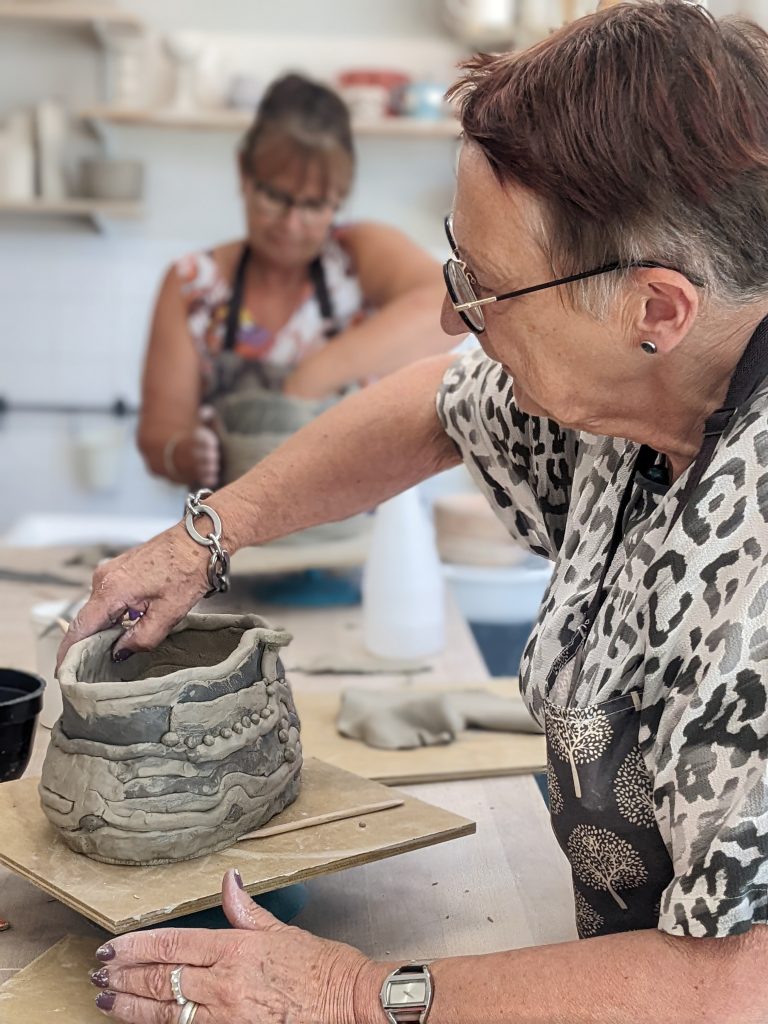 At this stage Abigail's classes are open to anyone. The thing that has stopped her so far from working with people with dementia, which is her aim, is that she hasn't figured out how to fund that work:
"I decided quite early on that I needed to create a viable business that can stand on it's own, and then look at how I integrate this into the business model. I am a sole trader, and I am not looking to incorporate so that limits my options in terms of seeking funding. There are still some grey areas but I'm not worried, I feel secure and confident in my business model, I'll find a way to get to that next step."
The Programme
Abigail took part in the South Bristol Enterprise Support (SBES) programme. She completed the Strong Foundations pre-start course, had some mentoring, and joined a couple of workshops on the Getting Serious: Next Steps to Success course. She told us that one of the most valuable things she learned was getting the profitability of her business sorted first:
"Without focusing first and foremost on the profitability, then you have no business, and you can't do social enterprise if you don't have a successful business. I've felt really embraced by the process they're encouraging me into, rather than rushing into something my business isn't quite ready for."
Abigail told us that before taking part in Strong Foundations she didn't think of herself as a 'business person', or that she would be able to make money. But six months on she is supporting herself solely through income from Scarab Pots. She also found it really useful meeting other people on the course who are in the same boat, and she found the expert and witness sessions gave her confidence:
"Everyone has made this feel like something I can do."
Abigail told us that being on the SBES programme made a huge difference to her knowledge, particularly on legal structures and finances:
"I feel a lot less at sea. A lot of small tips about talking to HMRC, opening a business bank account, what a proper set of books looks like – getting Xero has changed my life – I wouldn't have thought about it, those simple things have contributed to me building something that's doing well!"
Abigail also said the programme gave her direction and focus, and knowing that she had someone to ask was reassuring:
"I would have spread myself too thinly, if I'd tried to go everywhere at the same time I would have floundered. With no training or background, as a sole trader without people to bounce off, it's really powerful knowing I can send Susan an email to ask a question and she will be able to find the right person to ask."
Abigail also told us that the human-centred approach based on need was different to what she expected:
"Some business courses are much more about following a programme rather than responding to the people in front of you and where they are in their journey. All the interactions I've had have responded to what I've needed."
The future
In the future Abigail wants to explore how to incorporate the dementia sessions into her business and find a partner to enable that. She is positive about what the future holds and is very grateful to have been on the SBES programme:
"I'm feeling positive about what I've built so far and confident about the next steps, making a living for myself doing something I love and feel is important. I can't believe it's been available to me for free and I feel very lucky to be part of it."
Top tip for other social entrepreneurs:
"Your idea is important, and you have the power to see it through. You can unpack around that your vision and values and mission statements and business plan, but you've got to believe your idea is worth sharing."
Keep up with Scarab Pots' journey on Facebook and Instagram.