Regional spotlight: social enterprise and community business in the south-west
5 Nov 2020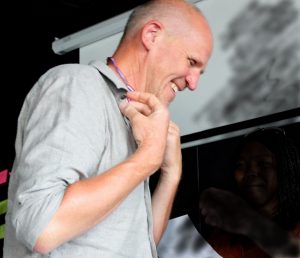 Comms manager, Hannah C explores the social enterprise scene across the UK – third in the series.
South West England has a growing social economy, enabled by cross-sector partnerships and European funding. It's a pioneer of social change: Plymouth and Bristol were the UK's first two 'Social Enterprise Cities'.
I caught up with Dirk Rohwedder, head of the School for Social Entrepreneurs Dartington (SSE Dartington), to find out what makes this region unique.
Pioneering social enterprise
The south-west is a well-developed and active social enterprise region, compared to the rest of the UK.
Two Local Enterprise Partnerships (LEPs) developed a support programme for social enterprises, with European funding. Plymouth was one of the first few UK cities to develop a social-investment fund owned and held by a local authority, offering patient loans and interest free lending.
Dirk and his team have worked with all the local authorities and social investment organisations within the region. He was part of partnerships in Plymouth, Devon and Bristol that applied for funding through Access – the Foundation for Social Investment. Bristol was successful and is one of six places in the UK selected for funding.
"It's a huge opportunity for Bristol. It will see £2.8m go towards social enterprise support, grants and blended finance and social investment."
Dirk's team also help deliver The Rank Foundation's community business and social enterprise support programme in Plymouth. It aims to develop community leadership and shape development in the city from the bottom up, taking a place-based approach to change and regeneration.
Challenges in the region
Although there are opportunities, there are challenges in the region too.
The region is a mix of prosperous urban areas (like some parts of Bristol, Bath and Exeter), alongside cities and towns facing significant social challenges (like Plymouth, Torquay and Taunton).
Economic growth is unequal, with pockets of deprivation, inequality and excluded communities. There are high levels of white working-class poverty in south Bristol. Large rural areas of west Somerset, north and east Devon are also very deprived.
Dirk explains: "Infrastructure support for the social economy is worse than it used to be. It's led to more exclusion, more inequality, ill-health and an increase in poverty." These become the challenges for social entrepreneurs and community businesses who pick up the pieces and the 'gaps' in support.
Dirk sums up the region as having "lots of social problems that social entrepreneurs get their teeth into".  He adds:
"In some way it's an indictment that social entrepreneurs have to pick up the pieces because the issues do not get addressed anywhere else."
The majority of social enterprises are small in size and the amount of public sector contracts that go to the social economy is still low. Many are unable to support themselves through trading, and rely on grant funding, volunteers and a lot of good will from their founders and directors.
Resilience in the face of Covid-19
Despite Covid-19, there are signs of surviving and in some cases thriving community businesses and social enterprises in the south-west. Dirk puts this down to the resilience and inventiveness of social entrepreneurs and the support of emergency grant-funding from local authorities.  He explains:
"People across the region have been acting, thinking and procuring at a hyper-local level for years.  It's in our communities' DNA to source local products and support local enterprise over corporate business where possible."
Some community businesses and social enterprises have even seen a rise in local demand and income. For instance, businesses with a strong offer around organic veg box schemes, such as The Community Farm at Chew Valley, or those able to scale up delivery, such as The Propagation Place at St Werburgh's Community Farm in Bristol.
Others, including Redcatch Community Garden in Bristol, have found new audiences looking for local solutions, and a new-found curiosity into what community businesses can offer.
There will be many who haven't had such luck. Yet the south-west's embrace of enterprise has driven a positive response to the pandemic.
Impact of SSE Dartington's support
Now a team of 11, the team in Dartington celebrated their 10th anniversary this year. They've supported over 800 social entrepreneurs and community business leaders. They've distributed over £900,000 of grant funding, £400,000 in affordable loan finance and delivered 54 support programmes.
Stand-out community business leaders
Mike Cardwell, Redcatch Community Garden
This beautiful community facility offers a gardening, food production and craft activities. Its aim is to improve health and well-being of an area of deprivation in Knowle, Bristol.
Mike's had a huge impact in diversifying income sources and has embraced Covid-19 as an opportunity to attract new customers. New take-away food options and a new kitchen have fuelled an increased use of the park. His team has also secured funding to build a new all-purpose structure to host activities from 2021.
Dirk says, "With Mike's support, this dynamic community business has a bright, sustainable future".
Jess Clynewood, St Werburghs City Farm
This small charity aims of to better connect people with the story of their food, connect people with nature for health and wellbeing.
Before Covid, Jess had set up 'The Propagation Place'. It's a new project supplying allotments with plants, creating volunteering and educational opportunities. Due to the pandemic, she adapted the project and set up an e-commerce system.
Dirk says: "Jess' tenacity has seen the project go from strength to strength in the face of the pandemic. She's created a much-needed income stream, developed new markets, a national reputation. Her work will ensure the sustainability of the business."
Get involved
Mike and Jess took part in the Community Business Trade Up programme, in partnership with Power to Change. It's a free nine-month entrepreneurial learning programme for community business leaders. They get up to £10,000 Trade Back grant and benefit from a support network of community business leaders with similar challenges.