Building community business resilience: SSE, Power to Change and The Dulverton Trust partnership
26 Apr 2023
In a world where everything is changing, one of the few things that grounds and supports us is our community. Community businesses are key to strengthening our neighbourhoods, villages and towns. They operate with sustainable business models that generate both financial returns and benefits for the community. There are over 11,000 community businesses all over England, from cafes, pubs, bakeries to swimming pools that are led by and for their community.
The School for Social Entrepreneurs (SSE) and Power to Change have partnered on the Community Business Trade Up Programme (CBTU), since 2017 and have helped over 440 community businesses to develop entrepreneurial skills, build resilience and grow their impact.
Now, in 2023, we welcome The Dulverton Trust to the partnership , which will help us to continue to support more community businesses to thrive.
Tim Davies-Pugh, Chief Executive of Power to Change, says:
"Welcoming The Dulverton Trust on board to this successful partnership brings more investment into the community business sector. We have seen time and again that communities are best placed to know what is needed in their local area, from reclaiming high streets to creating inclusive opportunities for local people to better their lives."
The Match Trading ® grant plays a pivotal role, matching pound for pound an increase in trading income. By rewarding sales growth, it incentivises community businesses to develop their trading base and strengthen their financial position.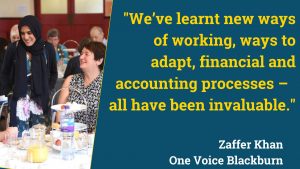 CBTU is now open for applications and will recruit 40 early-stage community businesses.
Community Business Trade Up provides early-stage community businesses based in England with:
A free learning programme, to help you build your income, confidence, resilience and impact
Up to £5,000 Match Trading grant
A community business peer mentor
An opportunity to meet regularly with other people running organisations like yours, so you can help each other out
Read more about The CBTU programme – and apply now!
The Community Business Trade Up programme will run over 12 days between November 2023 and October 2024.
It will include 8 days of learning (4 in-person, 4 online) and 4 Action Learning Set sessions. Our Action Learning Sets are a simple and powerful process for finding solutions to business challenges supported by your peers.
In-person learning days will be delivered from venues in the following regions:.
South West (Bristol)
Midlands (Birmingham)
North West (Liverpool)
South East (London)
Alastair Wilson, Chief Executive of School for Social Entrepreneurs says:
"CBTU, and the innovative Match Trading grant has developed a strong evidence-based approach to equip community leaders and community "do-ers", with the tools, skills and networks they need to build resilience and tackle big challenges at a local level, such as social inequality and climate change. We welcome this new collaboration to help us grow success, reach a wider remit of community businesses, and uncover fresh perspective to make CBTU even more impactful for participants."