Working with Corporates
Learn to form profitable partnerships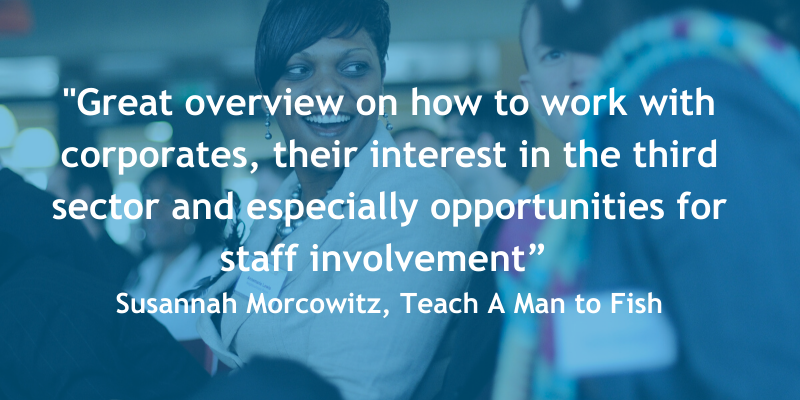 Overview
Working in partnership with corporate organisations can offer a huge amount of opportunity to charities and social enterprises. But how can you access the right people and ensure that yours is an organisation that they choose to work with? What makes a successful corporate partnership? How can you ensure that the relationship is balanced and that you both get something from it?
A panel of speakers and case studies will answer these questions and more. Working with Corporates will examine the different ways that you can get involved with corporates, from accessing support from CSR teams through to getting your organisation on a corporate supply chain.
"Fantastic workshop @SchSocEnt. Really helpful…I need to come to more of these please!" Jenni Buckland
Five reasons to book your place
Hear from the corporates themselves – you'll learn

what CSR teams do, how they are structured and who you need to be presenting your organisation to.

Discover the types of support available to your charity or social enterprise including employee volunteering, fundraising, supply chain management and schemes such as charity of the year.
You'll hear a case study from a charity or social enterprise describing how they have developed long term partnerships with corporates. You'll hear what worked, what has gone wrong and how you can best set your organisation up for success.
Share ideas with other participants about accessing corporate support and the business needs that your organisation can help a corporate meet.
Leave feeling more confident that you are able to identify the right corporate organisations to target for support and plan of how to get there.
Who you will hear from
Decision makers from within corporate organisations will provide insight into how their organisations support charities and social enterprises and the different ways in which you can access this support. Previous speakers have included: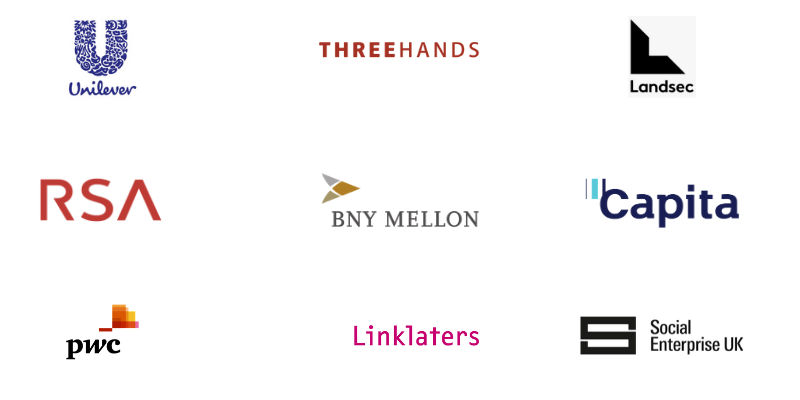 "Great to hear first-hand from people who direct CSR policy and their perspectives" Christina Wigmore, Soft Touch Arts

Who should attend Working with Corporates?
Working with Corporates is open to anyone keen to discover how their charity or social enterprise can work more closely with corporate organisations. No previous experience is required and there will be a lot of opportunities to ask questions of our speakers and to network with other participants. Previous participants on the course have included:
Programme Officer, International Debate Education Association
Director of Business & Social Impact, Cinque Ports Community Kitchen CIC
Programmes Officer, Teach a Man to Fish
Finance Director, Positive East
Business Development Manager, Lifeline
Project Manager, The Gem
Location
All our learning will be taking place in live online sessions until further notice.
Joining details will be emailed to you in the run up to the workshop.
Price
For this one-day workshop, access to our speakers plus all course materials you pay:
Organisational turnover £1m +
£169
Organisational turnover £500,000 – £1m
£149
Organisational turnover £100,000 – £499,999
£129
Organisational turnover £50,000 – £99,999
£109
Organisational turnover less than £50,000
or individuals unattached to an organisation
£89
Book now:
Book your place immediately with a credit or debit card via our website using Stripe, our payment processor. We'll send you booking confirmation right away.
Please only request an invoice if absolutely necessary and if it is for an amount over £100.
Please note our terms and conditions: we can offer a full refund provided you give us at least 7 days' notice (within 7 days you can substitute the participant for someone else).  
If you have any questions about the course or the booking process please contact SSE's sales and marketing manager, David McGlashan on 020 7089 9120 or email [email protected].