Winning Public Sector Contracts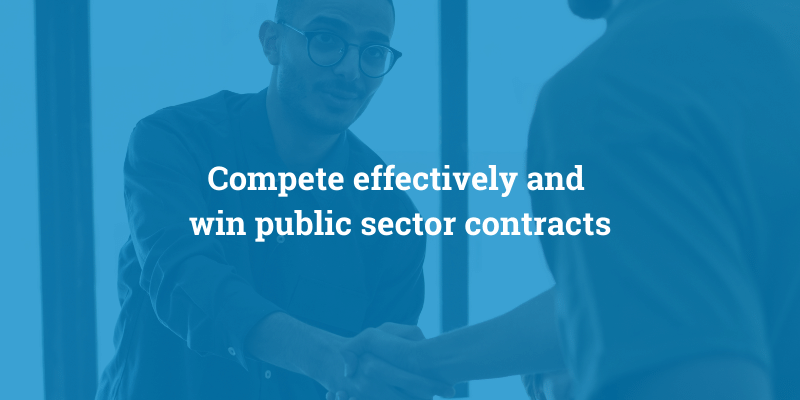 Overview
Winning public sector contracts is a great way to get your product or service deployed and used by the communities you want to serve. However, it often feels like an inaccessible route with confusing jargon and complicated processes – but it doesn't need to be!
This one-day 'Winning Public Sector Contracts' course for charities and social enterprises will guide you through the steps you need to take to compete effectively in this potential marketplace and win public sector contracts.
In addition to the workshop, each participant will receive an individual Zoom call with course facilitator Tony Wallace to discuss their own organisation's issues and questions.
What you'll learn on Winning Public Sector Contracts
In this course you'll learn how to create responsive solutions to the required service being tendered and write effective bid responses. We'll also show you how to deploy a free radar service so you can receive email alerts of relevant tender opportunities and qualify which ones you pursue; learn how to take advantage of market awareness events to become a subcontractor on bigger bids and set up the processes required to bid effectively into the public sector marketplace.
Our goal is to give you the skills and confidence to take advantage of public sector contract opportunities, win that funding and deliver value to the communities you serve.
"Now we are armed with more knowledge, an action plan and more than a sprinkling of confidence!"
Five Reasons to Book Your Place
1.     Our facilitator – Tony Wallace from FundMyMission – is an experienced public sector bidding expert who has won millions of pounds of funding for various organisations over the past 15 years. Now you can take advantage of that knowledge and experience too.
2.     Bidding is time-consuming so we focus on teaching you how to identify the most relevant public sector contracts where you have a decent chance of success so you don't waste time.
3.     Partnering (being a subcontractor to a large organisation) is often a much easier way to win a piece of a public sector contract and also avoids a lot of operational risk – this course devotes a section of the day to understanding how to deploy a partnering strategy and avoiding its associated risks.
4.     Meet and share your experiences with like-minded people from organisations on a similar journey as you and through expert facilitation learn from each others best practices and also how to avoid mistakes.
5.     Leave feeling more confident that you can successfully navigate the public sector contract process and with a set of skills and tactics that will improve your chances of success.
"I thought the examples and content were very real, generous and practical"
Typical agenda
10:00 – 11:30: Webinar
●     What problem are you trying to solve?
●     How do you find public sector buyers that also want to solve that problem?
●     How do you partner with 'Primes' to win a small sub-contract and deliver a piece of the project?
11:45 – 12:30: Facilitated independent exercises so each participant can begin to try and implement the suggested approach
13:30 – 14:30: Webinar
●     Understanding the Pre-Qualification Questionnaire (PQQ) stage
●     Understanding the Invitation to Tender (ITT) stage documentation
●     Creating a compliance matrix
●     Creating a bid plan to track progress against the deliverables
14:45 – 15:45: Webinar
●     Developing a compliant and responsive solution against the published budget
●     A roadmap to writing responsive answers to their questions
16:00 – 16:30: Facilitated independent exercises
16:30 – 1700: Q&A session
In addition to the workshop, each participant will receive an individual Zoom call with course facilitator Tony Wallace to discuss their own organisation's issues and questions.
Location and price
All our learning will be taking place in live online sessions until further notice. Joining details will be emailed to you in the run up to the workshop.
SSE Students / Fellows / Associate Fellows – £350
Individuals unattached to an organisation – £375
Organisations with a turnover up to £1m – £400
Organisations with a turnover over £1m – £425
How to book your place
You can choose to pay by credit / debit card or you can request to pay by invoice. In both cases, you will be redirected to a booking form that we need you to complete.
If you have any questions about the course or the booking process please contact SSE's sales and marketing manager, David McGlashan on 020 7089 9120 or email [email protected]
Book now:
Book your place immediately with a credit or debit card via our website using Stripe, our payment processor. We'll send you a booking confirmation right away (check your spam too).
Please note our terms and conditions: we can offer a full refund provided you give us at least 7 days' notice (within 7 days you can substitute the participant for someone else)