Lloyds Bank Social Entrepreneurs Scale Up Programme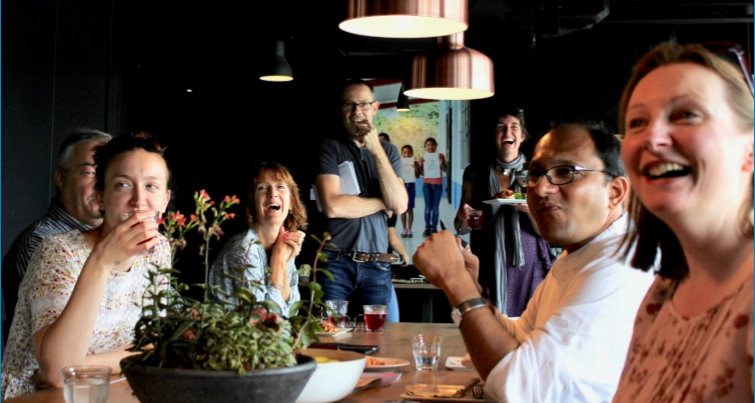 Register interest in the 2021-22 programme below
You've set up an effective social enterprise, and you plan to significantly scale up its social impact.  This programme will help you put those plans into place.
We'll help you increase your resilience, develop different income streams and ways of working suited to the online, post Covid-19 new normal.
We could support you with:
An instant grant of £3,000 to kick-start your recovery*
Plus up to £4,000 incentivised grant (pound-for-pound matches an increase in income from trading)*
Free learning programme (14 days spread over a year) focused on recovery, rebuilding, resilience and managing change
Support network
Mentoring
*We call this a 'Trade Back' grant and it's our response to the Covid-19 crisis to ensure you're better supported.  It's brand new and we've updated the application guidance notes to reflect the change.
Register interest
Scale Up could be right for you if…
You've built solid foundations for your social enterprise, charity or impact project, and it's been running for at least two years
Not quite at that stage yet? Try Trade Up.
Find out more
Hear from Cemal, who has completed the Scale Up programme:
FAQ
How do I apply?
Our application process is completely online due to government guidelines on social distancing.
Register interest in the 2021-22 programme (above) and we'll email you when applications open.
Email LBSEP2020@sse.org.uk if you have any queries.
Is Scale Up for me? Am I eligible?
Scale Up could be right for you if:
You have set up an effective social enterprise that has significant impact, and you plan to significantly scale up its social impact.
Your organisation is at least two years old, with income of more than £75,000 in the last or current financial year.  We will consider the impact of Covid-19 when assessing the income criteria. So if you were expecting to have £75,000 for Scale Up income this year, but you are not going to because of Covid-19, please tell us about this in your application form. We will take this into account.
You're aged 16+.
You're based in the UK and your project mainly creates impact in the UK.
You're committed to attending the learning programme.
Fill out the form above to download the guidance notes, which include full eligibility criteria.
If you are looking to get back on track with your income from trading and sales, rather than scaling up, you should consider Trade Up.
We're not worried about:
Whether you'd call yourself a "social entrepreneur" – the key is that your idea or organisation is committed to helping those in need or improving a community.
Your background, education or experience – we welcome people from all backgrounds, of all abilities, and we make no judgements on your past.
What are the dates and locations?
The learning programme consists of 14 days, spread over a year, starting in October 2020 and running to October 2021. Typically, you attend for a day or two a month (not including school holidays).
NB.  All learning activities will take place online until government guidelines on social distancing change.
The Scale Up programme will run from London, England.
What will I learn?
The Scale Up programme will be designed to help you bounce back from the Covid19 crisis and put plans into place to scale.
We'll make sure the learning on this programme is adapted to meet your needs. Topics will be shaped by students' needs, but likely to include:
Transitioning from working in the business to working on it
Building an effective team and delegating responsibility
The drivers to scaling
Measuring social impact at scale
Tools for developing and sharing evidence
Developing your business model for scale
Securing a diverse and secure income base
Building robust financial processes
Developing governance for growth
Avoiding burnout and managing change
Leveraging partnerships for scale
You'll be in a group of around 20 other people at a similar stage to you, from all backgrounds. You'll form an 'action learning set' that helps you reflect and develop in a trusted circle. Here's a video that explains action learning.
These trusted relationships with other social entrepreneurs are really important to our students: 19 in 20 students stay in touch with people they met at SSE after they finish the programme.
Our learning programmes are very different to traditional teaching. We're not about essays and academia. We believe in learning from other people's stories. You'll hear from inspiring social entrepreneurs who speak frankly about the good, the bad and the ugly of running an organisation. (This playlist of videos shares the types of stories you'll hear.)
We'll also introduce you to experts to help you develop new skills. You'll build a network of peers and professionals who can support you.
To help keep you on track, we'll match you with a mentor from Lloyds Bank.
How does the Trade Back grant work?
SSE has created the Trade Back grant in response to the Covid-19 crisis as we recognise that many organisations have lost trading income.
We'll give you a £3,000 traditional grant to kick-start recovery efforts and support leaders to put into practice new ideas and initiatives.
You'll then access an incentivised grant of up to £4,000 to accelerate recovery and growth.  It's similar to our Match Trading grants which match an increase in income from trading and sales, pound-for-pound.
Check out the video below, and read more about how Match Trading supports social entrepreneurs to increase their sales.
Match Trading was developed by the School for Social Entrepreneurs with the support of pioneer partners Lloyds Banking Group and The National Lottery Community Fund.
Is all this really free?
Yes! You can use the grant for your project's running cost and to pay for travel and subsistence to support you in participating in the learning programme.  The learning programme and mentoring is fully funded, thanks to funding from our partners Lloyds Bank, Bank of Scotland and The National Lottery Community Fund. The School for Social Entrepreneurs is a charity.