Black Social Entrepreneurs Futures
Black communities have been hit harder than most by Covid-19. The crisis has shone a spotlight on the injustices and inequalities that Black people face. We also know there are some incredible and enterprising Black people who can make a positive difference. We can help.
The programme is aimed at Black social entrepreneurs based in the West Midlands, who want to increase their impact and trading income.
The programme is delivered in partnership with leading international law firm, Gowling WLG.
Could this be right for you?
This programme is for people who identify as all of the following:
Black
Supporting predominately Black communities
Based in and working in the West Midlands
Running a social enterprise; you incorporated your project at least a year ago (e.g. with Companies House)
Key benefits to you:
Strengthen your project with our free learning programme
Grow your income from trading, so you can increase your social impact
Gain a network of peers, who will help you develop your plans and act as a sounding board
Get 1-to-1 advice from a mentor – a business and/or legal expert at Gowling WLG
Our programmes are based on peer and action-learning. We're definitely not about textbooks and teachers. Instead, we help you to get the headspace you need to map out next steps, with the support of other social entrepreneurs facing similar challenges. (More info on learning with SSE.)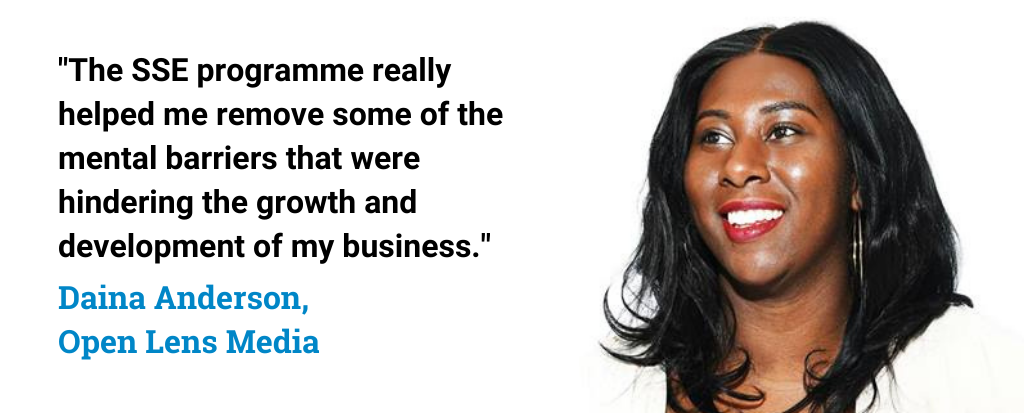 When and where does it take place?
This programme will be delivered online* over 12 months, starting in January 2021. It is free to attend (as we're a charity), and will comprise:
8 Group Study Sessions
4 Action Learning Sessions (group coaching with your peers)
1 to 1 business support & mentoring
* If circumstances around Covid-19 change and it becomes completely safe and practical  for everyone to meet face to face then we may consider doing so, in central Birmingham
I'm interested – tell me more
Applications open soon.
Share your email below, and we'll email you when applications open, to let you know how to apply.
We will only contact you about this programme, in line with our Data Protection Policy.

Interviews will be held during late November and the programme will run from January to December 2021
Is it really free?
This programme is generously funded by our partners, Gowling WLG. They have funded every place on this programme, so there is never any cost to you.
Lorna Gavin, Head of Diversity, Inclusion & CR at Gowling WLG, explains: "Gowling WLG is proud to be able to support the Black Social Entrepreneurs Futures programme. One of our global values is that we all bring something different. This programme embodies that, and we are delighted to be able to help harness the wealth of diverse talent and drive to deliver social value across the West Midlands."