Stacy Bradley, Transforming Local Communities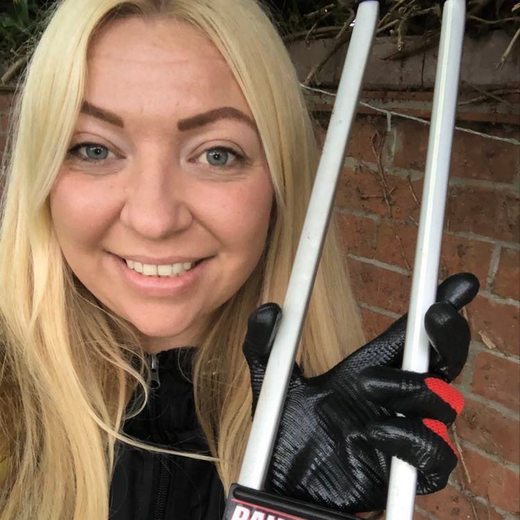 Meet Stacy Bradley, the founder of Transforming Local Communities, the community business that run community litter picks, business litter picks and business networking group for socially responsible businesses.
In a nutshell:
Founder: Stacy Bradley
Organisation name: Transforming Local Communities  runs community litter picks, business litter picks, Skip Amnesty days and "Pick n Mix" – a business networking group for socially responsible businesses. The social enterprise exists to bring business and the community together for the greater good.
Business model: Trade income comes from sponsorship from local businesses for community litter picks, income from Pick N Mix business networking events and business litter pick events/Skip Amnesty Days. In the past, a large majority of income has been from grants, however in the future with the help of SSE, Stacy hopes that a majority of income will be from trading.
Impact: Since Transforming Local Communities started in July 2019 they have hosted 69 community litter picks, thanks to the support of almost 50 businesses. The events have brought together over 400 volunteers to collect in excess of 4 tonnes of rubbish. The litter picks have funded self-defence classes, with over 150 women and girls attending. CCTV has also been funded and installed in the local area.
Region you work in: Norwich, Norfolk
Turnover: Currently there is 1 part time staff member, Stacy, but there are plans for expansion which will see more staff brought on board.
SSE programme attended: Community Business Trade Up 2022
SSE location you attended: London
Community litter picking
In July 2019 Stacy took a punt on taking on a locally organised litter picking event. She answered a social media post from a woman who was no longer able to run her regular event and although Stacy had no experience of such a thing, she had the creativity and sense of purpose to know that this was something she wanted to get involved with. Her first event had 7 people come along, 2 of which were her own children.
Within just a couple of years she has taken her social enterprise from a well-meaning community clean up to:
3 litter picks per month with over 400 volunteers taking part.
A 6-month waiting list of local businesses wanting to sponsor the litter picks.
Running Pick n Mix – a sustainable, environmentally conscious Norfolk-based business networking group.
Providing funding for self-defence classes and CCTV to increase community safety.
Stacy's focus for Transforming Local Communities is to bring communities together to do something positive whilst making a difference to social and environmental issues. The litter picks provide people of all ages with an opportunity to get outside, meet new people, improve their physical and mental health, as well as increase people's sense of pride for their local area. Wildlife and nature also benefit from these activities.
"We want people to have the opportunity to meet their neighbours. We've had young people working towards their Duke of Edinburgh award take part and equally had people completing community service. People want to live in areas where there is community spirit and where their creativity and innovation takes place."

Scaling up
Stacy's plans for the future of the social enterprise are the expansion of the community litter picks with national sponsorship and the roll out of the TLC business model across the country. This would vastly increase the amount of money available to be spent on good causes as well as cleaning up a large proportion of the litter across the country.
TLC have funded projects in community safety across areas of Norwich including self-defence classes for women in response to a situation that occurred in the area, as well as CCTV installations to deter abuse taking place and to help the wider issue of safety.
Stacy's hard work has earned her no less than 3 awards in 2022 alone:
Winner of the BBC Radio Norfolk ' Together' Award
Community Hero of the Year at Broadland Community at Heart Awards, sponsored by Clarion Housing Group
'EDP's Stars of Norfolk & Waveney Team/Community Group of the Year
About the Programme and Match Trading
Stacy attended the 2022 Community Business Trade Up programme in London.
Being a part of a collaborative working group has allowed Stacy to feel a part of a group of people all on the same wavelength.
"We're focusing on the same things. I've learnt that we all have the same vision about caring for the world and are driven by making a difference. Social Enterprises are prolific about choosing to do good over money, however I feel I'm now on a journey to achieve both, because with more money TLC can have a much greater impact, reaching communities across the UK."
Being on the programme has allowed Stacy to recognise the value of the things she knows and what she can help others on the cohort with:
"I love the workshops and the opportunity to come out of my organisation and be a part of an interactive group. Being in the moment with other creative people is inspiring and ideas from others makes it very powerful. This trade up programme is all about challenging yourself to trade up and think about income."
As a result of undertaking the programme Stacy initiated the Pick n Mix networking programme, an opportunity for businesses to be a part of the TLC journey to get both their organisation and TLC to make a difference on a greater scale.
Match Trading helped Stacy with this, creating a challenge for herself and pushing herself to think about things in a different way. Whilst she recognises the impact that grants can have on her work, becoming sustainable and scaling up is a big part of the organisation's future plans.
On social enterprises Stacy says:
"Value your work as a social entrepreneur to make a bigger difference. A much bigger impact can be made on the world when social enterprises recognise their value."
Follow Stacy on Linkedin.