Sophie Simpson, SS Dance & Wellbeing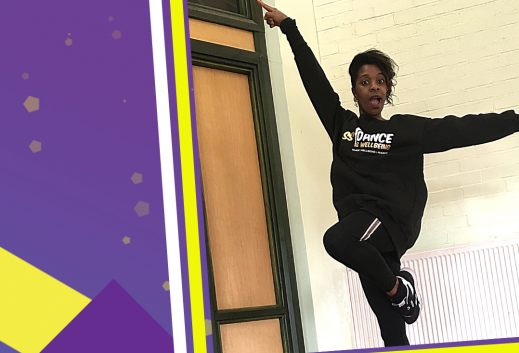 Meet Sophie Simpson – the dancer bringing health and happiness to people of all ages and abilities.  The founder of SS Dance & Wellbeing, Sophie's turned a childhood passion into a successful social enterprise.
In a nutshell
Organisation: SS Dance & Wellbeing delivers dance and movement-based sessions to people in and around the community, promoting fitness and wellbeing for people of all ages and abilities.
Business model: Sales from group and individual dance classes
SSE programme: The Lloyds Bank Social Entrepreneurs Start Up Programme, October 2017, jointly funded by The National Lottery Community Fund.
Supported by SSE in Yorkshire and North East
Passion for dance
Sophie Simpson was just two years old when she first wore a leotard. "I started very young and did it all – tap, ballet, modern and jazz," recalls the West Yorkshire entrepreneur.  "I found that dancing brought out a different side to me, one that made me feel good."
After studying dance at university, Sophie went on to work as a choreographer but found most jobs were limited to London. So she began working in a primary school teaching dance and PE. "I'd always said I'd never teach, but when I started I found that I loved it!"
After a decade of teaching in schools, Sophie spent a year working for a social enterprise before being made redundant when the company changed direction. It was around this time that one of her managers suggested she look into the School for Social Entrepreneurs.
Programme impact

Applying for The Lloyds Bank Social Entrepreneurs Start Up Programme wasn't easy for Sophie. "I was terrified of the presentation part. I can do performing arts but I can't talk in front of people – so I didn't apply until the last day of the deadline!"
Luckily for Sophie her public speaking fears didn't hold her back and she joined the programme in 2017. "Doing the course has dramatically improved my confidence and given me a platform," explains the dancer. "I always knew I wanted to do something with dance and wellbeing but I didn't have a clear idea of how, or know what my social values were. Now that I've been on the programme I know exactly what my social mission is and why I'm doing what I do."
Insights gained from expert speakers and through action learning – where participants ask leading questions to encourage respondent to find their own answers – were particularly useful for Sophie.
"With the expert sessions you discover what other entrepreneurs have achieved and that really pushes you on. I also found the action learning very difficult but very helpful too – it made me think about things in a new way."
Like the sound of this Start Up programme?
Expansion
Since completing the programme Sophie has partnered with several organisations, including the NHS for which she delivers dance fitness sessions through her Active Workplace Initiative. Other schemes include the Older Peoples Health Initiative, which delivers chair dancercise and Active Communities which provides street dance and majorettes sessions.
"The course gave me confidence as well as the knowledge and belief that I can run my own business.  I would never have approached huge organisations like the NHS otherwise."
Online workouts

As a dance teacher delivering classes in care homes and health centres, the pandemic could have been catastrophic for SS Dance & Wellbeing.  But by moving many of her regular classes online via Zoom and Facebook, Sophie has responded to the crisis brilliantly. And to make sure her clients felt valued and inspired despite such tumultuous times, she offered extra classes for free while putting on a themed workout every Friday. "I got all dressed up and did a workout from my living room which people could join for free. It was a lot fun!"
Top tip for other social entrepreneurs:
"Be resilient – take the knocks and keep getting back up!"
Catch up with Sophie's latest dance sessions and wellbeing tips on her Facebook page