Robert Bruce, The Dorothy Parkes Centre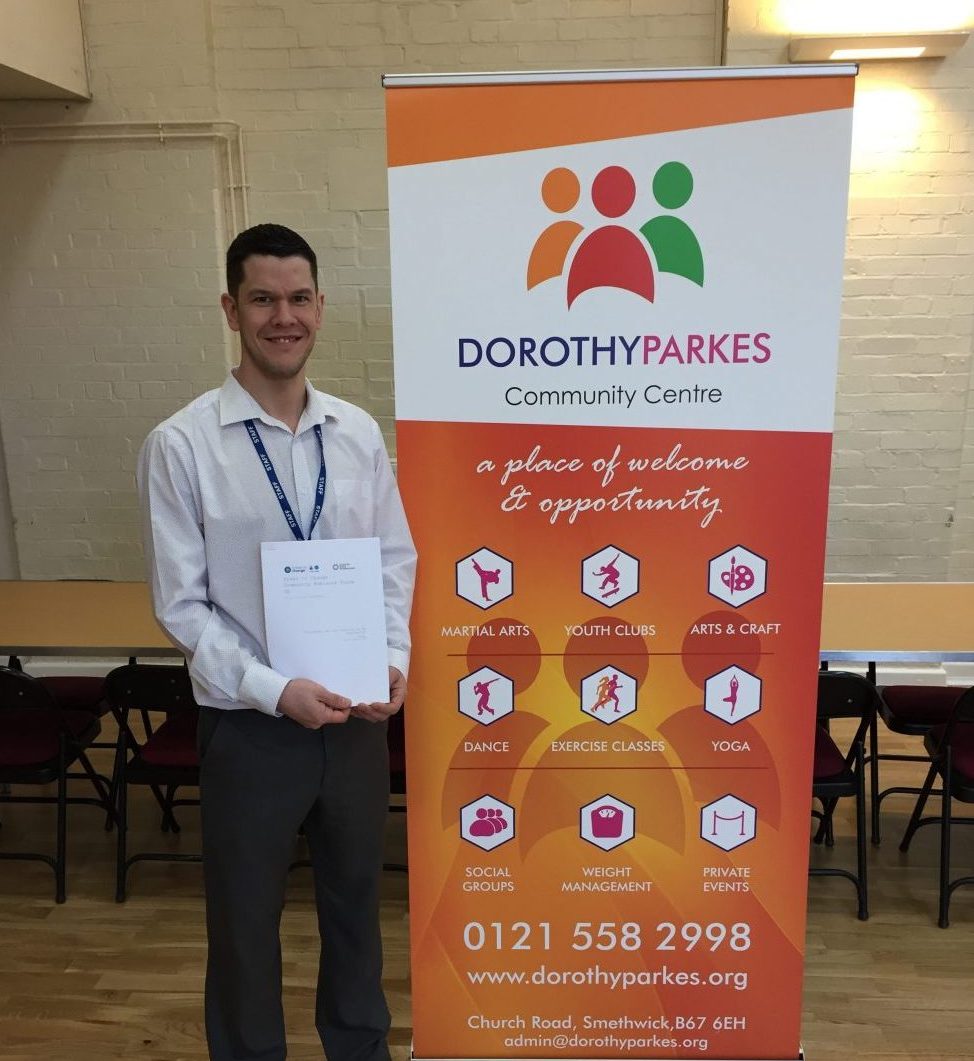 We had a chat with Robert Bruce to get the low-down on The Dorothy Parks Centre, a community centre in the heart of Smethwick, West Midlands.
In a nutshell…
Founder: Robert Bruce
Organisation: The Dorothy Parkes Centre, which runs activities to tackle local issues such as physical and mental health, obesity, social isolation, and unemployment.
SSE programme: Community Business Trade Up programme 2018
SSE school: SSE Midlands
Business model: 50% grants and 50% sales (ie. from venue hire)
Ownership model: Charity and Company Limited by Guarantee
The beginning
The Dorothy Parkes Centre was created out of the "Old Church" parish hall by an innovative partnership between the Parish Church Council, Sandwell Area Health Authority, Harborne Parish Lands, New Opportunities Fund and the Church Urban Fund. The aim is to continue the legacy of Dorothy Parkes and provide opportunities to bring people and organisations together in a spirit of friendship and equality, enabling the local community to thrive.
The Centre was opened in 2000 and provides a place of welcome and opportunity, accessible to all, open seven days a week. A fair and inclusive attitude is at the heart of The Dorothy Parkes Centre. "We try and make our groups as affordable as we can for the local community," says Robert, who welcomes all walks of life to the centre. Its diverse range of activities cater from pre-school up to the elderly, and include Baby Ballet, Youth Club, and a Good Afternoon Club for the over-55s.
The programme
The peer-learning approach on the Community Business Trade Up programme helped Robert learn from other social entrepreneurs in his cohort. Robert explains: "We were really able to build bonds, talk in confidence and get away from the day-to-day stress that our roles can bring."
"We were encountering similar issues and challenges but we were learning together the best ways to overcome them."
The programme incorporates Match Trading™, a sector-leading innovation in grant funding for social-purpose organisations that incentivises trading, created by SSE. Robert says: "We smashed the trading income targets for our trading year which enabled us to secure the full grant funding provided by the programme. This acted as a great incentive and was a real bonus for the organisation."
Sound good? Register interest for 2020
The future
Almost 20 years since opening, The Dorothy Parkes Centre is thriving, and recently won the Outstanding Community Organisation Award 2019 for Smethwick. They hope to build on this and have a number of exciting projects on the horizon. "We were successful in a funding application to take on a derelict overgrown allotment to run an outdoor classroom. We are also beginning to run a community litter pick scheme," explains Robert. He plans to continue using what he's learnt from SSE and the Community Business Trade Up programme to test new income streams – such as trading in the Centre's kitchen, partnership working and corporate funding.
Top tip for other social entrepreneurs:
"It's a fabulous learning and networking opportunity and you can get £10,000 for doing it! It's a win-win and I would encourage anybody in a similar position to apply."
Get in touch with The Dorothy Parkes Centre on Facebook and Twitter.