Pauline Jordan, Hortic Therapy CIC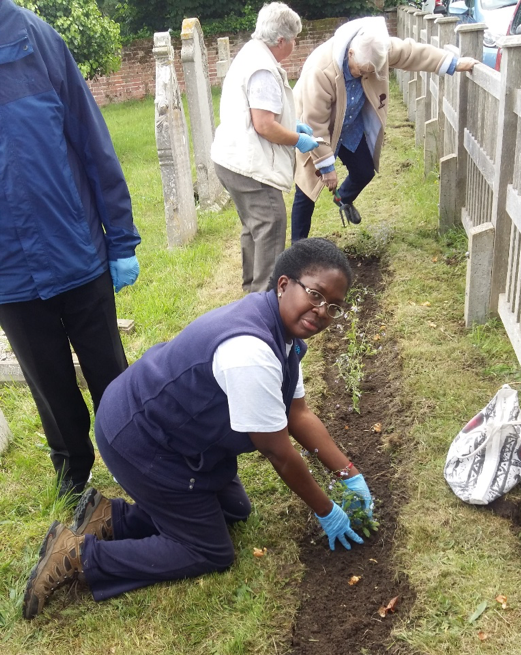 In a nutshell…

The beginning
In August 2014, Pauline Jordan visited a relative. "She was living with dementia in a care home," recalls Pauline, who worked as an NVQ assessor at the time. "Every time I'd visited her, she was either playing bingo or watching TV."
Eager to break this cycle, Pauline asked the care home managers if she could organise a table-top gardening session. "I knew how therapeutic gardening was for me. When I'm in my garden, I feel so relaxed and revived," explains Pauline.
They agreed, so the next time Pauline visited she brought some herbs – basil, mint and lemon balm – for the residents to plant mini gardens from. "We rubbed and smelt the herbs, talked about how we used them in cooking and medicinally," recalls Pauline. "It went really well – the residents were stimulated and happy!"
The programme
Inspired, Pauline began looking for more ways to introduce gardening on her visits. She began bringing in trays, compost, plants and seeds. Sessions included making remembrance wreaths, planting hanging baskets, pressing flowers – and then one morning, everything changed.

"I was driving to work, listening to the radio and the presenter said, 'love what you do and do what you love' and I thought, what am I doing? So I handed my notice in! I had bills to pay and my daughters were still studying, but I thought, why not? I'll give it a go!"
Seven months later Pauline joined the Lloyds Bank and Bank of Scotland Social Entrepreneurs Start Up Programme with her new business, Hortic Therapy (now a registered Community Interest Company). "It was great to meet people who were like-minded, who were a sounding board, that's what I found the most powerful," she says. "We just got on as a family – we laughed together, cried together, it was amazing to have that support."
"We laughed together, cried together, it was amazing to have that support."
The impact
Pauline says the course gave her the confidence and know-how to put together a business plan.
Hortic Therapy CIC now visits 15 care homes a month where Pauline and her two volunteers help settle, stimulate and support the elderly residents.
"Some people think if you have dementia that's the end of the world, but it's not, there's still plenty you can do."
"SSE helped me realise I was doing the right thing. It gave me the confidence I needed."
More recently, Hortic Therapy has started running craft sessions including air dried pottery. They're also looking for a volunteer who's a social media pro.
Get in touch with Hortic Therapy CIC! Check out their website and follow them on Facebook.