Madeline Alterman, Artbox London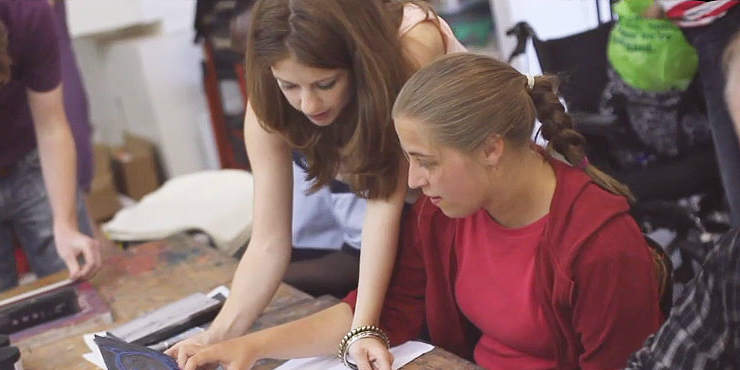 What does your social enterprise do?
Through our art workshops, exhibitions and trips, Artbox London helps people with learning disabilities feel happier, be more independent, and become more visible and connected within the community. We work with 30 people on a weekly basis but with additional outreach work and providing opportunities for others to take part in our exhibitions, the numbers go into the hundreds.
What need does Artbox fulfil?
At the point of setting up Artbox, many centres and opportunities for people with learning disabilities were closing down due to funding cuts. Sadly this continues to rise and many of the people we work with have very few, if any, opportunities outside of Artbox. To think that in a city packed full of opportunities, a large group of people are restricted to their homes seems incredibly unfair and unjust.
I set up Artbox for a number of reasons:
to provide a range of opportunities to a group of people who spend a disproportionate time at home
to show others the talents and abilities of people with learning disabilities
to provide opportunities for people with and without learning disabilities to meet and get to know each other
Why are you passionate about this cause?
My younger brother has Down's syndrome so it's been both normal and natural for me to spend time with people with learning disabilities and consequently, to respect and celebrate difference. Unfortunately, I'm also very aware of the challenges disability presents and strongly believe that many of these challenges exist due to the exclusion of people with learning disabilities and the lack of opportunities available.
I'm very much motivated by the artists and their art, as well as the joy everyone (including the volunteers) experiences both in the studio and on trips. There's such a lot of laughter, dancing and conversation – and also a great supportive environment where the artists can discuss their issues as well as ideas! I also love to see the reactions of the artists when they realise that someone has bought their art. For many, it's the only time they are paid for their skill and this has left some speechless, others in tears (of joy) and the majority high fiving each other and smiling with pride. They have become artists and are no longer just defined by their disability.
"They have become artists, and are no longer just defined by their disability."
Is there a case study that demonstrates your impact?
Hisba, an artist with Down's syndrome, has been coming to Artbox since its beginning in 2011. In 2011 she earned an income for the first time when selling some art. As a result of this, her confidence grew and she gained an interest in work and earning money! She now works part time and has a salary! She has continued to sell an increasing number of artwork and recently sold a series of pieces to a company based in Bank, who have decorated their boardrooms with her art. Hisba has also promoted one of the Artbox exhibitions through a live interview on ITV news, has attended meetings with Artbox, has helped to sell artwork and has given presentations about her art and the organisation. She is now a volunteer and mentor in the studio sessions and remains an encouraging and inspiring role model for the other artists.
What was your biggest challenge in starting your social enterprise?
Time! I was working full time for the first 2-3 years of setting up Artbox and so there was never enough time – and still isn't, even now I work full time on the project. Although I never seem to have enough time (maybe this is normal in social enterprise?) volunteers and pro bono support have helped Artbox to grow and develop. Utilising other people's skills is key!
How has the School for Social Entrepreneurs supported you?
I have loved my experience with SSE – it's such a supportive and encouraging environment. It's a place where you can bring an idea that will be both respected and developed to the point of opening a fully functioning social enterprise.
The thing I have loved most about the programme is the chance to meet and learn from others who are also going through the non-traditional route of setting up and growing a social enterprise.
I would and have recommended SSE to others – what's not to love about this level and quality of support?
What are your plans for the future?
We're working towards getting our own studio which, in Islington, North London, is a little bit of a mission.
We're opening new sessions on enterprise and art, mindfulness and art and sessions led by professional artists, who will introduce their work and techniques.
We also hope to sell more artwork and products online – it's something that's recently picked up and so we're investing more time into our website, to make it easier for visitors to learn about the artists and buy their work!