Louise Taylor, The Art Cart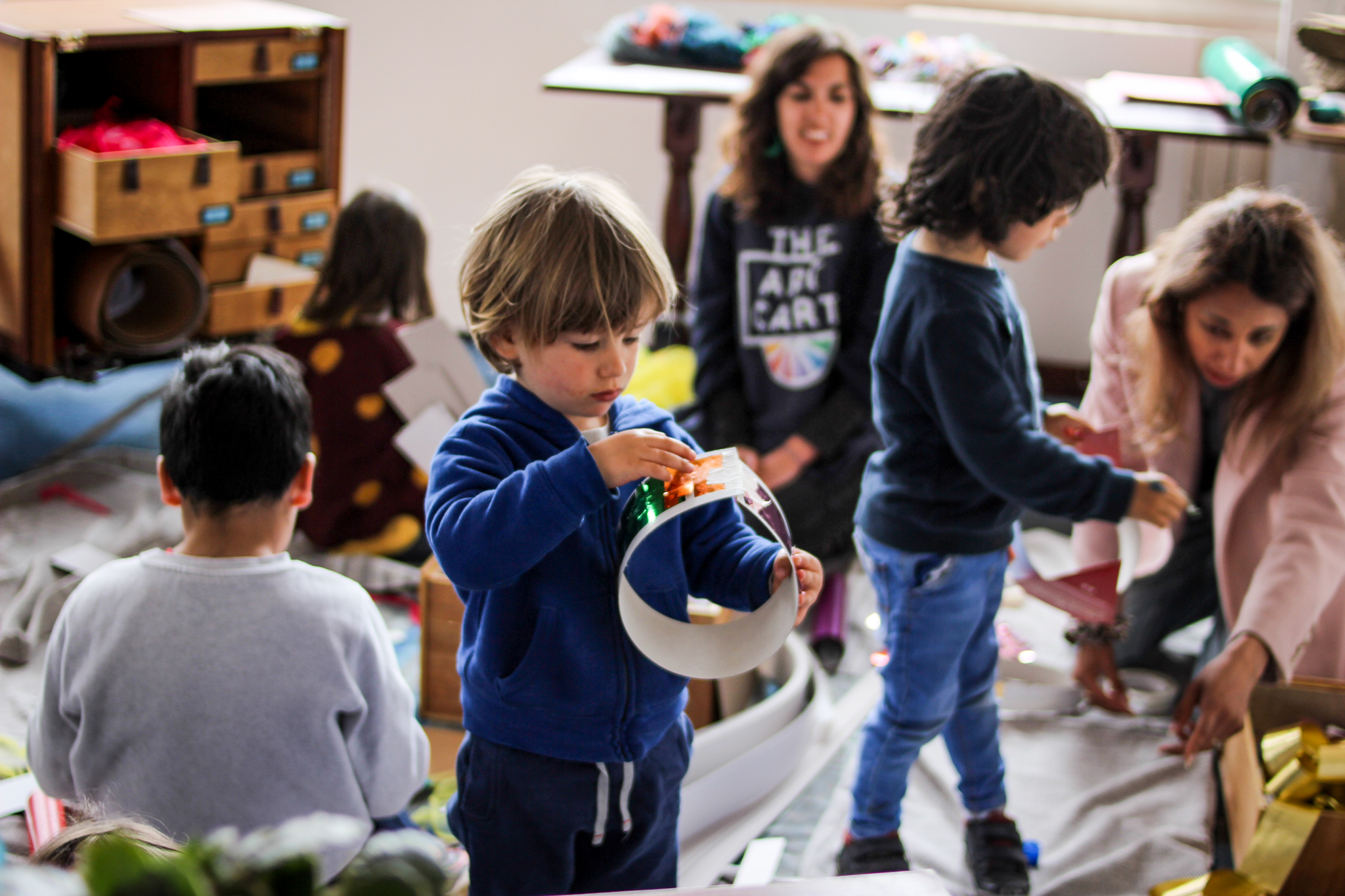 The Art Cart cargo bike travels with a creative facilitator and carefully sourced materials, bringing creativity into communities with connection and wellbeing in mind.
In a nutshell:
Founder: Louise Taylor
Organisation: The Art Cart
Business model: The Art Cart offers a number of different services, earning revenue from parties to channel into the business, and delivering workshops in other areas for free.
SSE programme: SBES Strong Foundations online weekend intensive.
The Art Cart offers creative activities for parties, workshops and events. Travelling to various venues, including people's homes and gardens, schools, and community and cultural events and festivals, The Art Cart's ethos is to support people to express themselves through their creative choices. Louise, Co-Founder, encourages people to experiment and supports participants as they develop in confidence.
Louise has built on her background of working with children to create the business and develop interactive children's parties. These sessions focus on making something that has a play value in the longer term, such as costumes or a game.
The Art Cart can deliver workshops on a broad range of processes and themes – Louise can either facilitate herself or utilise her network of other artists with specialist skills. When we spoke, Louise had just done her first children's party. It was ocean-themed, with ten families spread out on a long table around loads of different materials.
"The really nice thing about it was that the children had the same starting point, and if they wanted to do something step-by-step they could do that, but generally they go in their own direction, and there were some lovely collaborations between children and parents."
Louise sources a lot of her materials from the Children's Scrapstore, and she tries to choose the friendliest products she can, such as eco glue and tape. She aims to create a feeling of abundance in her workshops with plenty of interesting materials to choose from, while being careful with what she has, collecting leftovers to reuse and recycling scraps from sessions.

Finding SSE
Before she did the SBES Strong Foundations programme, Louise and her partner Julien knew what they wanted to do but had lots of questions and unknowns. The programme gave Louise focused time to work on it, and really sped up the process:
"It came at a really good time, we had lots of questions which were essentially answered by me doing it. It drew together the real building blocks of starting something, and if we hadn't had that, it would have taken us a lot longer."
Louise told us that she found Susan the course facilitator supportive and encouraging:
"It's quite a vulnerable position to be in, with your little idea thinking 'who am I? Do I really think I can do this?' She gave weight to the ideas that we had. SSE is a real champion of ideas and start-ups, and the idea that of course not everybody is going to know how to do it, that's the whole point, that's OK, and that's what it's there for, to fill the gaps."
The future
Louise now feels part of a bigger network and better placed to operate a social enterprise model where for every 10 bookings, she does a free session for a charity partner. The first will be at Zion Community Space, who have also benefited from the South Bristol Enterprise Support programme. Louise told us that she feels more confident now to be the face of a business, and to trust her ideas and instincts, knowing they are informed by her experience and her learning through the Strong Foundations programme.
"It's been really brilliant and so accessible – it really takes away the idea that having a business is something other people with a certain background do – it's really empowering."
In the future, Louise would like The Art Cart to be able to earn enough money to buy a cargo bike (she is borrowing the current one from another social enterprise). She also wants to make connections with more community and cultural organisations.
Top tip for other social entrepreneurs:
"Talk to as many people as you can about it. Whether on a course, or making use of friendships and family connections – it's informal market research, and those conversations might lead to things – that's how I found out about SSE!"
Keep up to date with The Art Cart's journey by heading to their website or following them on Facebook or Instagram.