Josh Turner, Stand4Socks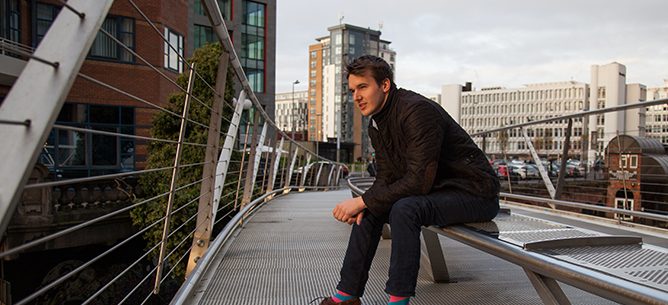 In a nutshell…
Founder: Josh Turner
Organisation: Stand4Socks invests in charitable causes through the popular one-for-one model. For every pair of socks sold, a portion of revenue is donated to a cause.
Business model: Revenue from product sales
Regions: Worldwide
SSE programme: Lloyds Bank Social Entrepreneurs Trade Up Programme, 2015-16, and Trade Up, 2017-18
SSE school: SSE East for Start Up, SSE North West for Trade Up
The beginning
"What if socks could change the world?" Josh Turner asked his friends one day. Aged just 24, the business management graduate already knew a thing or two about business – he'd been buying and selling off eBay since he was 12, ran club nights as a student, completed an entrepreneur accelerator scheme and started a tech start-up.
"I'd seen how popular the Toms model was [where for every pair of shoes sold a pair is donated], how fashionable charity wristbands had become, and how much of a fashion statement bold socks were," explains Josh. "I thought, what if socks could be more than just a smelly afterthought? What if they could express something about you, while also making a social impact? After all, everyone needs socks!"
And so Stand4 Socks was born in August 2015: giving customers the opportunity to purchase socks based on a cause aligned with the United Nations' Sustainable Development Goals.
"You can buy a pair of socks and provide a family with clean water for a year, or buy another pair that will lead to clearing an area of landmines – and that's something unique," explains Josh.
The Start Up Programme
Josh joined the Lloyds Bank Social Entrepreneurs Start Up Programme at SSE East in 2015, at what was a difficult time. "I was completely on my own, living back at home, while my friends were on graduate schemes," explains Josh, who at 23 was the youngest in his cohort. "But on the programme, you're all starting out and the community aspect is one of the best things you get out of it."
"Hearing real experiences, instead of having a lecture on the importance of cash-flow, was brilliant."
He found the workshops on legal structures and insurance particularly useful too, and credits the programme with helping him to crystallise his business model – even though he already had a business management degree. "Unfortunately a business degree never put much emphasis on social enterprise back then!" he says.
"SSE's workshops were very helpful and so were the witness days, where social entrepreneurs would come in and talk to us. People like Mona Shah, the founder of Harry Specters, came in and told us stories about what it was like running a social enterprise – what could go wrong as well as what could go right. Hearing those real experiences instead of just having a lecture on the importance of cash flow was brilliant."
The Trade Up Programme
Having completed Start Up, Josh went on to join the Lloyds Bank Social Entrepreneurs Trade Up Programme in 2017.
"We'd gone beyond the idea with Stand4 Socks and validated what we were doing, but we weren't fully sustainable yet – so we weren't ready to scale. The Trade Up Programme was perfect for us, as we still needed that support and middle ground," explains Josh.
"The community aspect is one of the best things you get out of the programme."
Through Trade Up, Josh has significantly grown his network in the North-West region, while also receiving some useful investment through Trade Up's Match Trading grant, which matches increases in sales pound-for-pound, on a quarterly basis.
"The Match Trading grant provides a great incentive, and having it drip-fed like that rather than all in one go can be very useful."
The future
Eager to diversify, Josh hopes to establish more business-to-business licensing deals, celebrity partnerships, and even has plans for a franchise to help young people develop enterprise skills by selling Stand4 Socks products in more localised markets.
And why stop at socks? "If you can prove that socks can have a massive impact, then anything can – from buying a coffee to booking a holiday," says Josh. "I have so many ideas, and the SSE programmes gave me the support I need."
Want to keep up to date with Stand4Socks? Check out their website, and follow them on Twitter, Facebook & Instagram.