Swimming pools, woodlands, pubs and hubs: meet some of the community businesses we're supporting
20 Jun 2019
Throughout June, we welcomed new cohorts across England to our Community Business Trade Up Programme. Meet some of the organisations creating positive change in their local areas, and discover more about the programme.
At the School for Social Entrepreneurs, we like backing people with ideas for improving their local communities. We believe they have the understanding and commitment to make change stick.
This month [June 2019] we're welcoming 80 more community champions onto our Community Business Trade Up Programme, run in partnership with Power to Change, at our schools across England.
We're supporting them with a learning programme to help them increase the impact and income of their community businesses, and a Match Trading™ grant of up to £10,000.
Apply now for the 2020 programme
Community businesses are a diverse bunch. They're organisations that improve their local areas, using profits to deliver positive impact, and they are accountable to their local communities.
Community businesses: bringing people together for good
Among our new cohorts is Moseley Road Baths in Birmingham, a community-run swimming pool based in a Grade 2* listed building. The pool was earmarked for closure, until the local campaigners took it over last year and established it as a Community Incorporated Organisation (CIO). Now it's a vibrant community asset and heritage venue, offering public swimming and community facilities. They also provide training and volunteer opportunities, giving local people the skills and confidence to return to work.
Community business is all about bringing together and supporting people from a local area. Over in Wolverhampton, we're welcoming onto the programme Gatis Community Space, a community hub that offers a community café and support groups for young mothers, elderly people and others. And the Viables Community Centre in Basingstoke runs activities for nearby residents: services for older people, unemployment support, recreational activities for all ages, and a volunteering programme.
Food and Education Enterprise CIC, a community hub near Derby city centre, supports the community by providing volunteer opportunities, training and a foodbank. It has a particular focus on refugee groups and isolated people, and the team now want to develop a commercial catering arm to increase training opportunities and earned income, with the support of the programme.
Branching out
Community businesses come in all shapes and sizes. Kitty's Laundrette was founded by residents of Everton/Anfield in Liverpool. They recognised that laundrettes are spaces that meet the needs of some of the most disadvantaged people in society. Kitty's Laundrette provides affordable and environmental washing-and-drying facilities to local people and organisations, while utilising the space for arts and social activities. The team are working to reduce social isolation, and increase community cohesion and social pride.
Community hubs like this are the cornerstone of the community business movement. But community businesses can have environmental as well as social impact. In Cornwall, we're welcoming onto the programme Working Woodlands Cornwall, which is bringing neglected woodlands back into sustainable management to improve their biodiversity. Based near Perranarworthal, this CIC involves local people with managing their local woodland, while providing commercial wood for sale. Through the programme, the team hopes to learn how they can increase their income from retail sales, with a plan to sell solar-kiln-dried wood and logs.
Cheers to positive change!
Over in Essex, we're welcoming the first community-owned brewery in the East of England onto the programme. Pumphouse Community Brewery in Toppesfield has 88 members, 68 of whom are local. It benefits the local community by providing local employment and community activities, and volunteering opportunities for the retired community. They are seeking to grow their trading on the programme by developing their sales offer and increasing hours for young brewers.
Perhaps Pumphouse will become a supplier to the Ivy House Community Pub team, who will be learning with us at SSE London. This community-owned pub engages local residents through open-mic nights, music nights, dancing, and a range of community activities. They also host fundraisers for charitable organisations, and host drop-in mornings for a neighbouring organisation called Little Village Southwark to give out free baby and child-related items.
And these are just a handful of the amazing community businesses we're welcoming onto the programme this month across England. We can't wait to meet all 80 of the community champions and support them to increase their income and impact.
Get support for your community business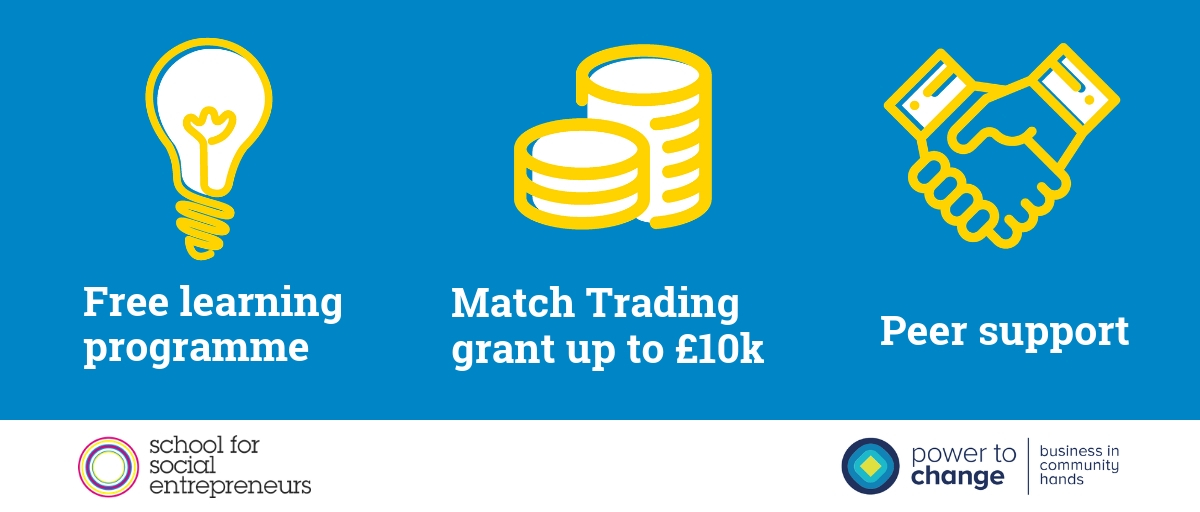 Applications for the 2020 programme are now open, and we're offering:
A grant of up to £10,000
A learning programme focused on increasing your impact and income from trading
A supportive community of peers
Find out more about the community business movement from our partners Power to Change.