SSE Christmas Markets
4 Dec 2015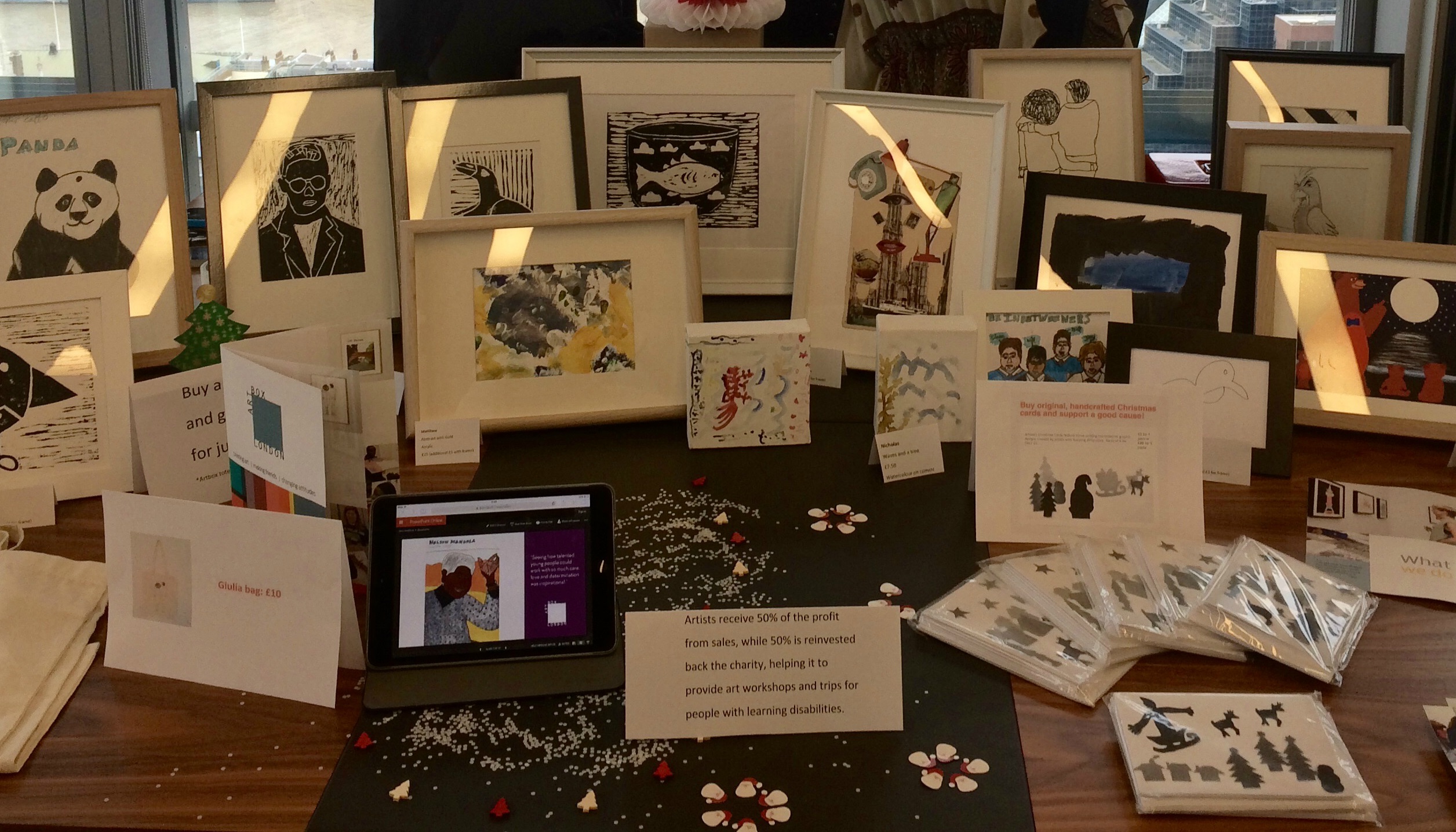 This week SSE students and fellows along with their great products took to the offices of some of our corporate supporters to provide their staff with the opportunity to buy social. Staff at Linklaters, PwC and RSA volunteered their time to help promote the Christmas markets to their colleagues as well as support the social entrepreneurs on the stalls.
Some beneficiaries were also in attendance, helping staff really understand the social value and impact that these enterprises have.
Linklaters, PwC and RSA currently support and mentor students our Start Up: Fellowship programme and we were delighted to offer the chance for more staff engagement opportunities.
This season of good will is a fantastic chance to support social enterprises that are doing amazing things to change the status quo. Not only are their products great, but the income they receive goes to creating real positive social change.
This Christmas #buysocial.
Here's a run-down of the SSE Fellows who attended our Christmas Markets:
Artbox London (http://www.artboxlondon.org )
Artbox London provides opportunities for adults with learning disabilities to create, showcase and sell their art. Artbox were selling lovely prints, postcards and bags many of which are available on their website.
Cafe Art (http://cafeart.org.uk )
Cafe Art hang art by people affected by homelessness in cafes and pop-up exhibitions. Their My London 2016 calendar, that went viral across the world, is available here.
The Dusty Knuckle Bakery (http://www.thedustyknuckle.com )
The Dusty Knuckle Bakery sell lovingly made, artisan bread and baked goods and offer employment to the young people that need it most.
BeeUrban London (http://beeurban.org.uk )
BeeUrban is a honeybee-centric social enterprise based in South London which aims to positively influence the urban environment. BeeUrban sell high quality honey as well as beautiful beeswax candles.
Harry Specters (http://www.harryschocs.co.uk )
UK based chocolatier offering fresh, award winning, handcrafted chocolates whilst creating employment for people with autism.
Sweet Cavanagh (http://sweetcavanagh.com )
Sweet Cavanagh sells lovely hand-crafted jewellery. Through jewellery making women recovering from addition build self esteem and strengthen their recovery.
Old Spike Roastery (http://www.oldspikeroastery.com )
London based Coffee Roastery, providing jobs, housing and training for people who are homeless, immediately lifting people out of homelessness. Co-founder of Change Please coffee carts, in partnership with The Big Issue.