And the winner of the Social Entrepreneur of the Year Award is…
2 Nov 2016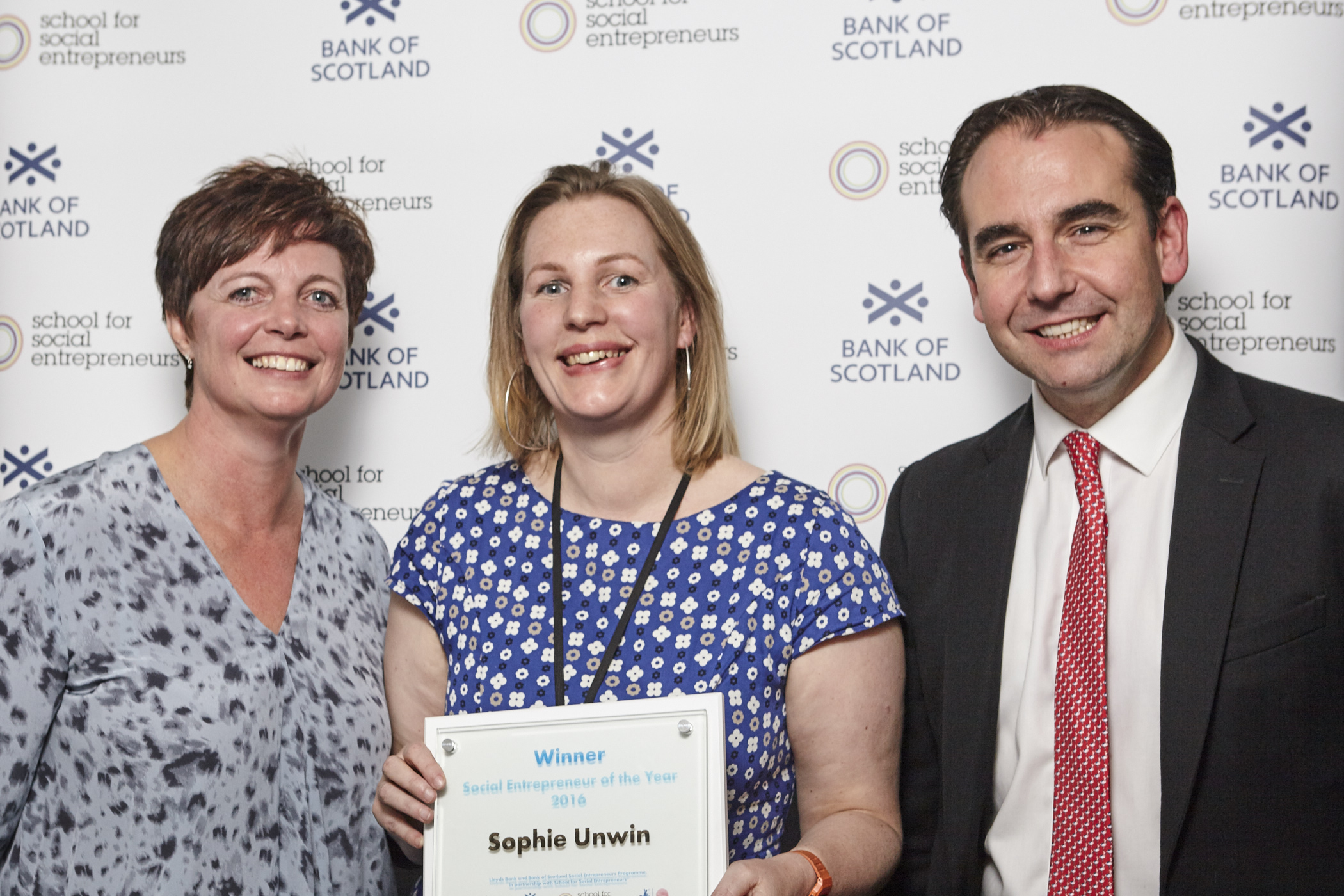 We are delighted to announce that the winner of the Lloyds Bank and Bank of Scotland Social Entrepreneur of the Year Award 2016 is… queue drum-roll…
Sophie Unwin, founder of Remade in Edinburgh.
Huge congratulations to Sophie, who this month graduates from the Lloyds Bank and Bank of Scotland Social Entrepreneurs Scale Up Programme, in partnership with School for Social Entrepreneurs (SSE).
Sophie garnered most support in a close-run public vote that saw 14,000 people vote for our five finalists.
She's won the grand prize of £10,000 to help develop her social enterprise, awarded to her last night at our awards ceremony at Lloyds Banking Group HQ in London.
Remade in Edinburgh is a multi-award-winning social enterprise. It teaches people how to repair household goods, runs upcycling workshops, sells repaired goods, and campaigns for zero waste.
Carolyn Edwards, founder of Liverpool-based social enterprise Genie in the Gutter, came in second and won £6,000. Her not-for-profit is a bridge-to-recovery service providing informed choices around drug and alcohol treatment to active substance misusers. It offers recovery, creativity and performance-based sessions. Find out more here.
In third place was Adam Annand, who heads up London Bubble's Speech Bubbles programme. Speech Bubbles is a playful, nurturing intervention that supports young children referred with a communication need. Speech Bubbles is a project from London Bubble, a company that makes theatre with its community. Adam was awarded £4,000 to help scale Speech Bubbles.
Our congratulations also go to finalists Donna Rowe-Green and Jay Stewart. Donna founded Dig In North West, a peer support to military veterans with mental injuries as a result of their service. Jay is the founder of Gendered Intelligence, whose mission is to increase understandings of gender diversity, specialising in supporting young trans people.
The finalists were selected from the Lloyds Bank and Bank of Scotland Social Entrepreneurs Scale Up Programme, in partnership with SSE.
They beat more than 200 applicants from across the UK to each gain one of the 42 places on the programme. The finalists for the Social Entrepreneur of the Year Award were then selected following a Dragons' Den-style panel interview, based on their social impact, potential to scale and achievements over the past year.
Last night's awards event was hosted by entrepreneur and social innovator Oli Barrett MBE, and was buzzing with a social enterprise marketplace featuring the wares of SSE students and fellows.
We'll share pictures soon! Like us on Facebook to stay in the loop.
We're sure you'll join us in giving a huge congratulations to all the finalists.