Our new partnership with Power to Change will support 130 community businesses
11 May 2017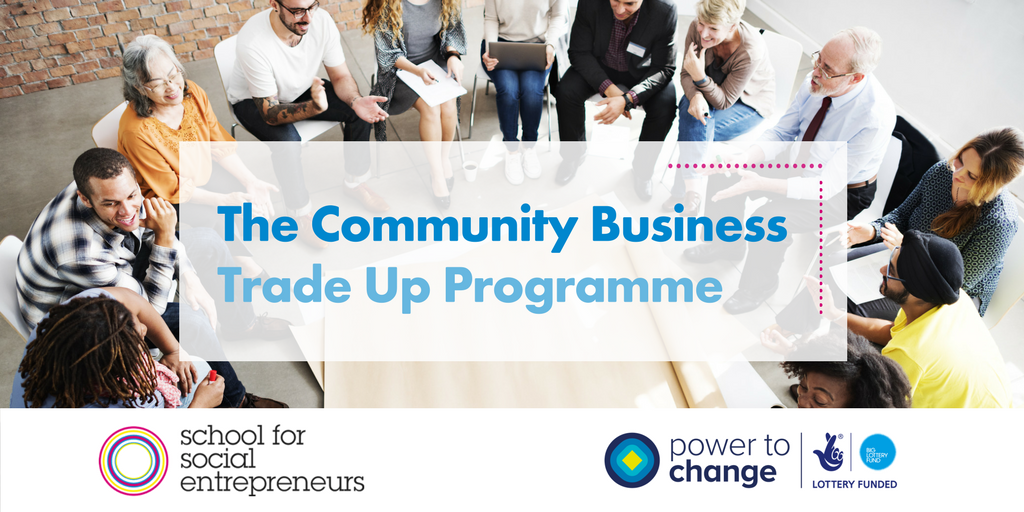 We're very excited to announce a new partnership between School for Social Entrepreneurs (SSE) and Power to Change. Together, we'll support 130 leaders of promising community businesses in England (organisations whose purpose is to benefit their local communities).
SSE and Power to Change today launch our Community Business Trade Up Programme. The programme supports the leaders of early-stage community businesses, with:
a fully-funded six-month learning programme (consisting of 12 learning days)
a grant of up to £10,000
The focus of the programme is to grow community business' impact by increasing income from trading.
The first phase of the programme runs from May to October 2017 in London and Liverpool and supports 30 community business leaders. The second phase will run from January – July 2018 and support a further 100 community business leaders across England.
 Interested in applying? Click here!
Alastair Wilson, CEO of School for Social Entrepreneurs, said: "We're delighted to be partnering with Power to Change to support the learning of community business leaders, people who commit themselves to improving their local areas and nurturing local vibrancy. School for Social Entrepreneurs has 20 years' experience in helping social-sector leaders develop the confidence, skills and networks to grow organisations that help people in need and improve communities. I'm excited to welcome the first 30 students to this programme, all of whom have the potential to increase the impact they create by growing their trading income."
Mark Gordon, Director of Communications at Power to Change, said: "Community business is all about exploring new ways to help local areas grow and thrive. This is a great opportunity for new entrepreneurs to look at new ways of doing business and doing good."
The 30 community business leaders beginning the programme in April consist of two cohorts of 10 based at School for Social Entrepreneurs London, and one cohort of 10 is based at School for Social Entrepreneurs North West (based in Liverpool).
We're really excited to welcome the 30 students accepted onto the programme – congrats to all of you!
Amy Cotter, Sensoriel CIC
Anna Dyson, Toast Love Coffee
Anna Marshall, Stanley Events
Anne Burman, Southport Contemporary Arts
Anshu Srivastava, Hill Station Community Café
Barnaby Shaw, Bee Urban
Beth McDonough, Newcastle Wood Recycling CIC
Clare de Bathe, Chichester Community Development Trust
Danny Quinn, Black Sheep Collective CIC
Darlene Torey, LALGRA
Donna Golding, Bee Wirral
Faye Tomson, Energise Barnsley
Fiona Frank, Green Elephant Cooperative
Glynis Kirkwood-Warren, Lordship EcoHub Cooperative
Heath Monaghan, Aspire Ryde
Ian Smith, Tunza's Pride
Jennifer Gwiadowski, The London Bike Kitchen
Joanne Bambrough, The Exchange Creative Community CIC
Kate Brayne, Wylye Coyotes Afterschool Club CIC
Krysia Williams, The Bristol Bike Project
Lloyd Stacey, Riverside House
Marten Payne, Go Geronimo
Nick Andrews, Space at Hare Hill House – Moorend Development Trust
Nick Corke, Hour Community
Rachel Summerscales, Hulme Community Garden Centre
Rob Groves, Friends of Hardie Park
Roisin Tobin, Buzz Lockleaze
Sarah Vaughan-Roberts, Forty Hall Community Vineyard
Simon Cobb, Stoneham Bakehouse CIC
Sotez Chowdhury, Do Little Solutions CIC
Are you a community business leader interested in applying for the second phase of the programme, which offers 100 places at locations across England?