New Year's Resolution: Slow Down to Save Time
8 Jan 2020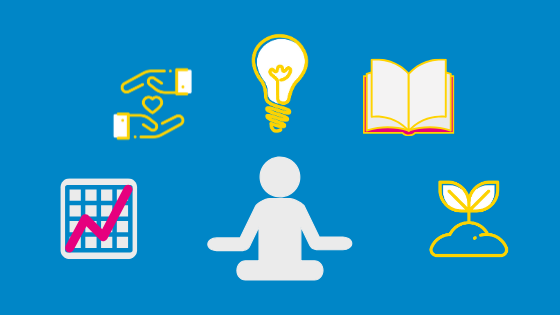 Happy New Year to you all. I hope you've had a well-deserved break, although knowing you lot I expect work was at least flitting across your mind between crackers and roasties. Slowing down doesn't come naturally to many of us. We tackle the world's toughest problems, with limited time, team and budgets.
The temptation is to dive back into the emails, to-do lists and firefighting but often some of the most important parts of our working-life are lost to the need to feel "on top of things".
Putting everything else on hold and making time for these 5 areas of focus may not seem like a priority but it will save you time and stress in the long run.
1. Reflection
Almost every one of us would list this or 'analysis' as an important part of any piece of work but I would wager a year's supply of Pret 's Posh Cheddar and Pickle Baguettes that many of us don't give it the amount of time we intend to. Blocking out time to look back at existing work to measure it's effectiveness and how you personally feel about it will help you make better informed decisions in the future as well as communicate your work to others.
2. Feedback
Whether we work at an established 200 person organisation or are in the start-up phase of a 1-man-band operation, we can often find ourselves isolated in our work.
It's important to get feedback from others, not simply just for advice, but also to help us formulate and verbalise our own thoughts and ideas. Between you and an advisor/mentor/feedbacker you are more likely to catch any mistakes or unrealised opportunities than if rattling around in your own head.
3. Learning
"Ahh I see what he's up to here." Yes well if I didn't think making time for learning was important then I would be rather misplaced in my current position. It's easy to push self-development down the priorities in favour of spending time on other tasks.
We often hear from SSE course attendees that even though they were hesitant to devote a day to learning because of time constraints, they find that the direction and knowledge gained saves them buckets of time in the long-run as they complete tasks more effectively and efficiently.
4. Connecting
As mentioned above, our work can be isolating. Another hidden, and much-acclaimed, value of the learning format at SSE is the opportunity to connect with others going through the same issues and feelings as you.
I was shy to join a course here initially as I felt that I was struggling where everyone else was excelling. What I found was that I was able to share openly my challenges with others going through similar struggles. In addition to this, it is a great opportunity for authentic and relaxed networking (ugh that word) without having to actually go to some torturous 'forced-networking-time' event.
5. Yourself
I was going to title this last one, "Self-Care" but by now those words have lost all meaning due to overuse.
We are all well-aware of burnout, and I imagine most of you have felt/are feeling its effect. But do we make time to avoid it? It can be hard to see it coming, and when it does it's often too late to properly take a break to deal with it. Your work and mission is a big part of your life but your life has many passions and responsibilities. Make sure you make time for them all, and take breaks to ensure you can enjoy them rather than just "get through" them.
If you would like to read more like this, why not sign up to our Newsletter below.
Written by Charlie Wright, Marketing and Engagement Officer and SSE Fellow.