The Inclusive Culture Pledge: Our commitment to diversity
15 Feb 2018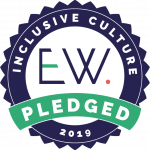 Here at the School for Social Entrepreneurs, we are committed to improving the diversity of our organisation and building inclusive cultures every day. This is good for business, of course – but more importantly, it's the right thing to do. We aim to be a truly 21st century workforce, where everyone's talents are welcomed, valued and nurtured.
As part of this we are committing to the Inclusive Culture Pledge, a special initiative by diversity consultancy EW Group. In doing so, we're joining leading organisations from the energy, property, transport, engineering and creative sectors, such as British Land, Westfield Europe, the Fire Fighters Charity and Goldsmiths University of London.
By signing up to EW Group's pledge, we benefit from a year of supported learning. The aim is to improve our approach to five key aspects of our diversity development: leadership, people, brand, data and future. This will provide a focus for building SSE's skills, awareness, confidence and maturity around workplace diversity over the course of 2018.
We are making a commitment to the lasting importance of diversity and inclusion to SSE's culture.
Our commitments in 2018 as part of the pledge
January to March: Leadership
We'll work from EW's toolkit for leaders at SSE, to support them in acting inclusively and articulating why diversity and inclusion matters to them and to SSE.
April to June: People
We'll use EW's resources to support our managers. Managers will focus on building, and getting the best from, inclusive teams.
July to September: Brand
Using EW's guidance, we'll review our internal and external communications so that we can gain buy-in and recognition for the great work we're doing on diversity and inclusion.
October to December: Data
We'll look at ways to help us measure and track our progress, so that we know the work we're doing is contributing to business goals and employee happiness.
The Future
Towards the end of 2018, we'll sit down with EW Group and establish how far we've travelled. We'll receive a report that will record the progress we've made and help us to focus on 'what's next'.
EW Group managing director Rachael Wilson says: "We are immensely proud of the work we do with the School for Social Entrepreneurs to contribute to developing their inclusive workplace. By signing up to the Inclusive Culture Pledge, SSE is making an internal and external commitment to become an even better place to work, an organisation to do business with, and a deliverer of great services.
"The Inclusive Culture Pledge will send a powerful message that diversity is now seen as business-critical, rather than simply a 'nice to have'. In that sense SSE is absolutely operating at the forefront of their industry."
Like the cut of our jib? Discover jobs at SSE